On June 30th, the Chicago Blackhawks made arguably the biggest splash of the offseason and traded budding young star Brandon Saad to the Columbus Blue Jackets. In what could only be described as a surprising development, Chicago GM Stan Bowman traded one of the best young wingers in the league after he helped them capture their second Stanley Cup in three years.
This move comes as a bit of a shock because, well, the Blackhawks had full control over Saad. Only 22 years old, and coming off his entry-level contract, Saad lacked arbitration rights, and the team had an exclusive right to continue negotiating with Saad until the clock struck midnight on July 1st, two days after they had already moved the stud young power forward. Supposedly, the team had been fearing the dreaded offer-sheet coming for Saad, and with limited cap space to play with, they decided to move him out before they were backed into a corner by way of a restricted free agent offer sheet. However, the team managed to ship out veteran winger Patrick Sharp (along with his $5.9 million cap hit) just two weeks later; they sent him to Dallas and saved more than $2.5 million in cap charge while gaining two roster players. This combination of increased cap space and less roster spots to fill should have given the Blackhawks all the incentive they needed to re-sign Saad. Nevertheless, Chicago's loss is Columbus' gain, as Saad moves two states over and joins the up-and-coming Blue Jackets.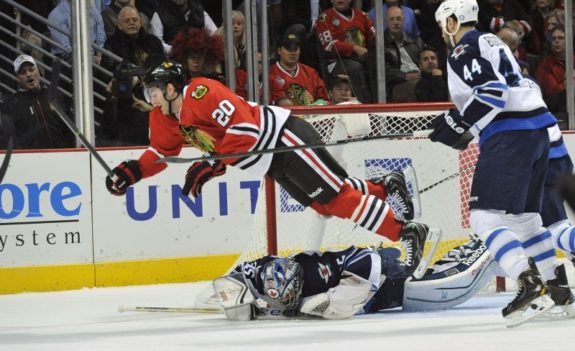 The Inevitable Raise
With Saad coming off his best season as a professional, it was all but a foregone conclusion that he would receive a hefty raise over his 2014-2015 cap hit of just $894,166. After posting a career-high 23 goals and 52 points and adding on 2 game-winning goals in Chicago's march to the Stanley Cup, Saad was reportedly looking for more than the Blackhawks were comfortable paying. So, Chicago GM Stan Bowman pulled the trigger on a massive seven-player blockbuster that landed the Blue Jackets the 6'1″, 205 lb Saad.
On July 3rd, Saad signed an equally massive six-year, $36 million dollar contract that will see him locked up in Ohio's capital until 2021. At first glance, the fact that this new deal immediately makes Saad the highest-paid skater on the Blue Jackets is a bit unsettling. This list from Hockey Reference shows players who have had similar 20-goal, 50-point seasons in their age-22 seasons, much like Saad's last year with Chicago. While there are some very good players on that list, seeing names such as Patrick O'Sullivan, whose last NHL season came in 2012, does not conjure up mental images of players who make a $6 million cap hit look like a bargain.
It's not as if Saad will flame out of the league at age 29 like O'Sullivan did; after all, other young stars such as Gabriel Landeskog and Ondrej Palat headline the list. Saad's clutch postseason resume also has its perks, especially for a relatively unproven and green Blue Jackets squad. With the recent contracts handed out to other young forwards such as Ryan O'Reilly, Derek Stepan, and Gustav Nyquist, it's clear that the price for controllable young talent has increased significantly in the past few seasons. And with Saad in the mix for a top-line job with Columbus, it would seem the Blue Jackets paid a fair price to lock him up.
Brandon Saad's Role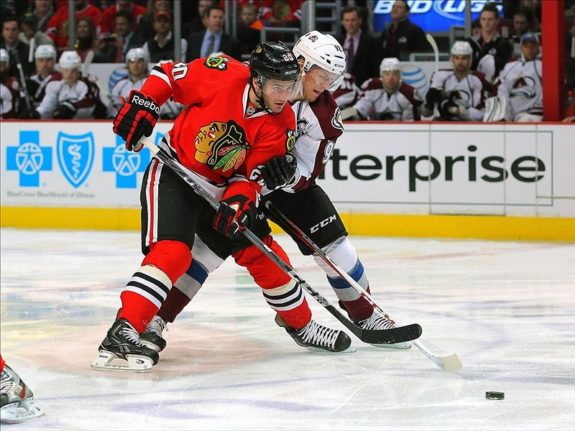 After leading the league in man games lost to injury last season and playing without some of their best players, the Blue Jackets seem to be a squad hungry to return to the postseason after an early exit in 2014. Stacked with young talent after years of anemic management have left Columbus with one of the most promising cores of young forwards in the entire NHL. In addition to franchise centre and All-star Ryan Johansen, the team also features players such as fellow All-star Nick Foligno and former early draft picks Alex Wennberg and Boone Jenner. While the team had to give up some quality pieces for Saad, sending 2013 first rounder Marko Dano and former 20-goal man Artem Anisimov to Chicago, the team has enough depth to fill those roles with relative ease.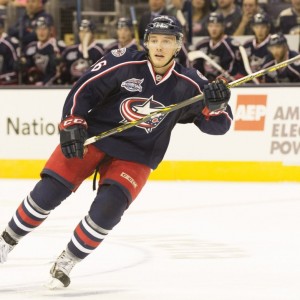 What Saad does provide the Blue Jackets is a reliable scoring winger, something the team has not possessed since dealing captain Rick Nash in 2012. And while the aforementioned Johansen and Foligno showcased good chemistry in 2014-2015, both finishing in the top 20 scorers in the NHL, GM Jarmo Kekalainen stated he envisions Saad alongside the team's scoring leaders moving forward.
Wennberg tallied 20 points in 68 games last season, albeit in a limited role. Other forwards such as Brandon Dubinsky, Scott Hartnell, and the recently resigned Cam Atkinson all have the potential to score 20 goals, and perhaps even more with the addition of a promising power forward such as Saad. If the younger players take a step forward and provide supplementary scoring for Saad and Johansen on the top line, then the Blue Jackets could take a giant leap forward from the modest 13th-place finish in the NHL they experienced in goals scored a season ago.
Potential Pitfalls
The Blue Jackets' addition of Saad was a perfectly situated move in which Columbus was well-positioned to make a splash. They had stockpiled young players and draft picks in the past few seasons, making 6 first round picks since 2013. The Rick Nash trade netted them Dubinsky, a first round pick, and depth defenseman Tim Erixon in addition to the now-departed Artem Anisimov. The pieces they lost in order to land Saad don't hurt the team next year, but could make the cap situation a little dicey in the coming years.
Columbus has five players tied up through 2019 at a cap hit of at least $5 million each (Saad, Dubinsky, Foligno, goalie Sergei Bobrovksy and David Clarkson). As it stands right now, the team is just $3.7 million under the salary cap for next season. Within the next two seasons, the team must look to lock up Boone Jenner (RFA in 2016), Wennberg (RFA in 2017) and most importantly, Ryan Johansen (RFA in 2017). On defense, the cap situation gets even more muddy, as David Savard, Ryan Murray, and Dalton Prout are all set to hit restricted free agency next summer. Having more than $48 million tied up in just 8 players through 2018 could make money tight when it comes time to open up the checkbooks for the Blue Jackets' other young players.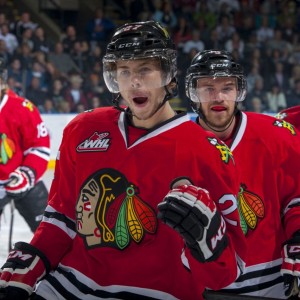 Columbus' top forward prospect, winger Oliver Bjorkstrand, is another potential logjam that may have been created with the addition of Saad to the lineup. One of the fastest-rising prospects in the NHL, Bjorkstrand dominated WHL opponents to the tune of 63 goals and 118 points in just 59 games, and looks ready to crack the NHL lineup in the fall. Other young prospects such as Kerby Rychel, Sonny Milano, and William Karlsson are all knocking on the door to the big club, and with seven wingers tied up for the foreseeable future, there may not be a spot for all of them.
One concern regarding Saad's play is his consistently amazing quality of linemates in the Windy City. Even when moving throughout the lineup, Saad lined up with the likes of Jonathan Toews, Patrick Kane, Marian Hossa, or Patrick Sharp. While Johansen and Foligno are great players, expecting them to have the same two-way impact on the game as Jonathan Toews could be unrealistic. Saad's underlying statistics also suffered when paired with lesser teammates, as our very own Greg Thornberry details in his latest article.
---
The Blue Jackets shocked the NHL by swinging a deal for one of the league's best up-and-coming players, but it's not a surefire home run move by General Manager Jarmo Kekalainen. With many long-term commitments already on the roster, paying Saad star-like money is a move that could wind up handcuffing the team financially down the line, much like Saad's former employers.
However, the opportunity to add a player of Saad's calibre to an already impressive young core, and create one of the league's most underrated and offensively potent lines alongside Ryan Johansen and Nick Foligno might have been too much to pass up. While the package the Blue Jackets parted with to land the Pittsburgh native may have included some quality talent, Saad's scoring resume and playoff experience offer a unique dynamic to this player, the likes of which do not become available for trade very often. Already a two-time Stanley Cup winner at the tender age of 22, Saad gives the Blue Jackets a real shot at contending in the near future.