Andrej Sekera of the Carolina Hurricanes is apparently for rent. So says Bob McKenzie of TSN:
Also, I said CAR now has Andrej Sekera on the market. CAR tried to sign him but he was looking for "Marc Staal money," aka $5.5M to $6M AAV.

— Bob McKenzie (@TSNBobMcKenzie) February 11, 2015
I have mixed emotions about Sekera possibly leaving the Hurricanes. I like him quite a bit. He and Justin Faulk play well together. He is a solid defenseman and has had a good career in the NHL.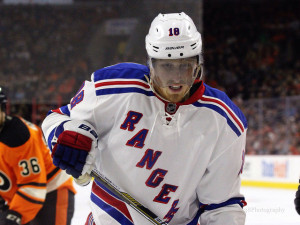 "Marc Staal Money"
As you know, Marc Staal – brother of Eric and Jordan Staal – recently signed a new deal with the New York Rangers. It was quite a nice contract for Staal, as ESPN. com reported on January 19th, at six years and $5.7 million per year. There is also a full no-trade clause in the first three years.
Apparently the Rangers see him as worth the investment. Also apparent is the fact that the Carolina Hurricanes do not feel Andrej Sekera is worth "Marc Staal money." Some fans wonder:
Andrej Sekera wants $5.5-$6 million? Would he be worth it?

— Oops! My Anarchy Symbol (@FrostyBear21) February 11, 2015
Ron Francis reading Mark Shiver?
I received a text after the Bob McKenzie story broke that said, "Apparently Ron Francis read your article about the 'Canes losing by winning and decided to trade Sekera."
Of course the text message was a joke. I think.[tweetthis]Of course the text message was a joke. I think.[/tweetthis]
The point of the article is that the Hurricanes have started to win and this could adversely impact their draft position.
Many feel that they need to draft high to help rebuild the team, and their recent success could put that in jeopardy. Perhaps making Andrej Sekera available  is a step in the direction of maximizing their chances in the draft. That seems obvious. Especially if the price they are reportedly seeking for him is accurate. Brett Finger at Cardiac Cane writes,
"The Carolina Hurricanes will look to acquire a first round pick and a prospect for the services of the 28-year-old defenseman."
A first round pick and a prospect would be a nice "get" for the freshman general manager of the 'Canes, Ron Francis. It looks like his first big moment in the spotlight since hiring Coach Bill Peters could be a Sekera deal.
Sekera a Good deal?
Is Sekera worth what Ronnie wants in return? A look at his stats is inconclusive at best. This season he has 2 goals and 16 assists in 50 games. He is a -6.  Compared with last season when he had 11 goals, 33 assists, and was a +4, one might wonder how much value he currently brings to the table.
His best year in the NHL was last year, and this season seems to be more of a reversion back to the norm for Sekera. Will a team be willing to pony up a sweet first round pick and a prospect? Probably. Matthew Schultz at SB Nation wrote yesterday,
"He's a nine-year veteran, yet is poised to enter a particularly uninteresting unrestricted free agency period at only 29 years of age. In other words, this guy's gonna get paid."
A team that is looking to the playoffs will likely see a quality defenseman in Sekera who can help them. Schultz looked further at Andrej Sekera's possible benefit to the Detroit Red Wings however, and actually was not so sure.
"The scoring touch is certainly something the team is looking for, but there are real concerns with Sekera's play in the defensive end. Between that, the assets required to acquire him, and the contract necessary to retain him, it's tough to envision Sekera in Detroit long-term."
With two goals, I'm not sure about the "scoring touch" he alluded to, and I do happen to think his defensive play paired with Justin Faulk is usually sound. But, I reference Schultz to show that, while Sekera will likely get his money, there are questions in the league as to his genuine value, particularly from a long-term standpoint.
It appears that Ron Francis knows what he is doing by not paying Sekera the big bucks. This "Caniac"is glad:
Thank you RF for not going crazy spending money on Sekera. His price is way too high. Sorry to see Sekera leave, but glad canes are sane.

— Nancy Staten (@Raleighcaniac) February 11, 2015
The saga of Andrej Sekera will be interesting, to say the least. Stay tuned.