The Carolina Hurricanes have won 3 points so far on their road trip out west. They lost 5-4 in OT to the Anaheim Ducks, and beat the Arizona Coyotes 2-1 in a rare shootout win. Not a bad outing for a team that has struggled all season to put together consistency of a positive nature.
Getting points is a good thing
Or is it? The current NHL Standings show the Buffalo Sabres in last place with 33 points. The Edmonton Oilers are next to last with 37 points. Next are the Carolina Hurricanes with 43 points.
What is intriguing in this is that continued point accumulation either through winning or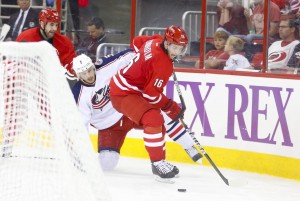 being tied at the end of regulation, combined with a few well-timed losing runs by other teams could vault the Hurricanes right past the Columbus Blue Jackets (47) and/or the Arizona Coyotes (45).
Herein lies the potential problem for the 'Canes.
Hurricanes' math
I have yet to hear the normal media banter about whether or not the Hurricanes are "mathematically out of the playoffs" at this point. That is always good for a few hours of content starting in March. Given that they are currently around 20 points out of a possible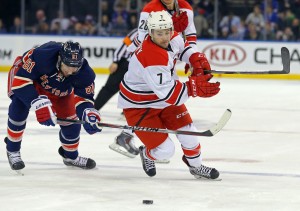 wild card slot, it is fairly safe to assume that they are not going to make the playoffs this season.
Hurricanes fans galore hope to see their team back in the playoffs. They have been patiently waiting for several years, putting up with lackluster effort on the ice, management changes, and changes in the coaching staff. Folks like owner Peter Karmanos and former GM Jim Rutherford said last year that the team was "not that far off."
Bringing in the widely revered Ron Francis to run the hockey organization, and Bill Peters to coach the team out of last season's malaise, sparked hope that perhaps this season would be the one. After all, the team was "not that far off." Even I bought into the hope that the Hurricanes would be playing in June, and put that confidence into an article on July 31st of last year. Perhaps I was premature.
If the 'Canes are not likely to make the playoffs this season, then what do the fans have to look forward to in the way of something on which to hitch their hope? Hurricanes fans wonder.
Now what?
The next obvious target of hope for the fan faithful is that management will embark upon a sound program of rebuilding. If you've become familiar with my coverage of the Carolina Hurricanes, you know that one of my biggest irritants with the former management was the use of the phrase, "We're acquiring assets." JR used this verbiage to explain his draft picks, other moves, and lack of moves that would leave me and other 'Canes fans scratching our heads.
It does not appear that newly minted GM Ron Francis will be that inane. He is a serious guy who I believe will do everything he can with the money that Peter Karmanos gives him to build the Hurricanes franchise. He has won as a player by being focused, and I have confidence that the same focus will drive his work as the team's general manager.
As you know, I believe in the youth of the team. I think there is a strong, young foundation upon which Francis can and will build a winning team.
You give me a team full of guys like Nathan Gerbe and I'll go deep into the playoffs every season. He has more heart and determination every minute he is on the ice than nearly anyone I have ever seen.
Victor Rask played his way onto the roster in August, and hasn't left yet. He is growing with every game, and has huge upside potential.
(Swedish) Beast Mode: Rask & Lindholm lead the #Canes to a 2-1 shootout win –> HIGHLIGHTS: http://t.co/0XXu0xr7oi pic.twitter.com/OTHXYMljd3

— Carolina Hurricanes (@Canes) February 6, 2015
Victor Rask and Elias Lindholm are both very young, yet represent what I feel is a future with realistic expectations of success for the Carolina Hurricanes. But, is winning now a problem for the immediate plans for rebuilding the team overall? After all, the 2015 NHL Selection Draft is only a few months away.
Spinning the wheel
The NHL, as you may know, made some changes in the way it implements the draft lottery. You can read the official rules here. Essentially the odds are weighted differently to result in a "more evenly balanced allocation of odds." The end result could see teams dropping one spot in the draft order.
There is a cool tool that simulates the possible outcomes of the NHL Draft Lottery. You can fool around with it here. For example, if Buffalo does end up with the worst record overall, then they may actually drop to the second pick overall based on the results of the lottery.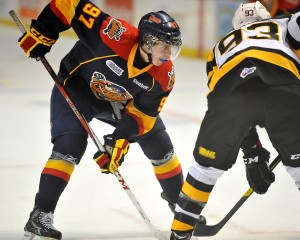 Each team faces this possibility, which really matters most to those who finish at the bottom and are hoping to pick up a game-changer like Connor McDavid or Jack Eichel.
If you believe the hype, McDavid is an instant difference-maker for whatever team picks him up. Tony Care of CBS Sports wrote,
"…if the Edmonton Oilers were to win the draft lottery, comparisons to Wayne Gretzky would instantly follow."
That's an amazing statement, and one which has fans of struggling teams salivating across the league. But, the lottery and the draft do not guarantee that the worst team could suddenly become a contender overnight.
Another great night for Hobey Baker candidate Jack Eichel of @TerrierHockey who had two goals and two assists. pic.twitter.com/f2kSuhM6ya

— NCAA Ice Hockey (@NCAAIceHockey) January 31, 2015
As good as he is, Jack Eichel is still in college. Yes, he has great upside, no doubt, but will he be the kind of instant impact player that Connor McDavid is expected to be upon arrival in the NHL? Of course, Sidney Crosby was a kid once, and we all know how that is working out.
What to do
Back to the Carolina Hurricanes. Winning at this point of the season could have the possible end result of putting them in a kind of "draft no-man's land." They could wind up higher than they need in order to have a decent shot at an instant impact player. [tweetthis]Should they stop winning to try to "catch" the teams below them?[/tweetthis]
In the world of professional sports, that is a ridiculous question. It's called "tanking" and I'm naive enough to believe that it doesn't really go on intentionally. Call me crazy, but I think that some teams are just bad.
I don't think that the Hurricanes are "that" bad currently, so the pressure will be on GM Ron Francis to do his very best with what is presented to him in the draft. Dan Rosen at NHL.com summed the situation up very nicely on February 3rd:
"The Hurricanes have been competitive but not good enough to make the Stanley Cup Playoffs since 2009. They haven't drafted higher than No. 5 in the previous five drafts. They're competitive again, which means they are moving further away from the McDavid-Eichel derby but likely won't be good enough to make the playoffs."
As Rosen points out, this is the same situation former GM Jim Rutherford faced in recent years.
So all eyes in Hurricanes-land will be on Ron Francis as he weighs possible trade options and who is available when the 'Canes' number is called at the draft.
Let's all hope that he won't wind up in a situation where all he can do is "acquire assets." Eventually the fans would like to see playoff hockey in Raleigh.