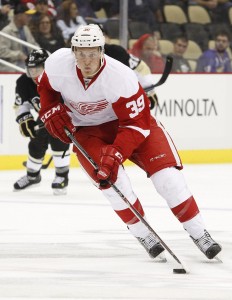 GRAND RAPIDS, Mich. — Ever since Anthony Mantha was drafted 20th overall by the Detroit Red Wings in the 2013 draft, the 20-year-old has had high expectations to live up to. Scoring 260 points in 187 games in junior leagues will do that to any player.
However, Mantha hasn't had the stats everybody was hoping for. He has 17 points (seven goals, 10 assists) in 35 games with Detroit's AHL affiliate in Grand Rapids, which is a far cry from the two points per game he was putting up during his last season with Val d'Or in the Quebec Major Junior Hockey League.
Mantha Experiencing Growing Pains
However, Mantha said he isn't worried about the dip in his stats and added it's all part of the learning process.
"It's a learning curve," he said after the Griffins' 5-4 overtime win against the Rochester Americans on Friday. "I wasn't expecting the same stats as last year. I just need to work on a few things to be a better player in general, and it's going to come soon."
Mantha assisted on Scott Czarnowczan's first AHL goal, which tied the game at 2-2 in the second period. In the last five games, Mantha has one goal and three assists.
Part of what has hindered Mantha's development is an injury he sustained during the prospects tournament in Traverse City. He didn't make his debut with Grand Rapids until mid-November, which meant he played very little hockey from the time his season was over with Val d'Or to when he made his debut.
Mantha said he is feeling more comfortable as he continues to accumulate more games played.
"I feel really better," he said. "It's a big adjustment to the game up here, so I'm still trying to work on some things, but in general, it's a great improvement."
Despite knowing the learning curve would be steep, Mantha said he is not happy with where he is at right now but doesn't feel any pressure to score every night.
"I just need to be better. Play my own game, and everything — stats and pressure — that's part of hockey, but I just don't think about it for now. I try to be the best player every night."
Andreas Athanasiou returned from a broken jaw he sustained in December. He was on a line with Mantha and Mark Zengerle. Mantha said Athansiou's presence chances the complexion of the game.
"He changes the momentum of a game," Mantha said. "He's a great skater, great player. So, it just feels good to see him back on the line."
Mantha's Outlook
I think Mantha will have a better second half than a first half. There was no doubt some major adjusting time when he debuted with Grand Rapids since he had to deal with an injury. However, now that he has 35 games under his belt, he's no doubt got a good grasp of what will and will not work at the AHL level.
It's hard enough to jump from juniors to the AHL, but Mantha had the extra hurdle of an injury to deal with.
I would like to see him shoot the puck more. He has just 79 shots in 35 games, which is about 2.3 shots per game. It would be nice to see that number hover closer to 2.7-2.9. He seems to be a little gun shy, which is something a lot of prospects face when moving up to a higher level.
But scoring is what got Mantha drafted so high in the first place, and that is what will get him a spot with the Red Wings down the line.
Subscribe to our Red Wings stories to get email updates every time a new story is published.
Tom Mitsos is a Detroit Red Wings and Grand Rapids Griffins staff writer for The Hockey Writers. You can follow him on Twitter @tom_mitsos.