Yep, I said it.  The Carolina Hurricanes will make the Stanley Cup Playoffs this season.  I may be standing on an island with this opinion, but I think it is a real possibility that there will be post-season hockey in Raleigh's PNC Arena in 2015.  There are 3 reasons I am holding fast to this belief (hope), and I think they are legitimate.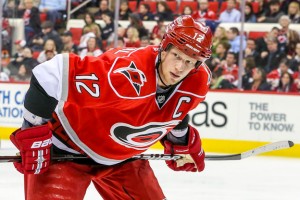 1. Eric Staal will have the season he is capable of having.
Yes he just had surgery to repair a "core muscle injury" sustained during the offseason.  According to the team, he should be fine for training camp and for the start of the season.  If true, I see a healthy Staal bringing a new sense of dedication and leadership to the Hurricanes.  I predict that he will mesh well with new Canes' coach Bill Peters and perform well in a scheme more suited to his strengths.  He is by all rights a superstar.  This season, look for him to play and lead like the elite player and team captain he was and will be again.
2. The defense and goaltending will be stronger.
Coach Peters is a defensive-oriented coach.  The team has the framework in place to play well on their end of the ice.  I believe that Coach Peters will fill in the blanks that have been missing defensively and fans will see a faster, more physical defense.  Net minders Anton Khudobin and Cam Ward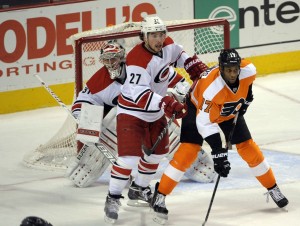 will benefit greatly, being able to depend more on the guys in front of them to keep the puck out of their faces.  I look for a faster transition type defense that will move the puck forward more as opposed to allowing it to bounce around in front of the net wildly as so often happened last season.  Obviously there will be mistakes, and other teams will make good plays, but all in all, I'm counting on the 'Canes "D" to be much improved this season.
3. They were close last year.
Hurricanes owner Peter Karmanos made the point that the team was only a win here or there from making the playoffs last season.  My immediate reaction was that Karmanos was not very smart.  Having had time to think about it, he may be smarter than we think.  Clearly there were lapses in motivation, energy, and output last season.  Most would agree that this was largely due to a lack of harmony between the coach and the players.  That's the story I'm buying.  I'm willing to believe that Coach Peters will get these guys out of the gate quickly and that the team will make up the 10 points that they lost a playoff spot by last year, and may even record more points on their way to earning a playoff spot in 2015.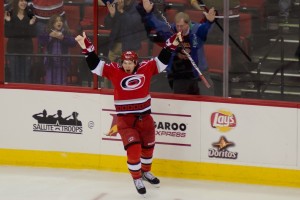 Bonus Reason :  The Young Guns
One more reason I think the Carolina Hurricanes will make the playoff is because I love the "young guns."
Jeff Skinner and crew are hungry and pretty good on the ice.  I predict good things out of the group of "Skins," Elias Lindholm, and Justin Faulk.  Jordan Staal and Nathan Gerbe are a bit older, but I think are primed for a great season.  There is a solid core of good – potentially great young talent in Raleigh, and I believe we will see that talent on display this season.
Yes, the Metropolitan Division is tough.  Yes, the Islanders, Blue Jackets, and Devils were active in the off-season.  The Penguins will still have Sidney Crosby, and the Flyers are good.  But, I like the 'Canes and their chances to grind out the requisite points they will need to be playing in June of 2015.  Captain Eric and the young guns, along with an improved defense, will get it done.  I hope.