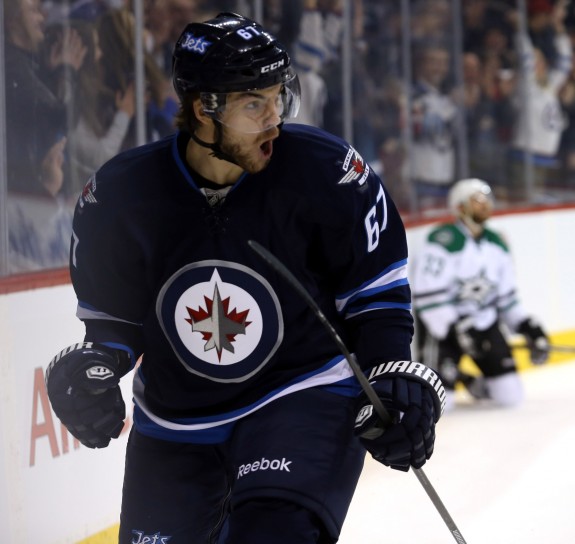 The Winnipeg Jets have made very few moves in the 2014 NHL offseason. The lone unrestricted free-agent signing of significance was Mathieu Perreault.  At this point, it's hard to see how the 2014-15 season will yield results any different from the 2013-14 campaign. 
In the last few days of July the Jets did manage to resign two forwards, Michael Frolik and Matt Halischuk. For a team that has trouble attracting big name free agents, resigning its depth players is crucial.
Michael Frolik
Frolik and the Jets were set to enter an arbitration hearing on the last day of the month. Instead, the two sides agreed to a one-year, $3.3 million contract. Winnipeg general manager Kevin Cheveldayoff explained the process to Brian Compton of NHL.com.
"Early in the process, we essentially discussed that this was not going to get to an arbitration. It was more the fact that we wanted to make sure that Michael was under contract for us this coming year, and that's the benefit of the arbitration process."
He later added:
"The conversations were very open. The dialogues were very candid and very productive. It's just the matter of fact that we don't have a longer-term deal at this point in time. If the arbitration process wasn't to begin in earnest this morning, we probably would still be talking. It is part of the way the summer unfolds and sometimes you're able to beat the deadline and accomplish some of the things that you set out to. But whether it's a deal that happens at different points in time, we'll just continue to talk."

#NHLJets Chevy says dialogue will continue between the two sides towards a multi year deal with Frolik.

— Rick Ralph (@RickRalphTSN) July 29, 2014
Frolik is a solid two-way forward. He has good hockey sense with and without the puck in all three zones. He also adds scoring depth, notching 15 goals and 27 assists for 42 points in 81 games in his first season in Winnipeg last year. That's his highest point total since his second NHL season. At age 26, it's possible Frolik could have even more of an impact next season, especially on special teams.
Whether or not he makes that leap to become a core member of the team will be an intriguing storyline as the season gets underway. The Jets invested a lot in Frolik, trading two draft picks to the Chicago Blackhawks for him and setting the bar high with this contract. A $1 million increase in salary per year from his last deal.
Matt Halischuk
 Halischuk, also age 26, has a lot to prove as he signed a one-year, two-way contract worth $725,000. He is capable of playing out the season in Winnipeg as opposed to spending time in the AHL. He has great speed and acceleration, offers good defensive play and is capable of chipping in on offense while suiting up in the bottom-six. 
The issue is staying healthy. Halischuk has missed plenty of game in recent years due to injury, including last season when he suffered a broken arm. Halischuk touched on this and the offseason in speaking with the Winnipeg Sun's Kirk Penton.
"It's been nice to be healthy. I've been banged up the last couple years in the summer and doing more rehab than training, which is kind of the opposite of what you want to be doing in the summer.It's been good to be healthy and start training right away and not have to worry about getting rehabbed up before you start."
The Jets need Halischuk to produce like he did in 2011-12 with the Nashville Predators when he recorded 15 goals and 13 assists for 28 points and still played sound defense. 

It may be asking a lot, but the Jets will need players like Frolik and Halischuk to have an impact each and every night in all three zones. Cheveldayoff has more than $9 million remaining in cap space, but finding a top-six forward or top-four defenseman seems highly unlikely at this point. 
Remember, the Jets finished dead last in a division which saw five of seven teams make the playoffs and most of those teams – such as the Dallas Stars – have made upgrades in the offseason. 
It's one thing for the Jets to bring back players who will likely buy in and even thrive under Paul Maurice. Entering the 2014-15 season with nearly an identical roster however, is likely going to mean a nearly identical result, given the state of the Central division. There is still more than two months until the Jets open the season, but for now, it appears the 2014-15 campaign will be at best, a stepping stone to better years.