In 2013-14 Ryan Johansen joined the ranks of Rick Nash and Geoff Sanderson as the only Blue Jackets to earn 30-plus goal seasons in franchise history. This season, the young star could become just the second Blue Jacket, along with Nash, to breach the 40-goal mark, but that's not the only history to be made in 2014-15.
The Blue Jackets have never had two 30-plus goal scorers in the same season. It's no easy feat. Only Anaheim, Boston, Chicago, Dallas, Pittsburgh, San Jose, and Toronto carried more than one 30-plus goal scorers last season. Should Johansen match or improve on his breakout season, the Jackets need one more player to step up to reach the elusive milestone.
Columbus enjoyed franchise-best success in 2013-14 due in large part to offensive diversity. Thirteen Blue Jackets notched more than twenty points, eight of which earned double-digit goal totals. Let's break down the best candidates to be the fourth Blue Jacket to reach the 30-goal mark in a single season:
* * * * *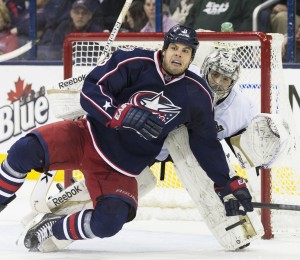 NATHAN HORTON
The veteran Horton has hit the 30-goal mark once in ten NHL seasons. He puts up quality numbers…if he's healthy, but that's a big "if." The last season Horton played 75 or more games, a feat he's only achieved three times, the bruising forward tallied 26-27-53 as a Bruin. Horton's peak 31-goal season came way back in 2006-07 as a member of the Panthers.
Should Horton stay on the ice for the majority of the season, he'll benefit from the rising talent around him. A line featuring Horton and Jenner centered by Johansen could see a lot of ice time and create headaches for opponents. Horton, though, is the least likely candidate on said line to break the 30-goal threshold in 2014-15. Instead, look for Horton to put up big time numbers in the assist column as a key top-six playmaker. That's assuming, of course, Horton spends more time with his linemates than the team doctors this season.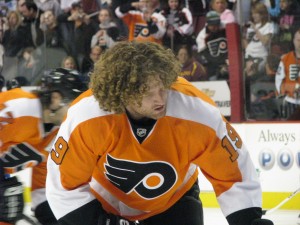 SCOTT HARTNELL
The latest addition to the team is also the only player to have hit the 30-goal mark twice. Back in 2011-12, the former Flyer put up monster numbers to the tune of 37-30-67. Last season was one of seven 20-plus-goal seasons for the veteran forward since joining the NHL in 2000-01.
Hartnell will play a more significant role in the offense than his trade counterpart R.J. Umberger. However, Hartnell is 32 and appears to have slowed down the last couple seasons. Don't expect Hartnell to match his career best 37 goals during his time with Columbus, but a couple more 20-goal campaigns isn't out of the question.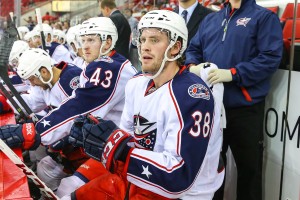 BOONE JENNER
Boone Jenner is the ultimate coach's player. Jenner utilizes a rare combination of physicality, vision, and speed to consistently get himself into excellent position in the offensive zone. He plays a physical two-way game, but avoids spending excessive time in the box. Great positioning means increased opportunities for Boone and his linemates.
Jenner tallied 16 goals in 72 games last season, good for second most goals by a rookie in Blue Jackets history. Jenner's ups his play when it matters most as made evident by an impressive 3-2-5 line in six playoff games. Expect Jenner to pick up where he left off as a force to be reckoned with. The second year forward may not breach the 30-goal mark this season, but he will sooner rather than later.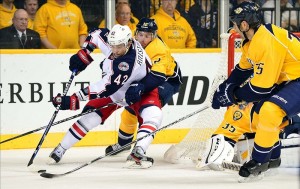 ARTEM ANISIMOV
Artem Anisimov was a key contributor to the Jackets' playoff run. Only Ryan Johansen put more pucks in the net last season than Anisimov. The 22-goal effort was a career high for the former Ranger. It could be an anomaly or a sign of things to come.
The 25 year old forward is entering the prime of his career. He's part of a deep center core for the Blue Jackets that includes Johansen, Dubinsky, Mark Letestu, and 2013 first round pick Alexander Wennberg. Center depth is great for the club, but will limit Anisimov's opportunities for ice time. On the other hand, he'll rarely be matched up against top lines and should capitalize against less talented rosters.
Anisimov is an under-the-radar player on a small market team. He finished last season tied for most GWG (5) on the team. Fans outside Columbus may not know his name yet, but if Anisimov continues to improve, he'll be impossible for opponents to ignore.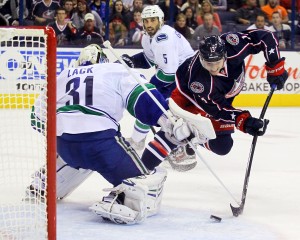 CAM ATKINSON
Cam Atkinson, yet another Jacket just scratching the surface of his potential, may have the best shot at joining the 30-goal club in 2014-15. The speedy Boston College product thrived during his first full season in Columbus accounting for 21-19-40 in 79 games. Atkinson, 25, may have the highest ceiling of any Jackets forward not wearing a 19 on his sweater.
Cam Atkinson seems to play best when paired with the tenacious Matt Calvert. Calvert missed a substantial chunk of last season due to injury, but when paired with Atkinson, they form one of the fastest sets of wings in the league. As a pure goal scorer, Atkinson thrives in open space, but at 5'7″ 173 lbs., don't expect him to hustle out many tallies from the dirty areas around the net.
* * * * *
Columbus has plenty of serious contenders to help Johansen and achieve the duel 30-goal season. Backed by a solid defense and former Vezina-winning goaltender, a Blue Jackets squad doubling down on 30-goal scorers would be primed to finish near the top of the Eastern Conference. If the Blue Jackets are able to stay healthy and continue to develop their deep talent pool, they have the potential for a deep playoff run.