Just a couple of days ago I posted an article on the Chicago Blackhawks rookie Andrew Shaw and how after being given a second chance at the NHL level he has been extremely successful. The two games that have followed that article have cemented my feeling and the feeling of many Blackhawks fans that Andrew Shaw is an integral piece of the 'Hawks moving forward.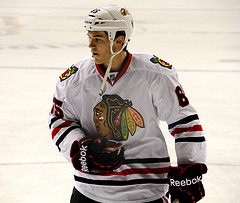 In Shaw's last two games against the Dallas Stars and the Columbus Blue Jackets he has recorded three goals and scored five points. Shaw, who is slated on the Blackhawks shut down third line, has found some extraordinary chemistry with Dave Bolland and Bryan Bickell, and their collective success has largely driven the team recently.
Bolland has had an average season, and while it may not be the offensive break out season many have been waiting for, night in and night out he has had to play against the other team's top line. Even with that pressure, he has been able to produce some offense, 33 points, and shut down other teams top scoring threats. Bickell on the other hand has struggled mightily for the Blackhawks this season, after a 2010-2011 season where he produced 17 goals and 20 assists in his first full season at the NHL level. This season has not mirrored the previous, as he has been a healthy scratch for multiple games this season, been passive physically and has not been able to chip in offensively.
However since Shaw's addition to that line there has sent a charge through the two elder members of the line, with Bolland playing a solid two-way game as well as potting two goals in his last six games. An even bigger difference has been seen in Bickell as in his last six game he has scored four goals and netted six total points. In the same stretch Shaw has seven points so it seems clear to me that the 'Hawks have found a line that they can count on down the stretch and into the playoffs.
Shaw has to be seen as the key piece to that line and their turn around. Night in and night out he brings energy to the lineup, finishes his checks and goes hard to the net on a team that is chock full of skilled finesse players. This is why I think Shaw is seeing so much success, in a system where head coach Joel Quenneville wants players to got to the net and make the game difficult for the other teams goaltender. Shaw possesses both of these qualities in spades.
Although he was not a major point producer in junior he plays a style that is tailor-made for the NHL and especially the 'Hawks system. He fits the role of former 'Hawks like Ben Eager, Adam Burish and Colin Fraser in that he plays a gritty, grinder style of hockey, one which the 'Hawks have missed since the departure of those three.
But Shaw also seems to be filling the role that another departed 'Hawk brought and that is Kris Versteeg. He is not the finesse player that Versteeg was, but Versteeg played on the third line with Bolland and Andrew Ladd and this line was tasked to play the same role as the current third line.
In his two seasons with the 'Hawks Versteeg tallied 97 points, and in 29 games with the 'Hawks Shaw has 17 points which in a full season would translate into surprising 48 points. Yes Versteeg played the game with more of an offensive flair than Shaw but on a point per game basis is nearly identical to Shaw.
The two may play a different game but no matter how Shaw plays the game the production is similar to Versteeg's and with the swagger/grit that Shaw brings he could become as popular of a player off the ice as Versteeg was. For Shaw the key to continuing his success with be not to change his game, not to adopt an offensive first attitude, just go out finish your checks, go to the front of the net, be responsible defensively and just let the offense come to him.
Hopefully for the Blackhawks and Shaw this trend can continue and if it does then the 'Hawks might have another piece to add to their solid core of players that hope to bring the Stanley Cup back to Chicago.