This is a question that no Blue Jacket fan ever wants to think about. However, given the salary cap, it's something that needs addressed. Is there a chance, even a small one, that the Columbus Blue Jackets somehow lose their star defenseman Seth Jones?
Let's make one thing clear to start. It is the Blue Jackets intention to sign him to a contract as soon as possible. Likely the two sides will talk after the season about an extension.
That leads to our next question. How much will Jones get on his next contract? He is a restricted free agent. As of this writing, Jones has 80 points in 233 career NHL games, an average of .34 points per game. His former Nashville teammate Roman Josi also averaged .34 points per game in his first 100 games. The Predators signed Josi to a seven-year deal worth $28 million.
Nashville elected to sign Josi to a longer-term deal, thus buying some free-agent years. His cap hit of $4 million is what I would expect Columbus to offer Jones. Let's look at a couple of different aspects of this.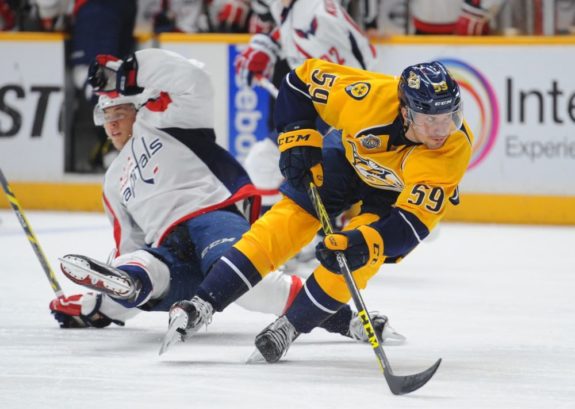 Bridge Deal Or Long-Term Deal?
The Blue Jackets have generally preferred to do bridge deals to their RFA's (see Johansen, Ryan and Jenner, Boone). Management wants their players to prove that they're worth their next contract. Jones is an interesting case.
I would expect the Blue Jackets to offer a two or three-year deal to Jones as a bridge deal. Jones' performance though does call for some extra consideration. It's not often you get the chance to lock down a true, number-one defenseman at just 21 years old. The Blue Jackets will consider all possibilities, including a longer-term deal. Will management see the potential value in locking him up now? $4 million per season for a top defenseman is a bargain in today's game.
The Salary Cap
Where are the Blue Jackets at compared to the salary cap? Thanks to our friends at Cap Friendly, the Blue Jackets have about $68.72 million in salary committed for the 2016-17 season. The current salary cap sits at $71.4 million. If the full 5% escalator goes into effect next season, that puts the cap potentially at around $74 million. Using $74 million as our benchmark for this discussion, the Blue Jackets have somewhere around $5.3 million is space available. It would seem they can sign Jones at $4 million assuming this data is right eventually.
There's so much more that goes into this though. First off, will the salary cap get to the full escalator amount? Given the state of the Canadian dollar, it's not 100% guaranteed. Reports have suggested the cap could stay flat or go up slightly, even with use of the full escalator. If the cap stays flat, we're talking around $71.4 million again, or only about $2.7 million in cap space. Uh oh. Jones is worth more than $2.7 million/season given his career to date. How would Columbus get money?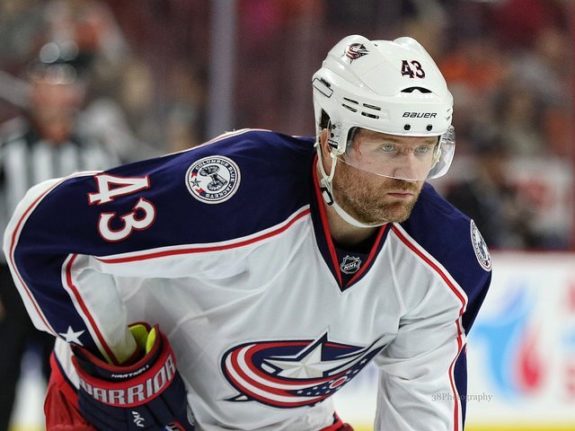 One way to clear space is via trade. Remember all the rumors of Scott Hartnell and Fedor Tyutin possibly going at the trade deadline? The team could explore this again during the offseason. If a trade happens, it opens up precious cap space.
My only concern is, if nobody wanted them at the deadline because of the term, what changes now in the offseason? Many teams are not in position to take on bigger contracts without shedding money themselves. Columbus would have to find someone willing to take those contracts on, without giving much money back. Oh, and they each have no-move clauses. They'd have to approve any potential moves.
It's certainly possible players get dealt, but it's not guaranteed. If they can't trade anyone, they're close to the cap as it is. Now comes the potentially scary part in this whole thing.
The Offer Sheet
Shrug. Although these are rare, the offer sheet can throw a wrench into this whole thing. Is there a team out there that sees an opportunity to land a cornerstone defenseman in Jones? Teams always look for ways to improve. It's not often that teams can land a top defenseman.
Click here to refresh yourself on rules about offer sheets. For example, let's say a team steps up and offers an offer sheet that's worth $25 million over five years. The compensation table says you must give up a first and third-round pick because the AAV of the contract is $5 million.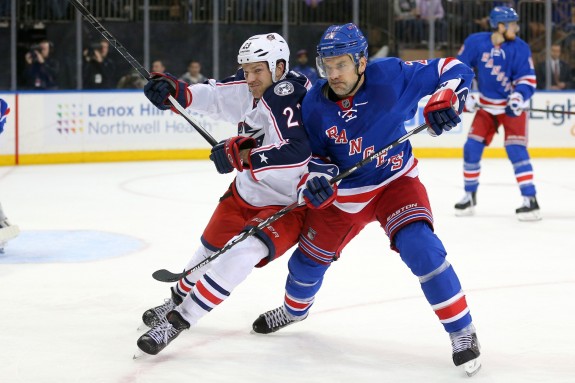 Given the cap crunch Columbus is in, thanks to some awful contracts (see Clarkson, David), will a team offer something Columbus is unable to match? Although the possibility is small, there is a chance. This is a nightmare for the Blue Jackets if anything like this comes to pass.
Now, even if the Blue Jackets sign Jones (which they MUST do), there is other impacts to the team. Is this the end of William Karlsson in Columbus? He too is a restricted free agent, but with what money is Columbus paying him with?
What about Zach Werenski? His season ended at Michigan, meaning he can choose to turn pro by signing an entry-level deal with the Blue Jackets. He could make the Blue Jackets right away next season. You need cap room for that too.
With all this said, I do believe Jones stays in Columbus. You dare not run the risk of losing him after trading your number one center. But how this happens is worth watching. Will a trade or two happen in the offseason? Where does the salary cap settle at? How much is Jones' contract worth?
The #BlueJackets may be faced with a Seth Jones offer sheet. Some teams will be tempted. He will be looking for a payday not a bridge deal.

— Paul Almeida (@AzorcanGlobal) March 4, 2016
No matter how it happens, the Blue Jackets must lock Jones down, whatever it takes. But don't be surprised if there's some drama leading up to that moment.