Could the Stanley Cup Playoffs finally be in reach for the Edmonton Oilers in 2015-16?
Thanks largely in part to the vast number of transactions completed by new general manager Peter Chiarelli this off-season, the Oilers find themselves poised for significant on-ice improvement this coming season.
Since there are a number of players new to the Oilers, as well as an even larger number who are now ex-Oilers, let's take a quick look at who's in and who's out in order to determine whether the Oilers could suddenly be a legitimate playoff contender.
---
Who's In?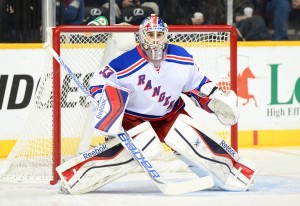 In order to bring significant improvement to the Oilers' roster, Chiarelli targeted Edmonton's two major areas of need: goaltending and defense.
At the conclusion of the 2014-15 season, the Oilers' starting goaltender was Ben Scrivens, while they lacked a legitimate top pairing defenseman, forcing Edmonton to play select players in roles out of their levels of ability.
Prior to, as well as on July 1st, the opening day of NHL free agency, these issues were dealt with quickly and sufficiently, as Chiarelli instantly made drastic improvements to the existing roster, in particular in those areas of major need.
Cam Talbot – Goaltender
Acquired in exchange for draft picks, Cam Talbot finally gives the Oilers something they have lacked for a significant period of time: a legitimate starting goaltender. Although Talbot has played in just 57 games in his career, he has posted fantastic individual statistics, recording a 2.00 GAA and .937 SVP.
Andrej Sekera – Defenseman
As the longest term contract handed out on July 1st, the presence of defenseman Andrej Sekera will finally provide the Oilers with a legitimate top pairing defender. Capable of playing over 20 minutes on a nightly basis, Sekera plays a sound defensive game and can contribute offensively on occasion.
Griffin Reinhart – Defenseman
Like Sekera, the Oilers acquired defenseman Griffin Reinhart in exchange strictly for draft picks. A top defensive prospect who is only 21 years old, Reinhart was the fourth overall draft choice in the 2012 NHL Draft who played a four year junior career with the Western Hockey League's Edmonton Oil Kings.
Eric Gryba – Defenseman
A physical, stay at home defenseman, Eric Gryba will add much needed physicality to an otherwise soft Oilers defense core. Drafted in 2006, Gryba, 27, is a 6 foot 4, 225 player who recorded 12 assists in 75 games with the Ottawa Senators this past season.
Mark Letestu – Center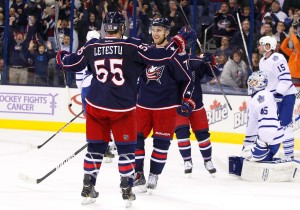 The arrival of Mark Letestu will provide the Oilers with tremendous depth at the center-ice position. Essentially replacing former Oiler Boyd Gordon, Letestu is strong in the face-off dot and has offensive upside to his game.
Lauri Korpikoski – Left Wing
Korpikoski, like Letestu, provides the Oilers with greater forward depth. A former first round pick of the New York Rangers in 2004, Korpikoski is a player of good size at 6 foot 1, 205 pounds who can contribute offensively. Although his production has regressed in recent years, Korpikoski was not brought in to score goals.
---
Who's Out?
Of those departing Edmonton this off-season and becoming free agents, none had an especially large impact on the Oilers' success, or lack thereof, this past season.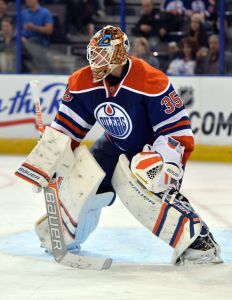 Keith Aulie – Defenseman
Richard Bachman – Goaltender
Victor Fasth – Goaltender
Matt Fraser – Right Wing
Curtis Hamilton – Left Wing
Jesse Joensuu – Left Wing
Steve Pinizzotto – Right Wing
Derek Roy – Center
One player who was a positive force with the Oilers last season who is now an unrestricted free agent is veteran center Derek Roy. Roy and Nail Yakupov found instant chemistry and success together, as the presence of Roy seemed to bring out the best in Yakupov. However, with the Oilers' sudden depth at center, it appears as though Nail Yakupov will have to settle and play with Connor McDavid instead.
---
Projected Opening Night Line-Up
Based on the numerous amount of changes to the Oilers' roster this off-season, let's take a quick look at what this significantly altered Oilers line-up could look like come opening night.
Forwards:
Hall – Nugent-Hopkins – Eberle

Pouliot – McDavid – Yakupov

Purcell – Lander – Draisaitl

Korpikoski – Letestu – Klinkhammer/Hendricks
Defense:
Sekera – Fayne

Klefbom – Gryba

Ference – Schultz
Goaltending:
Talbot

Scrivens
---
Are the 2015-16 Oilers a Playoff Contender?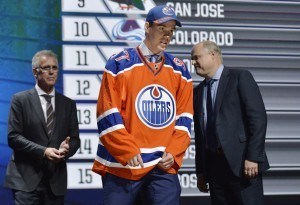 Could the Oilers finally reach the playoffs, something they have failed to do since their magical run to the Stanley Cup Final in 2005-06?
With the acquisition of a potential number one goaltender, a top pairing defenseman as well as depth forwards up front, the Oilers are poised to be a much stronger team all around, however the teams core does remain exceptionally young.
Of course, a question such as this is highly debatable, however it is virtually guaranteed that, thanks in part to the many roster changes made by GM Peter Chiarelli, the 2015-16 Oilers will be a significantly improved and more competitive team this season.