October 8th, 2015, saw the Minnesota Wild at the Pepsi Center in Denver Colorado facing a rejuvenated Avalanche roster.
For the second straight year, Minnesota and Colorado re-kindled their fierce relationship and faced off to open the 2015-16 season. In front of a brutal and lively crowd, Minnesota quickly fell far behind in an excruciatingly weak 30 minutes of play to start the game. Trailing 4-1 to start the third period, the heckling rained down upon the Wild faithful present in Avalanche country who had to endure such a sloppy game up to that point by Minnesota.
Being there, of course, I vividly remember during the second intermission running into another Wild fan who had the same look of disgust on his face that I did. We nodded at one another, expressionless. Though without hesitation, a brief conversation began.
"You know Yeo is in there losing his mind right now."
"Sure is, but his message should be simple, 'If we don't score a quick one to start the third then play for pride at this point,' but let's remember… it is Colorado."
The rest of that mild Denver night went down in history, as Minnesota went on to score 4 goals in a span of 5:07 to absolutely stun Coloradoans. Zach Parise completed a hat trick to give the Wild the final lead of the game and became the second Wild player in history to score a hat-trick on opening night, the other being Marc Chouinard back in 2005.
The consensus following the game, at least for me, was that surely Minnesota may face some uphill battles this year. Devan Dubnyk looked shaky as did the defense, but with Minnesota showing the kind of fight that they did in the third to come back from three goals down in the most hostile of environments, the Wild would undoubtedly be a shoe-in for the postseason.
Or so I thought.
Minnesota Wild Again Looking Up At the Standings
What a difference nearly six months makes. Here we are with a mere 14 games left in the regular season and the Wild are sitting two points behind (who other than) Colorado. The 2015-16 campaign has been by far the most unnerving of Minnesota Wild seasons in recent memory. Right now, there isn't a more streaky and inconsistent team in the NHL, putting a whooping on the Blackhawks in the Stadium Series game one night, only to lose a critical game on home ice at the hands of Connor McDavid's lowly Oilers. It truly is amazing what a tough loss on home ice to a last place club can do to a fan base and team alike. Especially considering the Wild had two days off this week to rest coming off a busy workload of games over the course of the last month. The morale is obviously low on all fronts at this point in the season, and rightfully so.
Even before the Mike Yeo firing, that is now coming into question altogether, the larger picture of "Is this team really able to win right now?" as Chuck Fletcher has stated time and time again, has begun to loom in the heads of observers. To be rather blunt, the feeling I get is that this team plays when they want to play far too often, mandating the fans to hear the same old post-game remarks of "Time is running out," and "We have to start treating every game as if it's do or die."
Coach John Torchetti was displeased with certain members of the Wild who remained nameless not sticking to the game plan of getting pucks deep against an Oiler team who was missing a ridiculous four of their six starting defenders. He stated that players will sit if they don't want to listen, and it's as simple as that. Again, that's something we heard far too often in the Mike Yeo era, with little follow-up. The players that actually should have sat never did, and change to special teams units and the ice-time deviation was non-existent. We'll see what kind of follow-through comes of Torchetti's speech.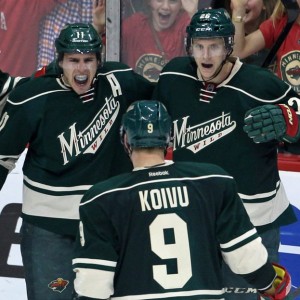 Another question in play here is whether or not there is a divided locker room between the leadership and youth in Minnesota. Our Nate Bauer explored this notion when he stated that Mike Yeo was used as a scapegoat during the decline of the Minnesota Wild. There is merit behind all of this. The players are the ones performing on the ice after all, and speaking in terms of their embarrassing loss to the Oilers that bumped them from 8th place in the West, it really is unacceptable that a team that has the type of talent that the Wild possesses could only tally a single goal against a depleted Edmonton defense. It is inexcusable and worthy of them being booed off the rink.
Zach Parise, who is apparently playing with an upper body injury, has been unusually quiet both on and off the ice of late. He speaks when spoken to by Minnesota media obviously, but are guys like him and Ryan Suter doing enough behind-the-scenes to rally the troops? Are any of the veterans doing that for that matter? Just what kind of example is being set for the Coyles and the Niederreiters when you have Thomas Vanek making a statement like this following the firing of your head coach?
Vanek, asked if he talked to Yeo after the announcement: "I haven't talked to Mike since he scratched me in St. Louis." #mnwild

— Jess Myers (@JessRMyers) February 14, 2016
What was that, the first scratch of Vanek's tenure with Minnesota? Entitled much? This is kind of funny because Minnesota can't lose a single game without a good number of paying fans calling out Vanek for his play. I know this is going on a month old already and maybe not news anymore, but I just can't let go of it.
There are simply a bunch of problems for the Wild this season. From questions of leadership and internal division to special teams and home-ice play to simple inconsistent stretches of games from key players. It's not a matter of pinpointing what the sole issue is anymore with a team that has been together for nearly three full seasons, so much as it is accepting the fact that the cancer has ravaged uncontrollably throughout. I'm not sold on the Wild being able to right the ship this year, and quite frankly, I'm more so not convinced that they even deserve a playoff spot at this point. They've been depressing to watch more often times than not, and the overall cohesion among one another does not appear to be there anymore if it ever was at all.
I absolutely detest being a "Lay Down Larry" myself, when the Wild are chasing a team like Colorado after all, but the Avs are playing inspired hockey right now.
Maybe it's time to accept the inevitable, collect the losses, once and for all learn from a real lost season, and begin the dreaded overhaul of the organization. I mean let's be real here, is the product on the ice worthy of a 4% increase in ticket prices next season?
Can't get enough hockey? Want to talk about it with our writers, and fellow fans? Join The Hockey Writers Group on Facebook today for the best hockey conversations on the web!