It has been a rough couple of months for the Arizona Coyotes on the road. The Coyotes have dropped 10 of their last 11 games away from Gila River Arena, which is a big reason why they have fallen out of contention since the All-Star break. Fortunately for Arizona, they end their current four-game trip in Edmonton as they face the Oilers for the final time at Rexall Place. If history is any indicator, the Oilers might be just what the Coyotes need to end their road woes. The Coyotes currently carry a 21-game point streak against Edmonton dating back to the 2010-11 season. Here is a look at Arizona's impressive run against the Oilers prior to their upcoming matchup in Edmonton.
Scoring Leaders
During this 21-game point streak, Arizona has had six players score at least 10 points against the Oilers. Oliver Ekman-Larsson and Mikkel Boedker top the list with 16 points each (eight goals and eight assists for both). Joining that list are Martin Hanzal (13 points) and Shane Doan (10 points), along with former Coyotes Radim Vrbata (14 points) and Keith Yandle (12 points). Other notable top performers for Arizona against Edmonton include Ray Whitney (eight points) and Max Domi (four goals and two assists in three games). Domi also notched his first career hat trick earlier this season against the Oilers in their last meeting on January 12.
Late Heroics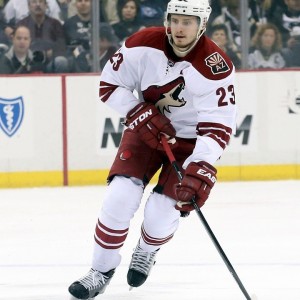 The Coyotes have won 17 of their last 21 games against the Oilers. During this streak, Arizona has exhibited quite a flair for the dramatic. The Coyotes have beaten the Oilers three times in this run by scoring a game-winning goal in the final 10 seconds of overtime. Yandle scored on former Coyote Ilya Bryzgalov with 6.5 seconds left in the extra frame to give Arizona a 4-3 win on December 31, 2013. Last season, Oliver Ekman-Larsson lifted the Coyotes to a 2-1 victory over Edmonton on December 16, 2014, when he scored with 0.3 seconds to go in overtime. Earlier this year, Ekman-Larsson provided the game-winner once again by scoring with 8.9 seconds to go to give Arizona a 4-3 win on January 12.
The McDavid Factor
So far this season, the Coyotes have taken five out of six possible points against the Oilers. However, Arizona has yet to face the Oilers with Connor McDavid on the ice. The first-overall pick in the 2015 Draft was sidelined for three months with a collarbone injury but has flourished in his return. Since his first game back from injury on February 2, McDavid has nine goals and 23 points in 20 games. The young superstar might be Edmonton's key to beating Arizona in regulation for the first time in more than five years. However, the Coyotes will be determined to grab another point or two from the Oilers and extend their streak before leaving Rexall Place for the last time.
Can't get enough hockey? Want to talk about it with our writers, and fellow fans? Join The Hockey Writers Group on Facebook today for the best hockey conversations on the web!