The Calgary Flames will be sending four players on their current roster to the World Cup of Hockey: Mikael Backlund, Jykri Jokipakka, Michael Frolik, and Johnny Gaudreau. The pre-tournament is over now, and with the show started up for real, which Flames' player will make the most impact in Toronto?
Mikael Backlund – Sweden
It's almost crazy to think that Mikael Backlund only joined team Sweden due to an injury. Yes, if it hadn't been for Henrik Zetterberg's off-ice knee injury, Backlund, who had a very solid 47 points in 82 games last year, wouldn't have even been participating in the tournament.
When it comes to international play, Backlund is as experienced as anyone, having represented Sweden many times, in many different tournaments. Backlund played in four World Championships, two U-20 World Junior Championships, and two U-18 World Junior Championships.
The former first-round pick went pointless in the pre-tournament, but his strong hockey sense will be key for Sweden's secondary scoring. Look for Backlund to quietly find his way onto the scoreboard, and to emerge as an unsung hero for Sweden.
Jyrki Jokipakka – Finland
The only defenceman that Calgary is sending to the World Cup, Jyrki Jokipakka will be representing Finland, and he may end up in a role that he's not quite ready for. Finland's defence core is surprisingly fairly weak, headlined only by Anaheim's Sami Vatanen, Buffalo's Rasmus Ristolainen, and Pittsburgh's Olli Maatta. After Finland's top three, the back four positions are pretty well free game.
Two of Finland's defencemen, Esa Lindell and Ville Pokka, spent the majority of the season in the AHL and aren't going to be a strong match to the likes of Alex Ovechkin and Connor McDavid. Sami Lepisto, who plays in the KHL, may slide into the fourth position, but Jokipakka will still be relied on as a fifth defenceman at the very least.
Seeing as Jokipakka isn't even one of Calgary's top four defencemen, it's tough to see him fitting into that role with Finland. He's a big guy, he's and strong defensively, but he's not going to be able to do much offensively. That being said, Jokipakka will have the chance to turn Finland's defensive weakness into an opportunity for himself to shine. With strong play, he could really begin to turn heads.
Michael Frolik – Czech Republic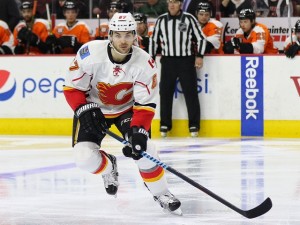 On a team that doesn't have a lot of firepower in the lineup, Michael Frolik is in a similar situation to Jokipakka. The Czech Republic may be one of the less likely teams to win the World Cup of Hockey, but this could be Frolik's chance to breakout. Frolik has never really been more than a second line player, but with a strong performance in the World Cup, he could grab the first line right wing spot back from the incoming Troy Brouwer.
Frolik has already represented the Czech Republic many times, including the 2014 Winter Olympics, two different World Championships, and four U-20 World Junior Championships. Frolik put up one point in three pre-tournament games, and with a veteran forward core of Tomas Plekanec and Ales Hemsky, Frolik should fit right in on the Czech team.
Johnny Gaudreau – North America
With Sean Monahan having to withdraw from the World Cup due to injury, North America will no longer have both halves of the Flames' dynamic duo. That being said, Johnny Gaudreau will still be relied upon to carry much of North America's offence, unlike Frolik, Jokipakka, and Backlund, who are expected to just be part of their team's supporting cast.
Gaudreau will add even more speed to North America's lineup (as if they need it), and will likely be on the second line. It looks as though Gaudreau will be starting the tournament playing with Buffalo's Jack Eichel, and Detroit's Dylan Larkin, making for a very deadly threesome up front for North America.
Gaudreau had more points last season than any other member of the roster, and he tied for the most points in the pre-tournament, scoring three goals and two assists in three games. Johnny Hockey saw action on North America's power play as well, and after having success with Auston Matthews, it looks as though he'll keep his spot on the power play  for their game against Finland on Sunday.
Plus, with Gaudreau still in the midst of negotiating his contract, he'll be doing everything he can to prove he can compete with the very best. Expect Gaudreau to be not only one of the top players on Team North America, but to be one of the standouts of the entire tournament.
---
The Hockey Writers coverage of the World Cup of Hockey 2016 is being brought to you by PrimeSport, the official Fan Travel & Hospitality Package Partner of the World Cup of Hockey 2016.