This past June Danick Martel was dominating the international ball hockey scene in Pardubice, Czech Republic. The 22-year-old netted not only a silver medal with Team Canada, but was the 2017 ISBHF World Championships top scorer and best forward with 12 points in seven games.
While his goal at the time was to bring a gold medal home to Drummondville, Quebec the Philadelphia Flyers prospect had bigger aspirations on his mind. "I want to go to the next level and play for the Flyers next year," he said.
https://twitter.com/tialendo/status/933543612276723712
Well, Martel has a lot to be thankful for this year. On Thanksgiving Eve the AHL's leading goal scorer made his NHL debut in orange and black – and once again he did not disappoint.
Strong Start
Martel may be listed generously at 5-foot-8, but don't let his diminutive stature fool you. He has hands that can dazzle, a strong hockey sense, the carefree mentality to throw his small frame into bodies much larger, and speed – lots of it.
While his first few shifts were solid at both ends of the ice, he made a big impression halfway through the first period when he stole the puck from Islanders defenseman Scott Mayfield and broke in on Thomas Greiss. He didn't score, but he did make the Islanders think twice about pinching when he was on the ice for the rest of the game.
Danick Martel forces a turnover, gets himself a scoring chance. Pretty good for his first 10 min in the NHL. pic.twitter.com/W2apZpk6Kk

— Broad Street Hockey (@BroadStHockey) November 23, 2017
"There was a lot of emotion, for sure," Martel said post game to philly.com. "Hockey is a simple game and I wanted to keep it simple, play hard and that's what I did and had a couple of good scoring chances … The only thing I thought about was getting a shot. I mean, it was my first breakaway in my first game. I didn't know what to do, so I just tried to get a shot."
In the Flyers, 4-3 overtime loss Martel finished the game with just over 12 minutes of ice time, three shots on goal and a game-high four blocked shots. He also backchecked and played smart on both ends of the ice while lining up with NHL All-Star Wayne Simmonds and 2017 second overall pick Nolan Patrick. Not bad for an undrafted player in his NHL debut.
Who is Danick Martel?
Looking to snap a five-game losing streak, Flyers GM Ron Hextall was looking for a spark. He pulled the trigger Wednesday morning before the team played the New York Islanders and brought up Martel. The winger's numbers in the AHL were solid. In 17 games for Lehigh Valley, Martel had 14 goals and 19 points with a plus/minus of plus-10. But the forward also had 14 penalty minutes. According to hockeyfights.com, 10 of those minutes belonged to two fights.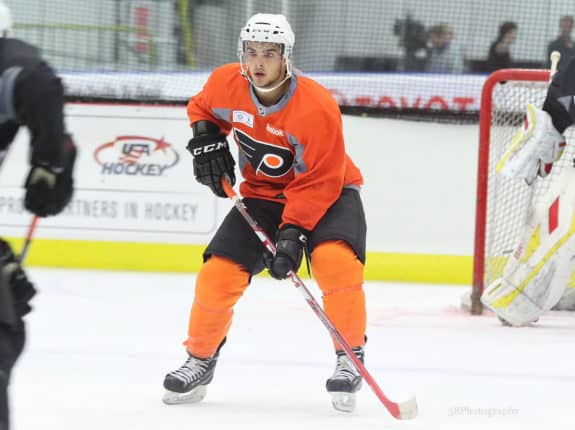 So while you're thinking Martel is more in the mold of Scott Gomez or even the speedster Pavel Bure – think again. He actually likes to mirror his game after one of the biggest agitators in the NHL.
"Right now it's a guy from Quebec [Brendan] Gallagher," said Martel, who admired Jarome Iginla growing up. "Gallagher is playing almost the same size as me. He's not talking a lot, but he's smiling a lot and this is even pissing off more people. I play the same way. I think he's working hard every shift, every day, being a leader. I'm trying to be the same way as him."
But while he may want to be an agitator, which he showed signs of by chasing after every Islander as soon as they got the puck Wednesday night, his speed will play a key role in his future. Unfortunately, the Islanders won the game on the first shift in overtime, but it would have been pretty exciting to have seen Martel play 3-on-3.
What's Next for Danick Martel
It's been a good year for Martel. His Phantoms ended the season with a playoff berth. He was the Phantoms 2016-17 IOA/American Speciality AHL Man of the Year for his charity work. Five months ago he was a star on the dek in the Czech Republic for Team Canada and earned awards and a medal, and a few short months later he realized his biggest dream – making the NHL.
"I'm not playing like a small guy," he noted back in Pardubice. "My heart is big. I'm going to work every shift. Here's the thing, I got a big mouth too. I'm pissing off every guy that I can. I'm playing my role so I'm a guy that can play on the first line and a guy that can play on the fourth line too. I showed that I can score and showed that I can play the penalty kill, power play [and] 5-on-5."
The one negative going forward for Martel, if he keeps playing the way he did on Wednesday, 2017 may have been his first and last ISBHF World Ball Hockey Championships. The Flyers wouldn't want to risk injury to one of their stars.
At-large-contributor.
Formerly ESPN, SNY, and SNY.tv.
4-time Emmy winner, 2-time NY Emmy nominee for short-form writing.