"One of my favorite guys"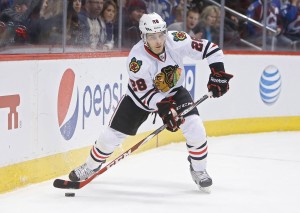 In an introductory interview with newest San Jose Shark forward Ben Smith, I asked the former Chicago Blackhawk forward who his favorite teammate was in Chicago. Without hesitation, the name Patrick Sharp immediately came to mind for the 26-year-old.
"One of my favorite guys was Patrick Sharp. Mostly because when I first got there he was the guy who watched a preseason game and he said 'hey you're a good player and you're going to do well. Might not be like tomorrow or today but you're a good player' and for me, hearing that from him, a guy you watched on TV, it's really nice. That gives you a lot of confidence as you move forward in your pro career."
Sharp, you may recall, (if you haven't been living under a rock recently) has been the center of rumors of locker room tension in Chicago. The rumors have focused on alleged infidelity with him and multiple teammates' significant others. Sharp is married with multiple children and there were unconfirmed reports recently of a fight breaking out in the Blackhawks' dressing room.  The veteran forward was subsequently thrown into trade rumors leading up to the March 2nd trade deadline. Sharp recently acknowledged publicly that the allegations have been difficult on him. To make matters worse, Sharp's on ice play has been heavily criticized this season with just 32 points in 50 games this year after posting 78 points in 82 games last year.
It is one thing for teammates and former teammates to come to Sharp's defense when specifically asked about the issue. It is another when someone who shared a dressing room with him praises him out of the blue. While players getting involved with teammates' wives or girlfriends has happened before, perhaps these are indeed simply false rumors. One thing is for certain, Ben Smith is a big fan of Patrick Sharp.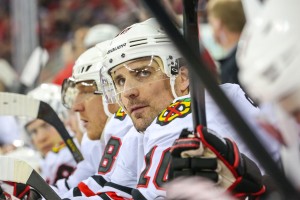 Andrew has been credentialed to cover the Sharks since 2010 and the 49ers since 2012. He graduated with his BA in Broadcast Electronic Communication Arts in 2013 from San Francisco State University.