The Penguins-Lightning series' opening game was probably the weirdest game we've witnessed in a while. It was nasty out there, people got hurt, returned to play or got carried out on a stretcher. There were some scary sights. If only the Penguins' big guns Sidney Crosby and Evgeni Malkin presented a comparable threat. Crosby and Malkin, though, continue to be invisible.
A Night Not to Remember
Long story short: Tampa Bay came ready to play, Pittsburgh didn't. In fact, Game 1 of the Eastern Conference Finals was probably the Penguins' worst outing of the playoffs. They played sloppy, slow and inconsistent. Although they carried play for stretches, they didn't create many quality scoring chances.
Suffice it to say, that the Lightning didn't create a lot either, but they capitalized to build a 3-0 lead before Patric Hörnqvist finally put the Penguins on the board. Hörnqvist's tally wound up being of marginal importance, because the Pens couldn't recover from falling too far behind the Lightning.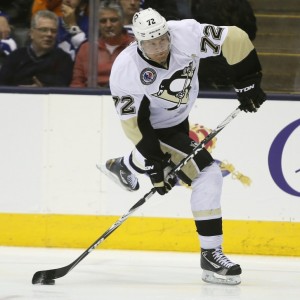 Nothing clicked for the Pens. Their passes were imprecise, Crosby and Malkin couldn't create any sustainable urgency against the smothering Tampa defense, and when they had an actual scoring chance, odds were that they'd miss the net.
Malkin, on several powerplays with his fellow big guns, was guilty of misses that led to the puck leaving the zone. During the first period, the Pens had a shot at taking the lead during a five-minute major penalty against Ryan Callahan for trying to chop off Kris Letang's head. The ensuing powerplay was of no avail, because the Penguins didn't skate, didn't put pucks behind Tampa's defense, didn't go hard enough to the net, didn't outwork the opposition.
Where Are Crosby and Malkin?
Crosby and Phil Kessel both had an assist on Hörnqvist's goose-egg-erasing powerplay goal late in the second period. Malkin hammered pucks on the powerplay as he's supposed to, but he also had a very characteristic offensive-zone penalty, which lead to the eventual game-winning goal, courtesy of Ondrej Palat.
The stars are in a funk. But why is that?
Kessel regularly produces and has been a member of arguably the best line in hockey since mid-March. Crosby chips in with an assist here and there, but hasn't re-gained his dominance from the second half of the season and the Pens' first round series against the Rangers.
Letang absorbed a very dirty hit from Callahan early in the first period, was motionless for a while and only returned after clearing the league's concussion protocol. It's no wonder he wasn't quite himself afterwards. He made uncharacteristic turnovers, and his game was clearly off after the vicious impact.
Several Penguins players referred to the hit as "dirty".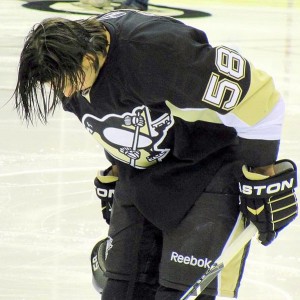 Crosby, with Hörnqvist on fire, will eventually get his mojo back, there is no doubt in my mind. It's just a matter of outworking the opposition. Malkin, however, has looked lost for long stretches on a line with Chris Kunitz and Eric Fehr. Neither of the two wingers are executing their net-front duty well enough for Malkin to have the space he needs to create good things for the Penguins.
Malkin's line doesn't display a lot of chemistry and Chris Kunitz looks particularly out of place. The former 35-goal scorer hits opponents and that's about everything he contributes. There are times, then, when he goes out headhunting. He did so with his knee-on-knee check against Tyler Johnson.
That was a considerably dirty play, too, but in light of the Lightning's hits on Brian Dumoulin and Letang, Kunitz' condemnable play went under the radar. Those things can't go unnoticed for much longer and unless he starts to finally enhance Malkin's offensive production, Kunitz has no business playing in a top-six role with the Penguins any longer, because he's only going to hurt his team if he continues to play this way.
Don't Jump to Conclusions, but…
The Penguins' two weak spots were clearly on display in Game 1. Malkin's wingers can't jump-start the Russian's offense and Olli Määttä is light years from being a capable first- or second-pairing defenseman in his current form.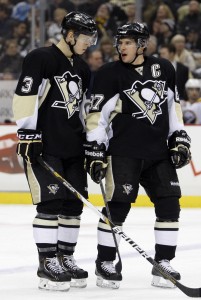 You can't afford having a liability out there against the playoffs' top scoring line in Alex Killorn, Tyler Johnson and Nikita Kucherov. Killorn, who went on to score the ice-breaker late in the first, overskated Määttä way too easily on that sequence. To have that happen once (against Derick Brassard in Round 1) is incidental, bad positioning. To have it happen twice (against T.J. Oshie in Round 2) is questionable behavior, but to have it happen a third time the exact same way last night isn't even in the neighborhood of coincidence anymore.
Even if Dumoulin somehow survived Palat's face-to-the-board salute, Justin Schultz has to be re-inserted into Pittsburgh's line-up as soon as possible.
He hasn't done anything that would justify being scratched over Määttä and it's naïve to think otherwise.
The same goes for expecting the Pens to plow through another playoffs series without production from Crosby and Malkin.
Hi, I'm a 27-year-old hockey maniac from Switzerland who's studying Communication with a major in journalism at Zurich's college of applied sciences. When I'm not busy learning about the game or from books, I like cooking, watching films and going out or jamming with friends in my little home-studio.