[Editor's Note: Carcillo was suspended for 2 games for this infraction]
The Zamboni was all but off the ice and the anthems had just wrapped when Daniel Carcillo of the Chicago Blackhawks struck again.
On his first shift of the night, this rambunctious power forward decided to go hard for a puck behind the Carolina net.  At 1:47 of the first period, In his haste to beat his man, Carcillo, who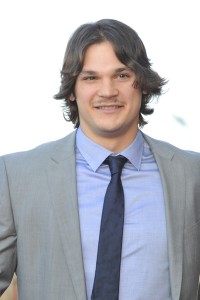 at the blue line was a car length behind the Cane player, pumped up the gas and on a play for the puck that was clearly not winnable, took out the legs of his former Philly teammate, Joni Pitkanen, behind the Canes net.
At first glance, this was an innocent play with two players hustling for the advantage.  However, with the benefit of my home PVR (personal video recorder), I have watched and re-watched this play several times and I assure you that watching it in super slow motion it is evident that this is a blatant push and an outright careless act.
The referee on the ice though clearly in position to make the right call, unfortunately didn't have this advantage and decided it wasn't worthy of a penalty so early in the game.
The NHL saw the play differently.
Today, anytime now, Dan Carcillo will face NHL vice president Brendan Shanahan for a disciplinary hearing to decide the left winger's early season fate.  Surely Shanahan will come down hard on the 26 year old repeat offender who started this year on the shelf for confronting officials during a game with Boston in last season's Stanley Cup Playoffs.
Shanahan's decision will take into account that 'The Carcillo List' is fairly long.  He has been previously suspended 2 games for a cross check against New Jersey's Matt Clarkson, 4 games for a Dan Carcillo sucker punch Matt Bradley of Washington's Matt Bradley and 1 playoff game for a punch and butt end to the head of Maxime Talbot.  That makes four suspendable offences in just 5 full NHL seasons.  So is this the tipping point?  Will Brendan Shanahan do the right thing to help further protect the players on the ice?
Dan Carcillo Sucker Punch
Blackhawks GM Stan Bowman knew what he was getting with Daniel Carcillo.  In 5 NHL seasons, the King City, Ontario native has mustered 988 penalty minutes in 289 games, for an average of 3.41 PIM per game.  But when he is on, Carcillo, as demonstrated in his minor league career and in spots at the NHL level, can turn a game around.  In the OHL Carcillo was a point a game player.  If he is playing the right way, he can make a difference.  And this is the type of player that the Blackhawks need him to be, not the one that came out last night and risked another player's career and potentially worse, on a careless play.
Pitkanen meanwhile was slow to get up,  would wince in pain from the Carolina bench and at the first available break, followed the training staff back to the dressing room for further analysis.  This time, he would be lucky to return to help his team to a 3-0 victory.
THW will be sure to update this post as soon as the news of Carcillo's fate is announced.
Update: As expected, Dan Carcillo has been suspended for two games by the NHL's department of player safety.  The reasons cited by league representative and former player Rob Blake were: Illegal Check, push from behind violent impact with boards, Carcillo's prior history & no apparent injury to Pitkanen.  He is sitting out tonight's game against the Columbus Blue Jackets and Monday's game vs Nashville.