Quality beyond merely the top two forward lines has been a stable trait of every Stanley Cup champion since the 2004-05 NHL lockout. The Pittsburgh Penguins in 2008-09 are the one exception to the rule, but this is hardly shocking; having two of the top three players in the world certainly lessens the importance of depth. Unfortunately for the league's other 29 teams, there does not exist a comparable duo to Sidney Crosby and Evgeni Malkin outside of Pittsburgh.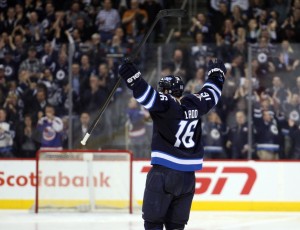 Of all Cup winners since 2004, the Chicago Blackhawks have had some of the most complete forward cores of the bunch. The 2010 team had the luxury of slotting a mix of Andrew Ladd, Dustin Byfuglien, David Bolland, and (pre ACL injury) Kris Versteeg in its bottom six. Three years later, Chicago iced Andrew Shaw and Brandon Saad on its third line and was able to play Bolland on its fourth. With Jonathan Toews, Patrick Kane, Patrick Sharp, and Marian Hossa constants in the top six for both Cup-winning rosters, the Blackhawks had themselves two utterly stacked forward squads in those years.
Fans of those teams surely remember how vital this forward depth was; Bolland was a huge contributor in both playoff runs, and Ladd, Byfuglien, and Shaw all scored particularly memorable and/or crucial goals for Chicago in huge moments. Beyond just the offensive production, however, having third and fourth lines the caliber of the 2010 and 2013 Blackhawks played enormous roles in facilitating Chicago's well-known focus on puck possession in both years. The ability to roll four capable lines entails the ability to keep the pressure on (and possess the puck) with incredible effectiveness, given the correct personnel.
The question, then, is this: Do this year's Blackhawks have the forward depth to make another serious run?
Blackhawks' Third Line: Plagued With Questions
Depending almost entirely on Joel Quenneville, Chicago's third line come playoff time be some amalgam of Andrew Shaw, Kris Versteeg, Brandon Saad, Bryan Bickell, Michal Handzus, and Peter Regin. My best guess at the moment — based primarily on a gut feeling — is that it will be Shaw centering Bickell and Versteeg. Handzus could conceivably be involved as well, as Quenneville considers his utility on the penalty kill to trump his outright uselessness at even strength; this is understandable in light of Chicago's yearlong struggles while down a man.
On paper, a trio of Shaw, Bickell, and Versteeg sounds fantastic. Shaw is on pace to score 20 goals, a mark rarely hit by third line players. Bickell was a Conn Smythe candidate last spring and has been a strong performer in every playoff series he has ever participated in. Versteeg has put up a respectable 0.5 points per game in 2013-14 and is a reasonably responsible two-way winger.
But such a summary is misleading and only examines the positive side of the equation. Shaw's goal and point totals aren't quite as impressive when given a bit of context; namely, that he has often had the benefit of top-six linemates such as Kane and Saad, and that he gets plenty of power play time to bolster his stats. In a "third line player" vacuum, Shaw's numbers are excellent… but he hasn't really been a third line player this year.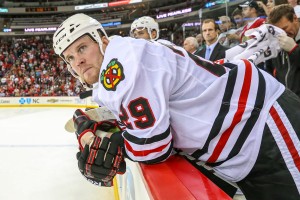 Bickell, meanwhile, has attracted fans' vitriol all season long due to perceived underperformance. While a good deal of this ire has been unfair, it remains to be seen whether or not Chicago's burly No. 29 will be truly healthy and back in form in time for the postseason. At the very least, Bickell has not yet come close to matching the level he played at nine months ago.
Versteeg is perhaps the best example of on-paper value sharply diverging from on-ice value. He has shown the occasional flash of brilliance, but for the most part Versteeg has diminished the potency of whatever line he's been on in 2013-14. A noticeable lack of quickness combined with steadily questionable decision making have combined to make Versteeg more of a liability than an asset this season. He is evidently still recovering from an ACL tear suffered barely more than a year ago, and this will likely continue to be the case. Many ACL patients aren't quite back to being themselves until at least a year after returning to action, be it on the ice, hardwood, or gridiron.
Despite my negativity, this is still a decidedly above average third line, and has the potential to be even more than that. If Bickell can provide something resembling what he did last postseason, suffice it to say that the Blackhawks will not be yearning for forward depth. Further, it is within the realm of possibility that the beginning of the playoffs could "jolt" Versteeg to a higher level in spite of his physical limitations; the list of such occurrences in the past is not inconsiderable.
Blackhawks' Fourth Line: Plagued With… Excellence?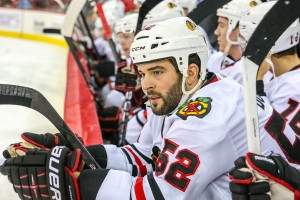 Chicago's third line is plagued with questions. The fourth line has no such problem.
Barring injury, it will be Marcus Kruger, Brandon Bollig, and Ben Smith holding the reigns. As a group, the three have been outstanding together this season, constituting one of the best (if not the best) fourth lines in the league.
It starts with Kruger, whose two-way game is not matched by any other fourth line center in the NHL. His 26 points have come while being deployed in an almost comically extreme defensive role and with zero power play time. Despite his small frame, Kruger has learned the nuances of protecting the puck at the professional level, and is one of Chicago's best at cycling in the offensive zone.
Bollig is beyond a shadow of doubt the Blackhawks' most improved player, having transformed into one of the better bottom-six wingers in the game today after being a fringe NHL'er at best (to put it generously) in 2012-13. He has collected 14 points in 68 games this season, a massive step forward from his mere 1 point in 52 prior career games. Above all else, Bollig's skating and general agility have progressed the most. The physical winger's play deserved a good deal of the negativity it attracted from fans in past years and even early on this season… but he has bettered his game immensely to the point of becoming a high quality contributor, and that is no longer deniable.
Ben Smith — he of the single most plain name in professional sports — has essentially the same game as Kruger: exemplary own-zone play combined with above average scoring (relative to minute distribution and role). He also shares a trait with Bollig in that he owns a surprisingly powerful shot.
Chicago's fourth line is unquestionably elite, and will need to remain so if the Blackhawks are to still be relevant in early June.
Do the Blackhawks Have Enough Depth to Repeat?
Yes, but every player in the bottom six will need to be at his best. Last year's team was grossly far ahead of the pack, but with 5 teams in the Western Conference alone on track to finish with 110 points or more this season, that isn't the case anymore.
Both the third and fourth lines on this year's roster are capable of being dominant. Chicago has the pieces in place.
It is simply a question of whether or not they will fit together at the right time.
Follow Sean Sarcu on Twitter or add him to your network on Google.