Jim Neveau, Blackhawks Correspondent
Wednesday night can't come soon enough for hockey fans in the Windy City.
With the Chicago Blackhawks on the cusp of winning their first Stanley Cup since 1961, the city is awash with a passion for the sport of hockey that hasn't been seen since the mid to late 90's when players like Jeremy Roenick and Chris Chelios were making their mark in the Indian head sweater. Since then, a whole new generation of sports fans has grown up in the city, and they haven't had much of a reason to cheer the Hawks on.
Until now.
Heading into Philadelphia for the potential Cup clinching game, here is a six pack of questions that the Hawks will need to answer, and that the Flyers will need to answer about themselves as well.
1. Does Philadelphia's Goaltending Situation Give Chicago an Edge in Game Six?
For the second time in five Stanley Cup Finals games, Philadelphia goaltender Michael Leighton was pulled after a shaky performance at the United Center. He gave up three goals on only 13 shots, and he was yanked after the end of the first period.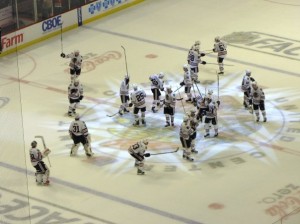 In his place on Sunday night, Brian Boucher wasn't a whole lot better, giving up three goals on 14 shots in two periods of play, and looked as though his mobility is still hampered by the knee injuries he suffered during the Eastern Conference Semi-Finals against Boston.
While head coach Peter Laviolette knows who will be starting Game 6, the fans of the Flyers will likely not know for a little while longer. Thus, the question can be asked: do the Flyers' woes in the crease mean that the Hawks will have an advantage in Game Six?
Smart money is betting on Leighton being the starter in Game 6, and with his performances at home during these playoffs (6-0 record, with only nine goals allowed in those six games), it is entirely possible that he will stand on his head yet again and deliver a grandiose performance for the Flyer faithful at the Spectrum Wachovia Center.
If the Hawks can get to Leighton early like they did in Game 5, then the hook will likely be quick yet again, and the Flyers could be in a world of trouble with their backs across the wall.
2. Was Big Buff's Big Game Five Performance a Big Fluke, or a Big Breakout?
Unfortunately, the answer to this question is impossible to accurately predict. Byfuglien is a notoriously streaky player, and that trend has extended into this postseason as well.
After going the first eight games of the playoffs without a single goal or assist, Big Buff recorded a hat trick against the Vancouver Canucks in a Game 3 triumph at GM Place. After picking up an assist in Game 4 and getting kept off the scoresheet in Game 5, Byfuglien went on a tear and scored in five straight games (including all four contests against the San Jose Sharks).
Once the Stanley Cup Finals started, and Chris Pronger was introduced to the tall beefy kid from northern Minnesota, Byfuglien quieted down considerably, notching only an assist in the first four games of the series. He still played with his trademark physicality, but the offensive punch that had been so prevalent in the San Jose series was nowhere to be found.
Then, in Game 5, it was as if a switch went off in his head. In addition to the nine hits that he dished out (including a couple hellacious shots at Pronger), Byfuglien also netted two goals (on the power play and into an empty cage) and dished out two assists. It was a coming out party of sorts for Byfuglien, who finally got some space away from Pronger because of the dissolution of the Buff-Toews-Kane line at the end of Game 4.
Will Byfuglien continue the production he had in Game 5, or will he go back into his shell like he did after his last offensive outburst? Only time will tell, but one thing is for certain: Forrest Gump would love Mr. Byfuglien ("ya never know what you're gonna get").
3. Is Antti Niemi Capable of Carrying The Hawks if Needed?
Allowing 3.6 goals per game while only facing about 31 shots per game isn't exactly a recipe for success in playoff hockey, but that is exactly what Mr. Niemi has been doing thus far in the Stanley Cup Finals.
There have been times where he has shown flashes of his brilliant self, but for the most part in the last five games, Niemi has looked all too human. Fortunately, he has had a great offense to bail him out in two of the three games he has won, and even though his rebound control has been completely off-kilter, he is still one win away from joining one of the most elite clubs in sports: rookies who have back-stopped their team to a Cup title.
Niemi is certainly capable of picking up his game for the Hawks, as we saw in Chicago's Game 2 triumph. The Flyers peppered Niemi with 33 shots, and he only allowed one goal and held onto a tightly contested 2-1 win that gave the Hawks a 2-0 series lead headed to Philadelphia.
Even though he has only attained this level of performance once so far in the Cup Finals, Antti Niemi is still as capable of shutting the door on Philly as any other Blackhawk, and it is probably going to take one of his best career performances to pull the Hawks' title train into the station.
4. Will Joel Quenneville's Line Changes Continue to Work?
During the Game 4 defeat to the Flyers on Friday night, Blackhawks coach Joel Quenneville decided it was time to do what he does best: tinker with lines until the right chemistry emerges. After shifting players around, he found some good combinations, and he stuck with them going into Game 5 on Sunday night.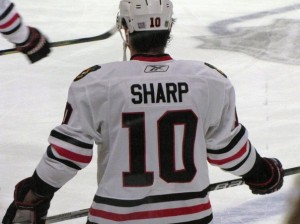 The rest, as they say, is history, as the Hawks scored seven goals and everybody from Kris Versteeg to Dave Bolland got in on the scoring. It was a great sign for Blackhawks Nation, as their heroes rode a wave of offensive momentum all the way to the victory in Game 5, and it was largely to due with the changes that Quenneville made.
Separating the top line allowed the Hawks to get added offensive punch on all three top lines, as Byfuglien thrived without the pressure of being with Kane and Toews affect his play. Kane also scored a goal in the game, and his presence was immediately felt on the third line for Chicago.
Granted, it may be a one time expenditure of offensive prowess, but at the very least Quenneville's decision to shuffle up the lines will force Philadelphia to not be so reliant on Chris Pronger to stop up the Hawks' top three offensive players. In any case, that is a victory in of itself.
5. Will Chris Pronger Rebound?
Yes.
Okay, there is a bit more detailed answer than that: Pronger is a veteran player, tested to the breaking point so many times in post-season play that it has almost become second nature to him to step up in key moments during the playoffs. He always gets a ton of ice time, and his defensive miscues are so minimal that we have yet to see a hugely blatant failure in this series.
Pronger is also intensely motivated to succeed, almost to the point where he will stir up delusions in his own head about the other team so that he can hate them even more. It is this drive and force of will that has led Pronger to be at the top of the heap of NHL instigators, and he can get into players' skulls with the best of them.
Look for Pronger to play an excellent Game 6, and whether or not Philly extends the series to Friday night in Chicago for a Game 7, it will not be because of a lack of effort out of the Flyers' stalwart blue liner.
6. Can Chicago Win The Stanley Cup on Philadelphia Ice?
While the home teams have dominated so far in this series, momentum might finally be on the side of the Blackhawks after Sunday's night's win. They outplayed the Flyers on both ends of the ice, and they maintained a nice lead throughout the game, a good sign of how much they were in control of the proceedings.
The key for the Hawks is going to be withstanding the "kitchen-sink" style that the Flyers are sure to throw at them come Wednesday night. Desperate teams go for more desperate measures, and God only knows how much the Flyers are going to try to throw their weight around both physically and offensively to set the tone early in this game.
If Chicago wants to bring the Cup home from the Wachovia Center on Wednesday night, they are gong to have to maintain their disciplined approach to the game, and they are going to have to replicate their puck possession prowess from Sunday night. If they can do these two things, and get a solid performance in net from Antti Niemi, then Lord Stanley's sacred chalice will once again reside on West Madison. All that stands between these Hawks and immortality is 60 minutes of fundamentally sound hockey.
The sound you just heard is an entire city holding its collective breath.
James started out for The Hockey Writers covering the Atlanta Thrashers in 2009, and has also covered the Chicago Blackhawks, served as NHL Correspondent, and is now a Managing Editor and the site's NHL Central Blogger. He also writes for The Golf Writers.