A new season is just about upon us.  The prospects tournament is about to get underway in Traverse City, Michigan.  Soon thereafter, teams will be opening up training camp.  It is a real exciting time to be a hockey fan.  After a summer of seeing NHL teams make numerous moves, it is finally time to see who makes the cut.  It is also time to preview the upcoming season.  For the Columbus Blue Jackets, this season will go a long way in determining what the next 5-10 years bring.
To help us look ahead to the upcoming Blue Jackets season, we chatted with Digital Content and Community Manager of the Blue Jackets Rob Mixer.  We asked him a 6-pack of questions to help us preview some of the major storylines that we should be following.  
Blue Jackets Buzz
Mark: Columbus is still buzzing after last year's success.  Talk for a minute about the buzz in Columbus for hockey right now.  Have you ever seen the energy level this high before for this team?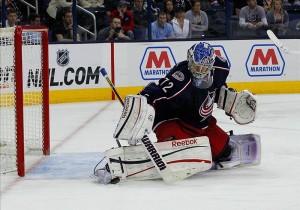 Rob: As someone who is from Columbus and grew up with the team, I can't remember a time in which the buzz was ever this high.  The buzz is even higher right now than it was last season.  That's because the expectations are higher, and the stakes are higher as well.  Fans have always wanted more.  Last season, they got more.  They now know what more is.  The fans and the team really felt like they could win that Penguins series.  Sergei Bobrovsky did his part to steal Game 5 in Pittsburgh, but 1 goal in support of him wasn't nearly enough.  There was a real sense of disappointment in not being able to win that series.  The fans now recognize that this team has a real chance to make an impact this season after experiencing the disappointment of losing in the First Round.
Mark: A lot of the buzz in Columbus centers around the young prospects that are now in the organization.  Which of those prospects have you been most impressed with this summer?
Rob: How could you not be extremely impressed with Alexander Wennberg?  He is very naturally gifted and talented.  He sees the game on the ice so well.  He is a half second ahead of the play.  He thinks the game through like a computer.  This summer, he added muscle.  But not only that, he spent the summer improving his diet, his workouts, and his agility.  He is becoming a man very quickly.  I've talked with President of Hockey Operations John Davidson about Wennberg. Davidson mentioned that it is extremely hard for prospects to make the team.  There really isn't a spot to get on the roster.  But, you can never say never.  The Blue Jackets had to make room for both Boone Jenner and Ryan Murray.  If camp warrants Wennberg to be on the roster, then room will be made for him.
Mark: Training Camp is starting up soon.  It's kind of unusual this year for the Blue Jackets in the sense that most of the Top 9 forwards have been established.  What is a storyline that fans should follow once training camp begins?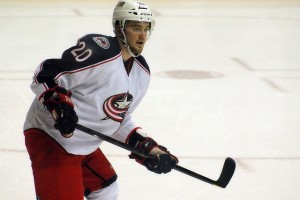 Rob: I will be watching to see how Tim Erixon does in camp.  This is a very important season for him.  He has proven that he can play at the AHL level.  He has had about a half cup of coffee at the NHL level.  He is on a one way contract, but is he ready to be in the Blue Jackets Top 6 defensemen?  He is a smart defenseman.  He can be part of the Blue Jackets future.  Now it is his turn to prove that he is ready for the next level.  I will also be watching for Ryan Murray. Where does he go now? Last season was not his mountain top.  What else does he have to give? 
Mark: Which Blue Jacket is under the radar, but is primed to have a huge breakout season?
Rob: To me, it's gotta be Matt Calvert.  He had a very impressive playoff series.  It was  impressive not just because he scored those goals, especially in Game 2, but to me, Calvert is the embodiment of what the Blue Jackets are looking for.  It's quite the compliment when the entire Pens roster was not a fan of Calvert and the way he played in that series.  I believe that he has a lot more to give as well.  He can be in the Top 9 forwards.  When Calvert has the puck, it always seems to be moving in the right direction.  He will help your team win.  He is a very hard forechecker.  He also limits his mistakes.  Who could forget that he fought Rick Nash?  Calvert can be outspoken.  After that fight, he called Nash "gutless".  When I think of players who embody the Blue Jacket identity, Matt Calvert is right at the top of the list.  
Avoiding The Slow Start
Mark:  The Blue Jackets have been known in recent years as being slow starters.  What things in your mind need to happen to prevent another such start?
Rob: That's a good question.  Actually, I asked this very question of Mark Letestu.  I told Letestu that obviously, they can play catch up (Letestu laughed at this), but they know they can ill afford another slow start.  They have to take it one game at a time, just like the old cliche, and not get engulfed in the big picture early in the season.  But at the end of the day, it's a mindset adjustment.  As last season wore on, the team had a better time being able to manage the highs and lows late in the season as compared to early in the season.  I think a real key is to be able to manage efficiently their time and energy.  The Blue Jackets have a friendlier October schedule than years past with no Olympics or lockout condensed schedule, so they need to take advantage of that, too.  
Mark: Finally, what would you say would be the biggest reason why Columbus either makes the playoffs or misses the playoffs?
Rob: If they miss the playoffs, it will be because of their special teams.  If they make the playoffs, it will be because of their success against the Metropolitan division.  
We definitely appreciate Rob Mixer taking time to help us preview some interesting things to watch as the Blue Jackets season gets underway.  You can follow his coverage of the team on Twitter @robmixer.