The Columbus Blue Jackets entered the 2020 offseason with one big question in their top-six. Thanks to Gus Nyquist's surgery, they now have two big questions.
Is Alex Texier ready to be a full-time top-line player?
Who will replace Nyquist in the top-six while he is recovering?
It has been widely expected that Texier would get the first shot to the left of Pierre-Luc Dubois. With Nyquist out, Texier's role and performance step into the spotlight even more.
Alex Texier's Importance
Why is Texier's role so important? In a worst-case scenario where he struggles, the Blue Jackets would have to fill two top-six roles instead of one. Nyquist was a likely top-six candidate.
Texier needs to come to camp ready to impress and earn the opportunity to play on the top line. The chance is there. He will have every opportunity to show he belongs.
Texier is coming off a season where a lumbar injury limited him to 36 regular-season games. He recorded six goals and 13 points. While this doesn't seem like much, Texier did show some positive signs when he was on the ice.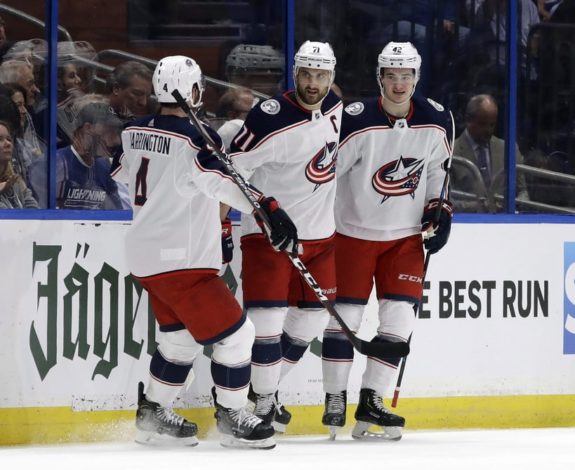 In short, Texier outperformed his expectations. These stats are all courtesy of our friends at Evolving Wild. Any numbers shared are all from there unless otherwise noted.
We have limited data available since Texier only has two seasons under his belt. But the progression is looking good.
Evolving Wild keeps a stat called WAR (wins above replacement.) This is exactly what you might expect. How many more wins does a team get with this player over a replacement player? In 2019-20, Texier finished with a WAR of 0.8. So almost one extra win. He was expected to have a 0.5 WAR. For perspective, Oliver Bjorkstrand led the team in WAR with 2.5 (33rd overall in NHL) followed by Zach Werenski with 1.7 (26th ranked defenseman in NHL.)
In terms of GAR (goals above replacement), Texier finished with a 4.3 and was expected to have 2.6. Again, he exceeded expectations. In other words, with Texier in the lineup, you expect to get 2.6 more goals than a replacement player but he ended up with 4.3 more goals.
In the end, Texier outperformed his contract. He provided $2.6 million worth of value to the Blue Jackets on the 2019-20 season of his ELC.
Texier & the Next Step
So while this is good for both Texier and the Blue Jackets, he has yet to play in a full season. In 2020-21, he will step into the spotlight hoping to take that all important next step. With Nyquist out, Texier will be in the spotlight more.
The Blue Jackets are going to have to decide if they need to bring in outside help or if they're going to stay internal and give others a chance. In other words, do you play Texier on the top line and promote someone else to play in Nyquist's spot? Do you sign a free agent to play on the top line and have Texier start with a lower role in order to work his way up?
My take: I think Texier deserves a chance to show he can stay on the top line. But with that said, don't rule out the possibility of another move happening. GM Jarmo Kekalainen said that they're watching the market to see if an opportunity arises aka if a team needing cap space makes a player available that they want.
Regardless of what the team decides to do, Texier is going to play a major role in 2020-21. The Blue Jackets hope that he will bring enough production to the table to help lessen the blow of not having Nyquist for months.
Side Dishes
And then there was one. Pierre-Luc Dubois. With Vladislav Gavrikov signing his new deal, Dubois is the only outstanding RFA the Blue Jackets have. I mentioned this to Brian Hedger when he joined us on THW Live last Wednesday, but I wonder if there will be any "hard feelings" in future seasons. It's only a matter of time before Dubois signs his new deal. But given it's not done yet and the history of some other tough negotiations, will Dubois remember this and will it have an affect on him staying when he could go UFA? Luckily for us we won't have to worry about it for a few seasons.
Speaking of Gavrikov, locking him up for three years at under $3 million is a big win. Any time you can lock in a top-four defender at that price, you do it. The Blue Jackets did a nice job here.
I'll give you a way too early sleeper for next season. Eric Robinson. I think he exceeds expectations. Don't be surprised if he carves himself a top-six role eventually.
Last one on Yegor Chinakhov. When coach Bob Hartley says that he hasn't seen a wrist shot as good since Joe Sakic, you take notice. That's very high praise for someone that many in the hockey world didn't even know existed. If this pick works out for the Blue Jackets, woah. Just another day in the office for Kekalainen.
---
---