The St. Louis Blues have already made what might become their biggest trade deadline acquisition, grabbing defenseman Marco Scandella from the Montreal Canadiens for two draft picks on Tuesday. That decision was forced by the hand of fate: veteran Jay Bouwmeester's sudden collapse last week against the Anaheim Ducks left a gaping and unanticipated hole in the Blues' lineup.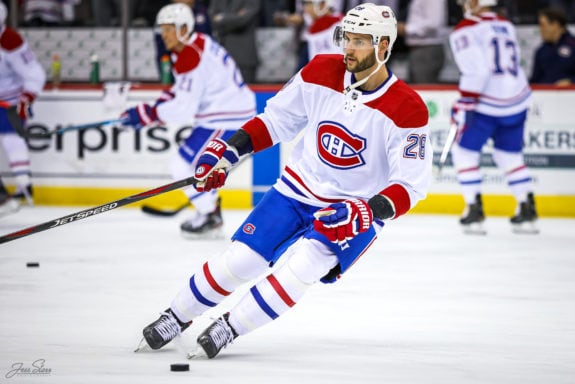 Still, with several days before the deadline, general manager Doug Armstrong may look to make further moves to bolster his team's chances of repeating as Stanley Cup champions. Star forward Vladimir Tarasenko has been sidelined most of the season, and the timing of his return plays a significant role in determining Armstrong's approach.
But there's one situation that should weigh even more heavily in the GM's mind: the fate of team captain Alex Pietrangelo. The first man to ever lift the Stanley Cup in a Blues' sweater is an unrestricted free agent at season's end. Although extension talks have been hinted at, the negotiations between Armstrong and his captain have been kept largely under wraps, just like the GM likes it. Though it may not seem like it now, no decision should weigh more heavily on the Blues' deadline strategy than the future of their captain.
Pietrangelo's Importance
It's difficult to overemphasize Pietrangelo's importance to the Blues. Drafted fourth overall in 2008, a pick predating even Armstrong's tenure with the team, Pietrangelo has been a cornerstone of the St. Louis defense since his first full NHL season in 2010-11. As difficult as it is to believe, in that time, he's played 748 games with the Blues, recently passing even Brett Hull in career games played for the franchise. He and Alex Steen are currently running neck-and-neck for fifth and fourth place, respectively.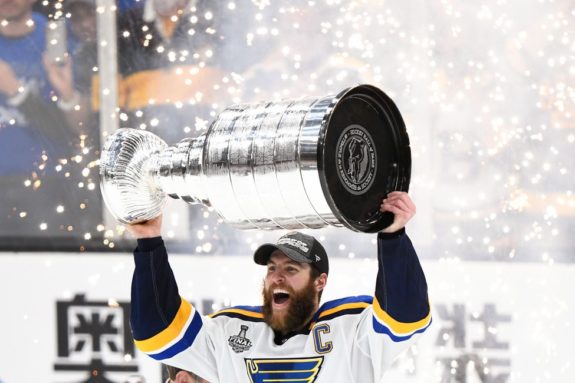 But Pietrangelo offers much more than longevity and durability. He has collected at least 40 points in all but two seasons, one of those shortened by the lockout. He is third in assists in franchise history (339) and ninth overall in points (445). Throughout much of his tenure, he's been the quarterback of the team's power play as well, especially since the departure of Kevin Shattenkirk in 2017.
This season, Pietrangelo is showing why he is valuable on that unit especially. He is eighth in the NHL amongst defensemen with 24.48 expected goals (xGF) and is 18th in Corsi for percentage (CF%) among that same group (88.11).
Pietrangelo, who was named captain after David Backes left in 2016, has led Blues' skaters in time on ice six of the last seven seasons, trailing only Colton Parayko in 2018-19 because he missed 11 games with an injury. He is the captain, the primary minutes-eater, the go-to defenseman, and the power play quarterback of the franchise. Yes, they just won the Stanley Cup, but it is simply impossible to know what the Blues will look like if Pietrangelo joins another team.
Armstrong's Decision
With that said, it is unlikely that the Blues will work out an extension with Pietrangelo before the trade deadline on Feb. 24. Therefore, Armstrong still has to make decisions about what to add to the team. He has already admitted that the Tarasenko situation will impact the Blues' deadline plans. But that shouldn't be the only player he's thinking about.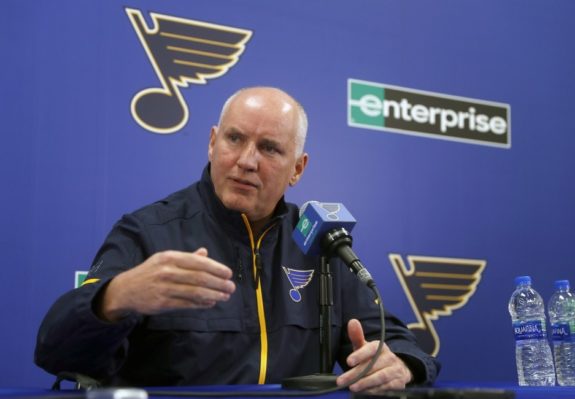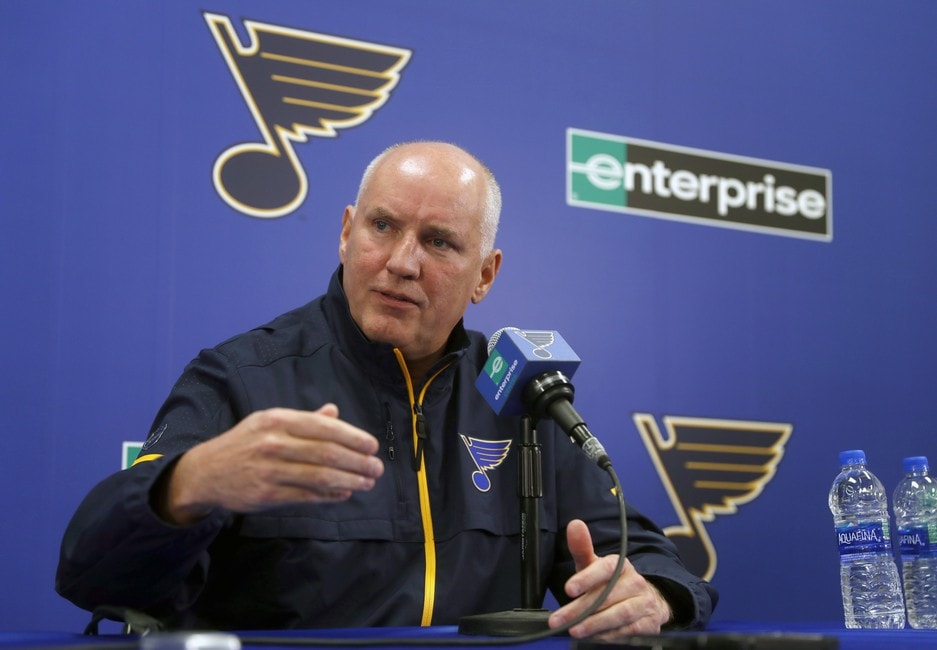 Pietrangelo's situation should play a significant role in Armstrong's mindset approaching the deadline, especially if he has any inclination that the captain might depart in the offseason. There are two conceivable arguments he could make about his strategy, and some fans will likely agree with each philosophy. So let's look at each briefly before we decide which makes more sense.
Argument One: Strike While the Iron is Hot
Argument one will probably be more popular with a majority of the Blues' fanbase, one that waited 52 years for its first Stanley Cup. No one is more aware of just how difficult it is to win hockey's ultimate prize. With that in mind, Armstrong might conceivably believe that now is the time to strike and that he ought to go all out in pursuit of a repeat championship with Pietrangelo's status still up in the air.
Pietrangelo's having a Norris season. pic.twitter.com/eUye4hsVHF

— Sean Tierney (@ChartingHockey) January 29, 2020
The Blues have added salary cap flexibility right now. By keeping Tarasenko out until the playoffs, long term injured reserve (LTIR) allows them to use the entirety of his cap hit at the deadline. If Armstrong believes Pietrangelo is leaving, he may opt to pursue one of the top trade targets, including Chris Kreider, to give his team the best chance to win.
Argument Two: Tread Lightly
The obvious alternative to argument one is the "play it safe" argument that cautious fans will appreciate. Armstrong may be working to re-sign Pietrangelo, but if negotiations have hit a snag, he's running out of time to cement his captain's return. In that case, he could convince himself to tread lightly in the days leading up to the deadline, saving his future assets until he has a clearer picture of the long-term makeup of his team.
Treading lightly doesn't mean hanging up the phone, and it certainly doesn't mean selling any assets. The Scandella acquisition already suggests that that won't be their approach. But Armstrong may be inclined to run with the team he knows, hoping to keep his captain for the foreseeable future, but preparing for next season and beyond if the worst-case scenario happens.
The Blues Need to Be Cautious
Now that we've examined both arguments, we need to pick a side. It won't be popular with Blues fans already hungering for their second Cup, but the caution of argument two makes more sense for the team this season for several reasons.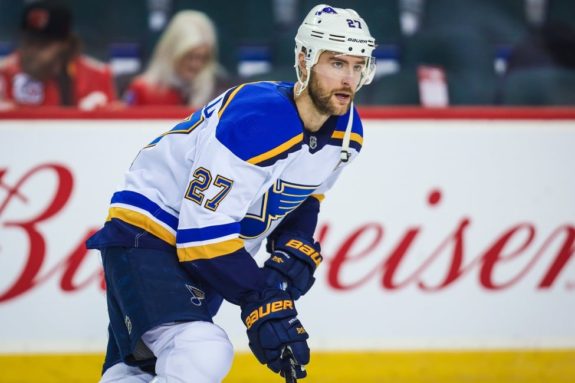 First, if Pietrangelo leaves, the Blues do not know what team they are. They will likely need to find a replacement for his role, and so far, Armstrong's acquisition of Justin Faulk isn't cutting it. Trading assets now, when the future is uncertain, will give them less flexibility to rebuild if Pietrangelo were to leave.
Second, the Blues are struggling right now. Their 3-0 win over the New Jersey Devils on Tuesday was a promising start, but the Devils are one of the worst teams in the league and have been selling assets left and right. Perhaps they will offer a strong showing in their three remaining games before the deadline, but in the meantime, it's unwise to sell the farm for a team that is 3-5-2 in its last 10 games.
Third and finally, there is exhaustion to consider. Repeating as Stanley Cup champions is incredibly difficult, and the only team to do it in the last 20 years had Sidney Crosby as its captain. The Blues do not have an all-time great that can carry them to back-to-back championships. They relied on a grinding, physical style from the whole team to win the Stanley Cup last season.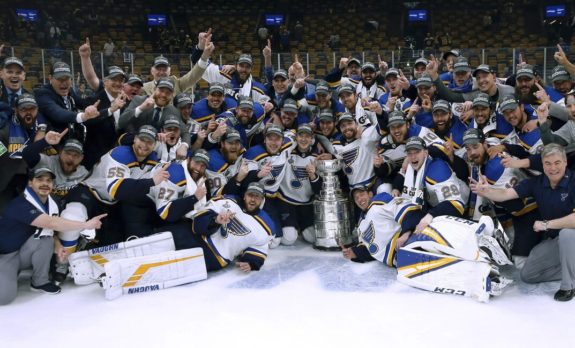 The Blues have played 168 games since the start of last season. The chances that they can endure the remaining 22 games of this season — plus an additional 20-plus game playoff run — to repeat as champions seem incredibly slim.
MoneyPuck currently gives the Blues a 5.8 percent chance of winning the Stanley Cup. Granted, that is sixth in the league, but is mortgaging the future — a future where Pietrangelo's presence is uncertain — really worth bumping that percentage to eight or nine percent? Many fans would argue yes, but reason demands the opposite.
Keep the Lines Open
With that said, Armstrong should not close any doors. If there's a deal that helps his team for more than one season, or a deal that is too good to pass up, he should of course take the chance and seize on it. The Blues are still a very good team with a strong shot at a deep playoff run. And if Armstrong has any reason to believe that Pietrangelo's return is highly likely, then all bets are off.
But if the picture is as clouded for the front office as it currently is for the fanbase, then caution is the best approach. Repeating as Stanley Cup champions is an enticing prize, but an unlikely one. The Blues cannot know what their future looks like until their captain either re-signs or leaves. In the meantime, they should protect the rest of their future as carefully as they can.
Get the latest 2020 NHL Trade Deadline news, rumors and analysis