The St. Louis Blues continued their dominant play in the city of Winnipeg on Tuesday evening, where they managed to come back from a 2-goal deficit to gain 2 points at the MTS Centre. However what the game really showed was a tale of 2 offenses from the Blues, something that has been a consistent problem this season, especially in December.
The Frosty Roller Coaster Ride
The Blues have been struggling to find an offensive rhythm overall this season, but since the beginning of the month the problem has escalated. The team is only averaging 2.13 goals-per-game this month (GPG, t-24th overall with Colorado), and have seemed to have problems stringing together multiple games with offense that clicks. The club has gone 3-4-1 so far in December, losing all 4 contests to Eastern Conference teams which is something that usually doesn't happen in St. Louis. After starting the month on a down slope (going 0-2-1) the club has been on a roller coaster ride where they've alternated wins and losses each and every game. They have averaged just 1.2 GPG in losses, but have managed to score 3.67 GPG in their wins. What has bred this inconsistent play and why is it rearing its ugly head now?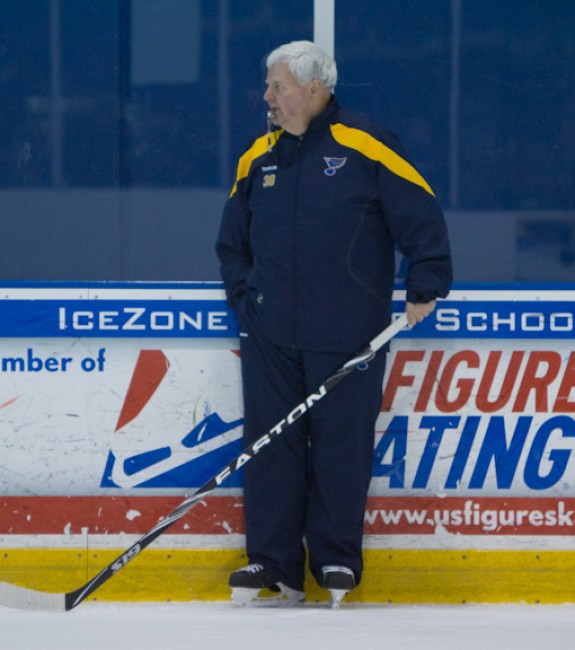 The Note have found themselves in an inconsistent atmosphere due to several factors. One of which is teams playing well and getting 'hot' against the Blues, but that is a direct result of lack of foot movement without the puck, and lack of communication on the ice from the Blues squad. However, the biggest reason for the inconsistent play could very well be coach Ken Hitchcock's overly aggressive line juggling. Every St. Louis fan knows Hitchcock switches up lines more than almost any other coach in the league, but even for him, this December has been a true circus act.
He's switched up lines combinations multiple times a period, which doesn't allow his players to gain any consistency or confidence in themselves and their line mates, as they are constantly trying to adapt to new surroundings and different complementary playing styles around them. Beyond Hitchcock's musical chair act lies another problem though. The Blues are still not creating enough time and space with their offensive play to draw the opposition away from the middle of the ice, allowing more high quality scoring chances on goal to be had.
| | | | | | | | | | |
| --- | --- | --- | --- | --- | --- | --- | --- | --- | --- |
| RANGE | GP | GF | GA | G+/- | CF% | CP60 | OFOn% | PDO | ZSO% |
| OCT-NOV | 24 | 64 | 58 | 6 | 50.8 | 105 | 74.5 | 100.4 | 49.3 |
| DEC | 8 | 17 | 19 | -2 | 53 | 104.5 | 71.8 | 97.9 | 51.5 |
| RANGE | HSCF% | HSC+/- | SCP60 | MSF | BSA | SF% | FO% | HitDiff | PenDiff |
| OCT-NOV | 49.4 | -6 | 52.3 | 249 | 329 | 51.4 | 50.2 | 50 | -15 |
| DEC | 47.7 | -7 | 46.1 | 96 | 109 | 53.9 | 55.7 | -31 | 1 |
Breaking the Ice
The advanced stats above will shed some more light on to why the Blues have struggled more in the month of December than they have throughout the rest of the season. As is illustrated, the Blues have seen an increase in their missed shots for (MSF) per game, going from 10.36 to 12. This shows that less shots are making to the net, which means lower high-danger scoring chances for (HSCF%; -1.7% decrease, and HSC+/-; -1 decrease) and easier transitions out of the zone for the opposition. In addition, the club is also playing less physical in every zone (-31 hit differential this month, +50 in October and November), which allows the opposing team to create more time and space, and to dictate the pace of play which gives them the advantage. This all comes despite the team getting more offensive zone starts in December than in other months (ZSO%; +2.2% increase).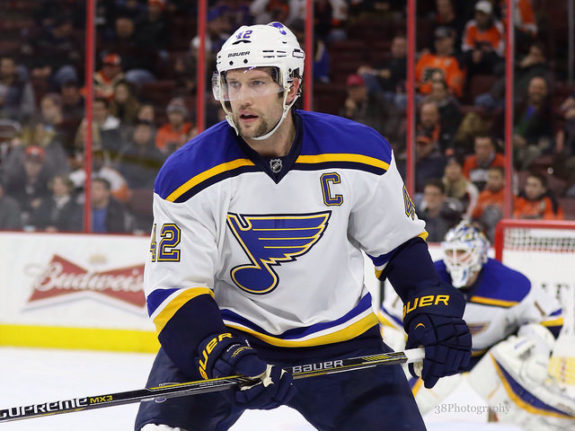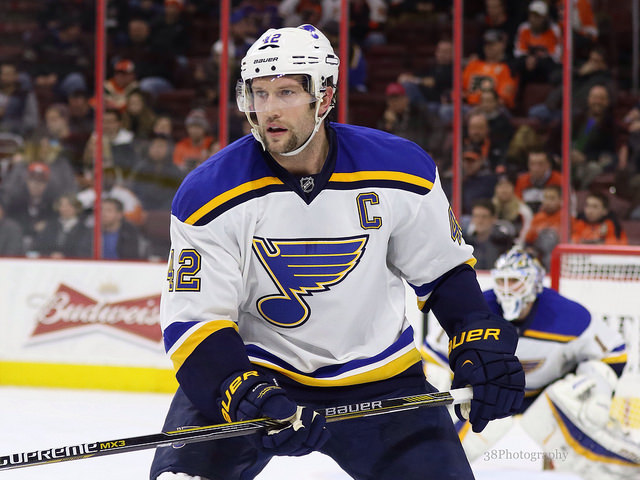 Getting Over the Hump
In order to salvage the rest of the month of December, and to continue to claw through the tough Central Division and Western Conference the Blues will need to find more consistency among their lines, and begin to find ways to draw opposing defenses out of position to gain more access to the net. This will decrease their MSF, while simultaneously increasing their HSCF%, which should lead to an increase in GPG, and more importantly, wins. With Paul Stastny, David Backes, Alexander Steen, and Vladimir Tarasenko finding their rhythm it's only a matter of time before the rest of the team starts clicking.
Increased on-ice communication will be a direct result of more steady lines, which will come from quick moving feet and sure passes in every zone. Also, if the Note can manage to dictate the pace of the play more it will allow them to control the game (Scott Gomez is great at this), and should led to more creativity as well. Once the team is able to find that good pace of play and rhythm they will be able to right the December ship, and should end the month with a favorable record. The next 10 days will be a great test for the club, where they play crafty teams from the West (Nashville, Calgary, and Dallas), and heavy hitting clubs from the East (Boston and Philadelphia). If the Blues can manage to increase their puck movement (and personnel movement without the puck) they should be up to the tasks, but that's easier said than done.
Like what you've just read? Follow me on Twitter: @pep30