When the Blues traded Vladimir Tarasenko to the New York Rangers at last season's trade deadline, much was made about how it was the end of an era for the team. After the departures of Ryan O'Reilly and Ivan Barbashev, with Jaden Schwartz and Alex Pietrangelo long gone, and players like Jay Bouwmeester and Alex Steen retired, the Blues now look like a completely different team than they did even in 2019 when they won the Stanley Cup.

But few fans realized another milestone that occurred with Tarasenko's departure — the torch of the longest-tenured Blues' player (measured in terms of NHL arrival with the team) was passed to Robert Bortuzzo. Some might wonder how a big, physical, role-playing defenseman stuck with one team through so many changes, winning a Stanley Cup and surviving at least two retools (so far) along the way. So it feels appropriate to take a brief look at why Bortuzzo has had such longevity in St. Louis.
Born to Be a Blue
Though he was drafted by the Pittsburgh Penguins, and played there for most of four seasons, it feels like Bortuzzo was born to be a Blue. When St. Louis traded Ian Cole to Pittsburgh to receive him in return, they were looking for a bigger, more-physical presence. And Bortuzzo has certainly been that. Bortuzzo plays with an edge (sometimes beyond the edge, as with his 2019 suspension for cross-checking Viktor Arvidsson) and always puts the team first. He is physical and hardworking, the kind of blue-collar player that fans in St. Louis adore.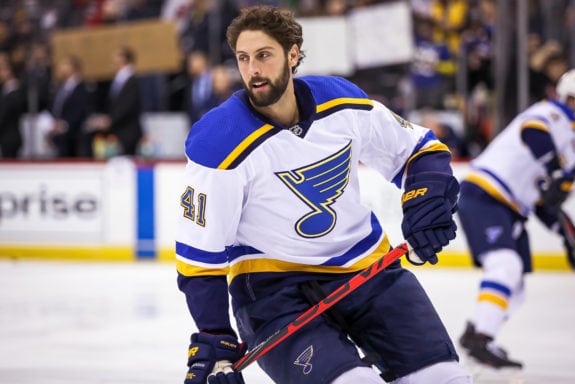 Without question, there are higher-skilled defensemen in the league. But Bortuzzo's willingness to give 110% on every shift helps him avoid the ire that other defensemen in the system often receive. He's never made more $1.375 million on average over the life of a contract, which makes it easy for the Blues to regularly extend him, like they did for two years in Feb. 2022. At 34 now, he's played for the Blues longer than anyone else on the roster. But he's not an "elder statesman." He remains an important part of a defensive unit that hopes for a major turnaround in 2023-24.
Locker Room Leader
Throughout his time with the Blues, Bortuzzo has shown to have a booming presence in the locker room. From appearances on Spittin' Chiclets to goofy social media sessions, he has a big personality and is clearly someone his teammates love playing alongside. And when choosing between two comparable players, why would an NHL general manager not opt for the player that is a better fit for his team's culture?
Related: Every NHL Team's Longest-Tenured Player
---
Latest News & Highlight
---
But Bortuzzo's leadership isn't all fun and games. Probably his most iconic moment in a Blues' uniform was his 2018 fight in practice with his then-teammate Zach Sanford. Tensions had boiled over through three months of a terrible effort by a team from whom much was expected — and those tensions boiled over when Sanford and Bortuzzo came to blows. Though it didn't magically turn the Blues into a good team (their real revival would come a month or so later, with the arrival of Jordan Binnington), it was clearly an important turning point for the team. Eventually, that same group of beleaguered players would win the Stanley Cup the same season, and Bortuzzo's unwillingness to accept less than 100% effort, even in practice, clearly played a major role.
An Outsized Legacy
Bortuzzo won't be remembered as an elite player, but he certainly will be remembered when his career is up. From scoring in the Stanley Cup Final to scoring a goal off of a referee's (shall we say) pants, he has created memorable moments. And most importantly, he is a Stanley Cup Champion. He has been with the Blues for ten seasons for a reason. And when his contract ends after this year, it would be no surprise to see him extended once again.