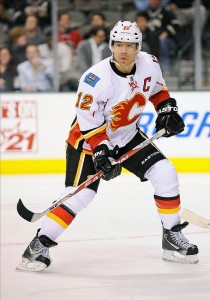 Many seem to forget that before the Bruins remarkable run in the playoffs to the Stanley Cup Final last season, they were a team steeped in offensive inconsistencies and prone to blowing multiple goal leads in the 3rd period. When their phenomenal playoff run came to an end and general manager Peter Chiarelli oversaw numerous alterations to the top two forward lines, there initially was a perception among some casual fans that the Bruins were "trading the whole team away!" These fans seemed to lament making alterations to a team that went as far as game 6 in the cup final. This team was good enough right? Why risk making the team worse?
While the long term ramifications of some of this summer's roster moves can justifiably be debated, next season's top six Bruins forwards will be far stronger than last year's.
Don't get me wrong, Nathan Horton will be greatly missed on the top line with David Krejci and Milan Lucic. His legendary performances in the 2011 Stanley Cup run will go down in the great lore of this team's rich history, along with his near point per game performance in the 2013 playoffs. However, his highly inconsistent and streaky offensive output during the regular season will not be missed. In fact, the entire top line at times appeared to go in to a malaise, and it was often the Bergeron line that took the so called "top line" role for the team during last season.
It is not necessarily Horton's fault for the up and down offensive numbers of the entire top line,  but the removal of Horton and addition of Jarome Iginla will certainly juggle up their chemistry. All salary cap reasons aside for Horton moving on to the Columbus Blue Jackets, this is a much needed change for the top line that could potentially have a very positive impact on the offensive dynamics of the team.
Iginla has quite the opposite reputation than that of the recent renditions of the Bruins 1st line. Up until his recent half season foray with the Pittsburgh Penguins, Jarome Iginla was the emotional and statistical leader of the Calgary Flames. Even as much of the rest of the Flames team played an inconsistent and below average game, Flames fans knew they could rely on Iginla to show up every game with the same effort and passion to will the team to victory.
Iginla is a pure power forward that, despite being 36 years old, should put up very strong offensive numbers again. The hiccup in his point totals last season (44 gp, 14 goals, 19 assists) can certainly be attributed more to the distractions of his impending trade from Calgary and taking more of a depth role with the Penguins, rather than a sudden diminishing of his skills due to his age.
Not only will he improve the top line on an individual basis, but his personal consistency could potentially inspire Lucic to raise his level and consistency of play. If Iginla is skating hard and taking the body of opponents night in and night out, Lucic should be inclined to follow suit and be less likely to fall in to the lulls where he stops moving his feet and as a result becoming ineffective. Surrounding Krejci with that style of play on a more regular basis could create more space for him to utilize his creative puck moving skills on a more consistent basis as well. Again, not to say that Horton was a bad player, but Iginla is the type of talent that makes everyone around him better.
The 2nd line featuring Patrice Bergeron and Brad Marchand did not necessarily need fixing, as it is one of the most responsible two way lines in the entire league, despite the revolving door at right wing. When Tyler Seguin filled the slot, he often appeared to be playing a style and a position not fit for his skill set. He certainly improved his defensive tenacity during his tenure in Boston, but his focus on the defensive side of the game diminished his offensive contributions. Jaromir Jagr often appeared to be doing his own thing, playing the game at an entirely different pace, and changing the approach of the line especially when he carried the puck.
Neither of those players were natural defensively minded forwards. With Loui Eriksson likely taking the 2nd right wing slot on the team, the Bergeron line will now be complete. Eriksson brings a very well rounded style of play mixing offensive awareness, agile skating, and fortitude in the corners and defensive end of the ice. Pairing Eriksson and Bergeron defensive approach along with Marchand and Eriksson's occasionally impressive offensive production will make this line all the better. Patrice Bergeron's quiet offensive production isn't bad either.
Iginla and Eriksson both have the attributes that play in to the Bruins lunch pail, tough guy, workman identity. Having a steady top two lines with even more players than last year that play the full 200 feet of the rink evenly will help the B's hold third period leads by not getting complacent, staying in the face of opponents, and having the persistence to keep the puck in the offensive zone that players prone to lulls are less likely to do. If they show up and perform at training camp to make these projected top two forward lines come to fruition, the Boston Bruins will be a major force to be reckoned with, finding themselves at the top of the standings.
The NHL regular season schedule was released on Friday. Check out our partners at TiqIQ for the best deals on Boston Bruins tickets for all 2013-14 games.
Life long hockey fan and pick up hockey player. Boston Bruins season ticket holder and Providence Bruins partial season ticket holder. Part time hockey writer and full time community support mental health counselor. Obtained degrees in psychology, history and business management. Currently working towards Master's degree in mental health counseling.