Heart, energy, leadership and secondary scoring. These are all things that come to mind when thinking about Boston Bruins' forward Sean Kuraly. It stands to reason, too, given his role on the team's fourth line alongside Noel Acciari and Tim Schaller and how well that trio has played in Boston this season. One word that isn't often thought about when talking about Kuraly, however, is rookie.
With all of the spectacle surrounding some of the other rookies in Boston, namely Charlie McAvoy, Danton Heinen, Anders Bjork, Jake DeBrusk and the plethora of players and prospects not yet contributing on the NHL roster, Kuraly's name has been left out of the narrative among rookies this season. With the other rookies sucking up the limelight, the 24-year-old Kuraly has quietly become an integral part of this Bruins team that is gaining traction as legitimate Stanley Cup contenders by the day.
Three-Zone Player
Playing in all 43 games this season, Kuraly has scored three goals and eight points. While the scoring isn't eye-popping, the expectation was never for him to light the lamp consistently. Instead, Kuraly is expected to play a modern-day energy role with the Bruins. Using his 6-foot-2 and 205-pound frame to his advantage, Kuraly has proven that he can be relied upon to start shifts in the defensive zone – 62 percent of his starts come inside his own blue-line, and finish his shifts in the offensive zone.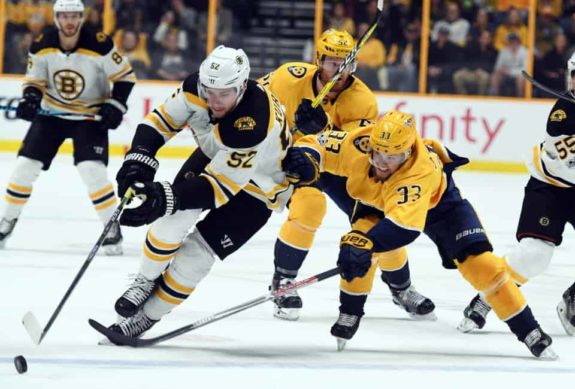 Logging tough minutes that involve a lot of grinding, the Ohio-native has done his job admirably and has been one of the team's most consistent players this season. Any time he steps onto the ice for a shift, head coach Bruce Cassidy can be confident in knowing what he'll get from the young center.
"They can't be relied on to score goals every night, play against the other team's top line, be our best checking line, and always start in our end," Cassidy said in December when talking about the fourth line. "It just wears on you over time. We're just trying to lighten up the load a little bit, and the stress, through the course of the year."
It's important for the Bruins to keep Patrice Bergeron, Brad Marchand and David Pastrnak fresh this season, especially considering all three player such big minutes at five-on-five, on the power play and the former two are the team's top penalty killers. Kuraly and his line have excelled at giving them some relief when necessary and Cassidy has been confident enough to let his fourth line play regardless of the situation.
Kuraly's Leadership and Versatility are Key
One thing that stands out when watching Kuraly this season is the leadership factor he brings to the team. It's often hard to remember that Kuraly is a rookie due simply to the fact that he's so confident in everything he does on the ice. Not many young players can step in and immediately play such a role, but Kuraly's experience as captain of Miami University (Ohio) has groomed him well for this role.
While Kuraly has primarily played down the middle with Schaller and Acciari on his flanks this season, his ability to adapt to the play is an integral part of his game. Whether it's manning the middle of the ice and playing his role effectively or moving to the boards to compete for the puck, Kuraly has what it takes to win the individual puck battles at the NHL level with his size, skill and intelligence.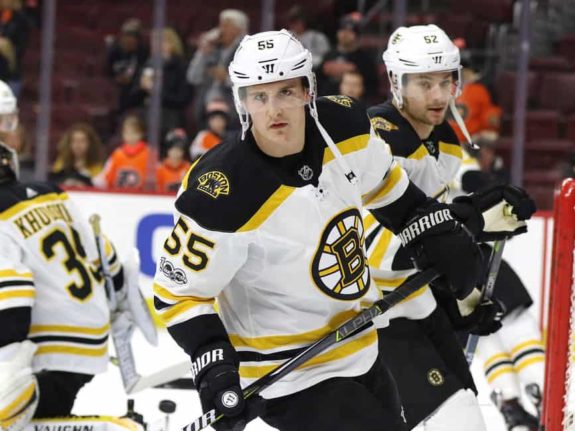 It's easy to think of fourth-line players as unskilled forwards, but gone are the days in the NHL when the bottom-line is simply full of plugs who can fight. Kuraly can more than hold his own physically, but his skills, both with his stick and skating, are noticeable every time he's on the ice.
Playing on the wing at times in his first eight games (and four postseason games) in Boston last season as well as at various points this season, Kuraly's ability to move around the lineup has only helped his all-around game and understanding of what to do and when to do it.
He may not be a future top-six player at the NHL level, but he doesn't have to be. If Riley Nash has proven anything, it's that a bottom-six player can be just as important to a team as a top-six player. The Bruins learned that first-hand with their revolving door on the third-line for so many years as well.
Famous Fourth Lines
While it may seem strange that there has been so much discussion about the Bruins' fourth line as of late, the unit has forced the issue with their play, and, to be fair, it isn't the first time a fourth-line has been so highly discussed in Boston.
"We're trying to be responsible at all times, and show we're not going to sacrifice anything on the defensive side for anything offensive," said Kuraly in December. "We try to bring a pretty strong identity, bring some energy, and if we don't score, just push the game in our favor a little bit."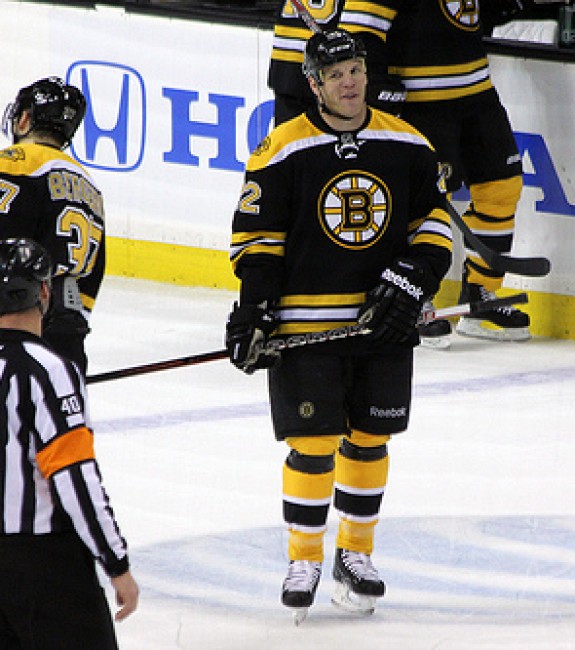 While the Kuraly line isn't the storied "Merlot Line" consisting of Shawn Thornton, Gregory Campbell and Daniel Paille, they have quickly become a fan-favorite, the likes of which Boston hasn't seen since that trio that made up the team's fourth line years ago.
Kuraly and his linemates won't ever be at the center of attention outside of Boston, but they have made enough of an impact to be a talking point for fans of the Black and Gold. Despite being a rookie, Kuraly has been at the forefront of this fourth line's success, and he deserves just as much credit as his fellow first-year players are getting.
Brandon Share-Cohen has covered the NHL and various professional sports for seven years. Working with The Hockey Writers, Brandon works extensively on covering the Boston Bruins in addition to his role as the News Team Lead.