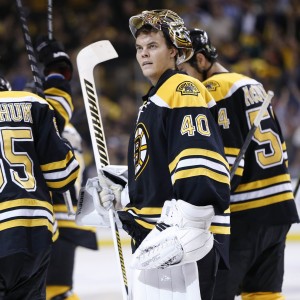 Over the course of the past few seasons, some dismayed Bruins fans have called for the trade of Tuukka Rask, Boston's former Vezina Trophy winner. While failing to reach the playoffs over the course of the past two seasons, the Finnish netminder's numbers have tailed off due to a variety of reasons.
From 2014-2016, Rask's save percentage fell .015 points, and his goals against average jumped up .52 points. Despite the fact that Boston's defensive corps has gotten significantly worse over the past few seasons, many fans saw the statistics drop as a sign that Rask was past his golden days and that it was time for the Bruins to move on.
Boston's Success With and Without Rask
Through just seven games this season, that argument is falling apart. As I've stated time and time again, Boston's trouble over the past few seasons has not been goaltending. Could Boston have used a key save here or there? Sure. But what team couldn't cherry pick a few saves that they wish their goaltender had made? Boston's larger issue is defense. Rask has kept Boston in far more games than he's dropped. Just take a look at the numbers.
Rask's "general soreness" has kept him out of the lineup for four games so far this season. Coincidently, the Bruins have lost all four of those games. They've given up 18 goals in those four games, and Boston goalies (without Rask) have combined to give up 4.50 goals against per game.
The Bruins NEED Tuukka. #NHLpic.twitter.com/itDpCz0Xqw

— NHL on NBC (@NHLonNBCSports) October 27, 2016
With Rask, Boston is a perfect 3-0. He's stopped 90 of 95 shots to account for a .947 save percentage and a 1.68 goals against average. The difference in success isn't in question.
Quite simply, Boston's lackluster defense needs a very good goaltender to bail them out. As it stands right now, Malcolm Subban and Zane McIntyre aren't in the position to do that. Anton Khudobin, who has started two games for the Bruins, hasn't looked too sharp himself, although he too is injured at the moment.
AHL Goalies not Prepared to Step Up to NHL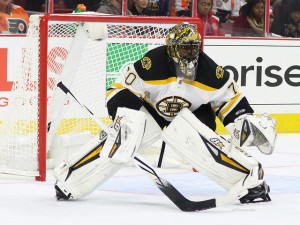 Subban, who has seen modest success at the minor-league level, has looked nothing short of lost in net in the NHL. He's given up six goals on 22 shots faced and has been chased in both of his starts without making it halfway through the game. It's a small sample, but his 5.82 goals against average and .727 save percentage look far from promising.
There's still quite a bit of hope for McIntyre, the former University of North Dakota standout and Hobey Baker finalist. McIntyre, who hasn't been quite as bad in his two NHL appearances, clearly needs more development before he's ready to be a reliable goaltender at the NHL level. Unlike Subban, however, McIntyre is only in his second professional season and has only appeared in 31 AHL games (in which he posted a 14-8-7 record with a 2.68 goals against average and a .898 save percentage). McIntyre may have a future with the Bruins, but he needs much more time to develop.
The point is, the Bruins have faced some unexpected adversity with the injuries to Rask and Khudobin, which have forced them to prematurely call up their third- and fourth-string goalies on the depth chart to play at a level they aren't yet capable of being trusted at.
CBS is reporting that Rask could return for the Bruins on Saturday, and let's hope he does. If not, the Bruins may find themselves reliving this week all over again.