The Toronto Maple Leafs have a problem, but it's a good problem to have. The Leafs have forwards and lots of them. Some might even say too many. So, of course, something is bound to happen.
It's been a very interesting start of the season when it comes to waiver acquisitions. The Leafs opened the season by claiming Seth Griffith from the Boston Bruins, which ended up causing Brooks Laich to be sent down to the Toronto Marlies. Then, on October 24, Ben Smith was claimed from the Colorado Avalanche, leading to Milan Michalek following Laich to the Marlies.
Both claims make sense in a way. Griffith has a connection to Leafs assistant general manager Mark Hunter as he played his junior hockey with the London Knights. Smith played for Toronto last season after being acquired in the James Reimer deal. He signed with Colorado in the offseason but apparently left an impression on Mike Babcock.
Babcock says Ben Smith fills "niche" for Leafs; PKer who can take face-offs

Hyman, Komarov on top PK tandem, neither comfortable in circle

— Mark Masters (@markhmasters) October 24, 2016
There is something to say about having depth, but the Leafs might have a bit much. With the additions of Griffith and Smith, the Leafs now stand at the maximum of 50 contracts, with the Jared Cowen arbitration case still to be decided. This leaves them with very little wiggle room when it comes to trades at the deadline.
A Strength for a Weakness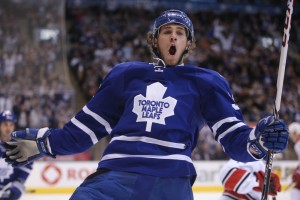 You then have the fact that Josh Leivo is bound to come off of injured reserve eventually. The Leafs might not want to risk sending Leivo down to the Marlies because he would have to go through waivers in order to be sent down. This would necessitate another move, and you don't want to send Griffith and Smith down because of the same problem.
One problem is that the Leafs have two players — Laich and Michalek — that make at least $4 million with the Marlies and that money doesn't come off the salary cap. The Leafs could try to trade them, but they would have to retain a lot of salary in order to do it. The fortunate thing is that the Leafs only have one salary retained (Phil Kessel) out of a maximum of three. The Leafs could send off Laich or Michalek in a trade, retain some salary, and it would come off of the books on July 1, 2017.
---
Complete Maple Leafs Coverage From THW
---
Whatever trade happens, the Leafs could move a package of players for a defenseman. As mentioned in a previous post, the Leafs have an abundance of young forwards. They also have a defense that needs improving. The Leafs could, theoretically, send of Laich or Michalek and a forward prospect or two in exchange for a defenseman. It could end up looking a lot like the deal that got the Leafs Michael Grabner at the beginning of last season.
That move would fix a lot of the Leafs' problems. It could give them some more room under the salary cap, some flexibilty for making trades and hopefully a better defense in front of Frederik Andersen.