One of the more enjoyable parts of being a sports fan is playing general manager and convincing yourself you know exactly how to fix your favorite team. You plan out all your moves, yell at your friends, call into the local radio station and within a season or two, the newly-created team in your mind is hosting a parade. We all do it.
With things starting to heat up around the NHL, I thought it would be a good idea to point out some important notes about the Boston Bruins' salary cap situation. After all, you have to figure out a few key details before you start your role as general manager.
The 2017-18 Salary Cap
For the 2016-17 season, the NHL salary cap was set at $73 million for each team, but the cap for the 2017-18 season has not been announced yet. Many were under the impression the cap would stay flat at $73 million, but this view has started to change recently. TSN Insider Pierre LeBrun reported that the NHLPA was voting to raise the cap for the 2017-18 season to $75 million and that the NHL was hoping the figure would be set before the weekend started.
The NHL had hoped to have the cap number announced by end of business today; before Vegas starts talking to FAs Sunday.

— Pierre LeBrun (@PierreVLeBrun) June 16, 2017
The Bruins are not in too big of cap trouble, but they would benefit from any rise in the salary cap. Based on the $73-million mark from last season, the Bruins have just north of $10.4 million in space and still have some contracts to hand out.
Changing Contracts
There are a few odd changes in contracts for this season that will affect the Bruins' salary cap. The first is the new contract Brad Marchand signed in September of 2016. This contract will be kicking in this season, and he will carry a higher cap hit as a result. His contract is now worth $49 million over the next eight years, which makes his new cap number $6.125 million, an increase of $1.625 million from the 2016-17 season.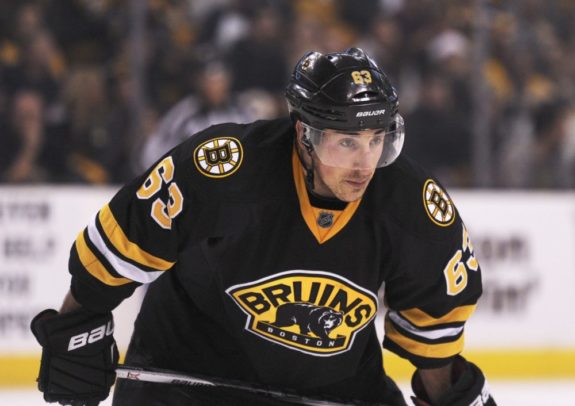 Captain Zdeno Chara did not sign a new contract, but he will have a new cap number next to his name heading into the 2017-18 season. Much to the delight of fans, Chara's cap hit will fall from $6.9 million to $4 million, opening up an extra 2.9 million for the Bruins to spend. The reason for the reduced price is due to the old "Kovalchuk rule" and Chara being 40 years old. Without getting into all the confusing details, the only important thing to know is he will play on a reduced cap charge.
Dennis Seidenberg—yes, our old friend Seidenberg—is still on the Bruins' books from the contract buyout in June of 2016. After the buyout, his remaining contract was spread out over four years, and for three of those years, he counts for $1.166 million against the Bruins' cap. The 2017-18 season is the oddball year he will count for $2.166 million though, charging the team an extra $1 million.
Potential Pastrnak Deal
The top priority for the Bruins this offseason is to re-sign David Pastrnak. Luckily, fans have nothing to be worried about as all signs point to the talented right winger getting a deal done. The only question fans should be asking is how much his new contract will be worth. It is reasonably safe to assume Pastrnak will receive a multi-year deal in the neighborhood of $6 million per year. His new contract will eat up most of the Bruins' available space, but no one should be complaining since he is worth whatever price general manager Don Sweeney decides to throw at him.
Other Bruins Left to Sign
The three veteran unrestricted free agents the Bruins will consider signing are Dominic Moore, John-Michael Liles, and Drew Stafford. If I were to place a bet, I would bet on Liles not returning to the roster next season. As for Stafford and Moore, it is much harder to tell if they will be signed. If Moore is brought back, it would most likely be at or near his affordable one-year, $900K mark, which will not affect the cap too much. For Stafford to stay, he will need to take a sizeable pay cut, but he will want a decent paycheck still.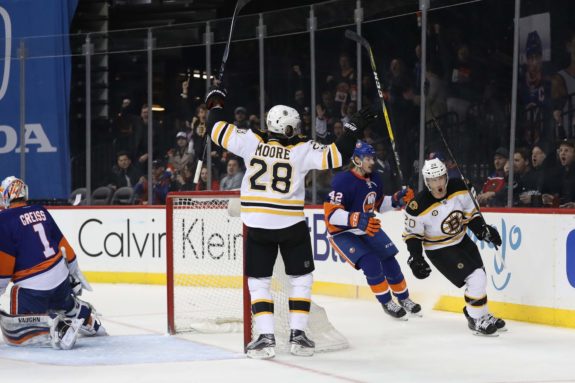 Noel Acciari, Tim Schaller, Ryan Spooner and Joe Morrow are the final four restricted free agents GM Sweeney will be considering. Of this group, I believe Acciari is the only one guaranteed to be offered a contract from Sweeney. Many believe Spooner is on the way out the door via a trade instead of the Bruins paying him somewhere around $4 million next season. Both Morrow and Schaller could be signed to low numbers (below $1 million) as depth pieces, but just as easily could be told they will not be receiving contracts.
Contracts on the Move?
If Sweeney is hoping to be able to make some moves during free agency, he will have to clear some cap room. To do this, he may consider moving a few contracts, and there are two very obvious ones he might be considering. They are, of course, the contracts of Matt Beleskey ($3.8 million per year) and Jimmy Hayes ($2.3 million per year). With their lack of performance and relatively large cap hits, finding a trade partner could be difficult, but not impossible. At the very least, moving at least one of their contracts would open up some wiggle room.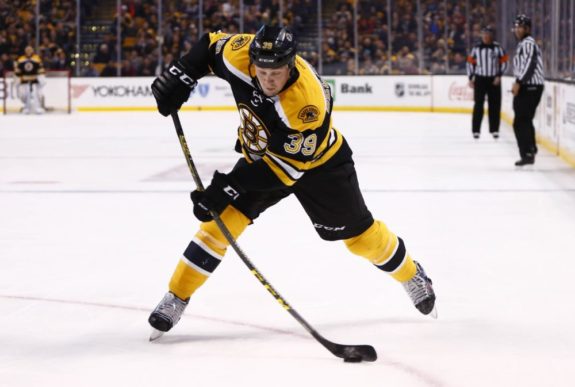 We know at least one player will be lost to the Vegas Golden Knights in the expansion draft as well. The leading candidates for this appear to be Adam McQuaid, Colin Miller, and Kevan Miller. In my opinion, Kevan Miller will be protected, leaving Colin Miller and Adam McQuaid exposed.
I do not see Sweeney moving either player just to clear space, so if they go, it will be in the draft. McQuaid is under contract for $2.75 million while Colin Miller sits at an easy $1 million for one more year. If the Golden Knights decide to snag one of them, it will help the Bruins open up a little more space, which can be viewed as a positive.