It happened.
A move that seemed inevitable for nearly two years finally was confirmed on Wednesday, as the New York Rangers announced that the contract of longtime defensive stalwart Dan Girardi would be bought out, an operation that has become commonplace since the concept was introduced following the work closure back in 2012-13.
Despite all that the 33-year-old accomplished (sacrificed would also apply) in a Rangers uniform, this was a transaction that simply needed to take place. His demanding style of play took a massive toll on his body and it showed with his performance on the ice in his latter years with the Blueshirts.
His once serviceable skating ability became a liability and his only real effective source of defense came in the form of throwing his various bruised limbs at the puck, a method of defense that is nearly impossible to sustain in today's turn-and-burn NHL.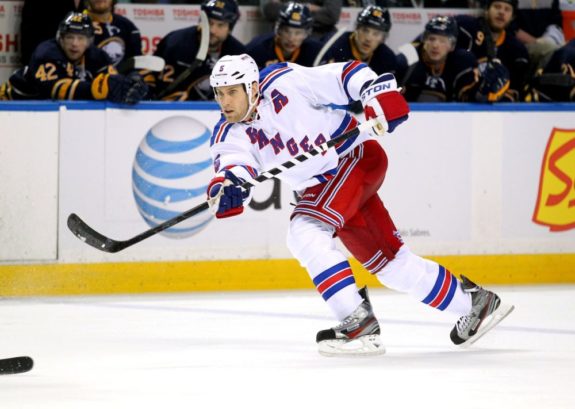 Buying out Girardi is a positive in and of itself. Removing No. 5 from the lineup allows head coach Alain Vigneault to integrate some of the better options he has on the roster into the lineup (including Alexei Bereglazov or Neal Pionk).
But if the Rangers want to take full advantage of Girardi's buyout, there are other actions that need to take place. We've seen the Rangers make big moves in the past, but the actions that follow often counteract the purpose of that big move.
Let's take a look at what the Rangers could do to make Girardi's buyout worthwhile.
Tie up Loose Ends
This should be the first order of business for general manager Jeff Gorton and the Rangers' front office.
When the Rangers officially buy out Girardi, they will save just about $2.9 million in cap space for this upcoming year. If Kevin Klein's rumored retirement from the NHL comes to fruition, that would also free up $2.9 million in cap space for the Blueshirts, leaving Gorton with around $16 million to work with this summer.
That should be more than enough space for the Rangers to lock up all of their major free agents for next season, including Mika Zibanejad, Jesper Fast, Oscar Lindberg, and Brendan Smith.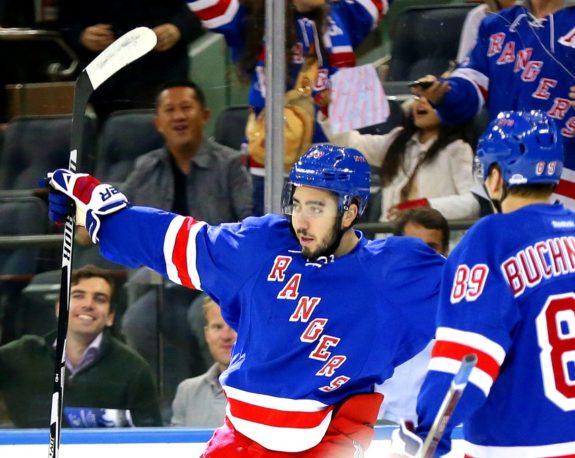 Additionally, they now may have the flexibility to extend one of J.T. Miller or Kevin Hayes, depending on what they do on the trade market or in free agency.
It may not seem like a big deal, but this will likely be the most important thing they do all summer.
Find Ryan McDonagh an Adequate Partner
For Rangers captain Ryan McDonagh, the only man he's really known as a defensive partner is Girardi. The two were placed together by John Tortorella during McDonagh's first few years in the league and were left untouched when Vigneault stepped behind the bench in 2013. The duo was an unorthodox yet efficient top pairing for the Blueshirts until the 2014-2015 season, when Girardi's game began to deteriorate in front of our eyes.
Now with Girardi's tenure in New York officially in the books, McDonagh will be given fresh blood for the first time in his career. There are two blueliners on the roster who have played an extended role with McDonagh in the past in Klein and Nick Holden. However, Klein (as mentioned previously) appears to have his sights set on playing in Europe next year and Holden had his fair share of struggles in a top-pair role last season. Marc Staal spent some time with McDonagh last year, but he's more accustomed to playing the left side.
One guy who could make a lot of sense with No. 27 is Brendan Smith.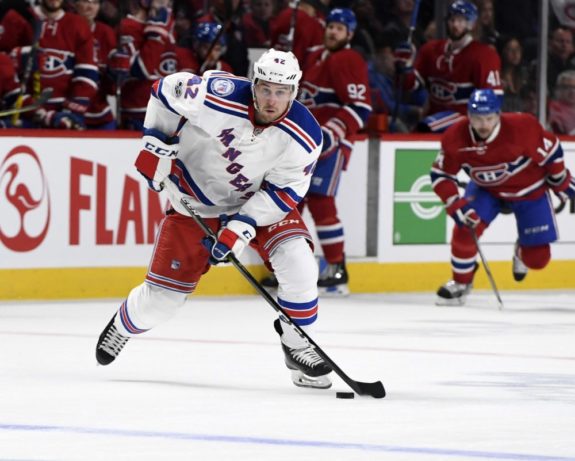 In a lot of ways, Smith's defensive game is similar to McDonagh's. He is a smooth skater who possesses a quick stick and is strong in one-on-one situations. Smith is a smart player in terms of knowing when to utilize his body and finish a check. Offensively, he can move the puck and isn't afraid to join the rush. He doesn't have the pedigree of a traditional top-pairing defenseman, but he complements McDonagh's game very well.
This duo would require the Rangers bringing back Smith, but Girardi's buyout should give the Rangers ample cap space to do so.
Another option is if the Rangers add a defenseman externally. Kevin Shattenkirk would be a more traditional fit if he came home to New York, although a second pairing of him and Brady Skjei would be awfully enticing. Other candidates include Matt Dumba of the Minnesota Wild or Jacob Trouba of the Winnipeg Jets, with these options likely coming at the expense of a quality forward.
Either way, McDonagh will be getting a quality player beside him come next season.
Maximize Expansion Protection
If the Rangers do file for Girardi's buyout before the roster freeze on Saturday, that means they can protect an extra defenseman from going to the Vegas Golden Knights in the expansion draft.
One logical solution would be to sign Smith beforehand and protect him from being selected. However, the Rangers could easily do something under the table where they agree to terms before the draft and sign him after so they don't have to protect him.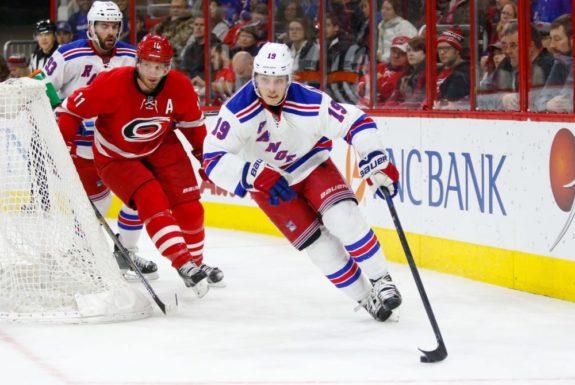 As I alluded to before, this could potentially open the airwaves for a potential trade for a defenseman. The Rangers currently have some unprotected forwards who they would like to hold onto (including Fast, Lindberg, and Michael Grabner) and if a trade opens up that helps them significantly on the blue line, then we could maybe see them pull the trigger.
There are no certainties here. One of the Rangers' areas of strength is up front and Gorton is only going to make a deal that puts the Rangers in a better spot than they are in right now. However, buying out Girardi grants Gorton the flexibility to make a big deal if he finds one.
It's just another route the Blueshirts are provided from buying out Girardi.