Just over two weeks ago, the Windsor Spitfires were at the top of the CHL world as 2017 Memorial Cup champions. While there's still an emotional high from the victory, the focus has now shifted towards the 2017-18 season.
At this time last year, Spitfires' general manager Warren Rychel was diligently working the phone lines in search of talents to enhance his roster.  This allowed Windsor to walk into the Memorial Cup with a veteran-laced group. They boasted 10 players who were either drafted by NHL clubs or had signed as a free agent.
While this proved invaluable during the tournament, it also means significant turnover is approaching. The summer of 2017 is likely to be vastly different for the Spitfires and their fans.
Thanks for the Memories
We know this for certain – the three Spitfires' overage players are gone. Forwards Cristiano DiGiacinto and Jeremiah Addison, along with defenceman Jalen Chatfield, will be moving on to other ventures next season.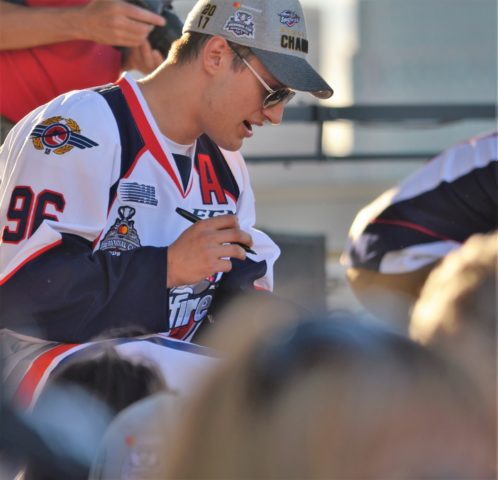 DiGiacinto was a Spitfire through-and-through for four seasons, showing hard work gets you places. He quickly became a fan favourite after signing as a free agent to start the 2013/14 season and was one of the leaders on the team. Whether it was on the ice or in the community, DiGiacinto showed what being a Spitfire is all about.
Chatfield signed as a free agent prior to the 2014-15 season and never looked back. While he was never flashy, his work spoke for itself as he produced in all areas of the rink. In the last half of the 2016-17 season, he earned the co-captaincy along with Jeremiah Addison. Here's a clip of Addison and Chatfield hoisting the Memorial Cup:
Addison came from Ottawa just prior to 2016-17 training camp and immediately showed he was the real deal. His offence wowed the fans and his leadership was unquestionable throughout the season. What better way to top off a lengthy OHL career than with a hat-trick against Erie during the Memorial Cup, on route to winning it all just days later.
Taking the Next Step
While these three make their way to new challenges next season, it's likely that other Spitfires will also be making the transition. Finnish forward Julius Nattinen is an Anaheim prospect from the 2015 NHL draft. Windsor acquired him from Barrie in the offseason but he almost didn't make it to Windsor. Anaheim assigned him to the AHL before he made his way to the Spitfires. This season, though, San Diego (AHL) is more likely his home.
The AHL also looks to be on the radar for Toronto Maple Leafs' prospect Jeremy Bracco, Chicago prospect Graham Knott and New York Rangers' prospect Sean Day, who is an interesting case. While only 19, Day has been in the OHL for four years due to being granted Exceptional Status prior to the 2013 OHL draft. He could return to Windsor, but it's more likely he will develop his craft in the minors.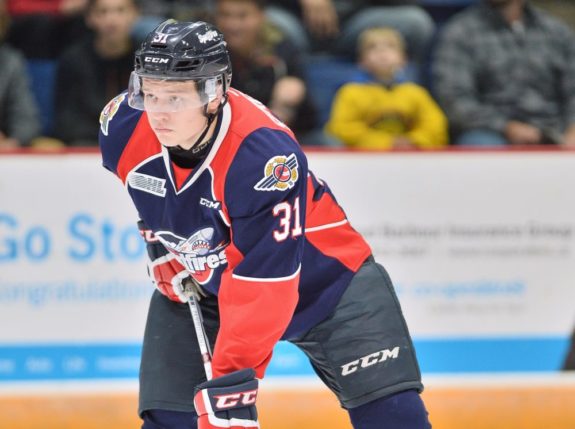 The two Spitfires who will certainly be watched as training camps open up are defenceman Mikhail Sergachev and forward Gabriel Vilardi. Sergachev was drafted by the Montreal Canadiens in 2016 and saw a four-game stint with the Habs to open the 2016-17 season. He was likely to get a shot at the team this season, but he was dealt to Tampa Bay on Thursday. This creates more uncertainty as it depends on what the Lightning have planned for the young defenceman.
Vilardi's situation is different. He's a top prospect for the 2017 NHL draft and certainly has the size and ability to play a role in the NHL very soon. Depending on where he gets drafted, he could return to Windsor or he could become the new face of an NHL franchise.
New Era, New Roster
While Windsor says goodbye to several players, they also say farewell to a leader. Last week, the Spitfires lost head coach Rocky Thompson to the Chicago Wolves (AHL). Thompson was the head coach for two seasons after taking over from Bob Boughner to start the 2015/2016 season. Taking Thompson's place will be Trevor Letowski, who was named as the Spitfires' new head coach on Thursday. Letowski had been an associate coach for the team for the last two seasons.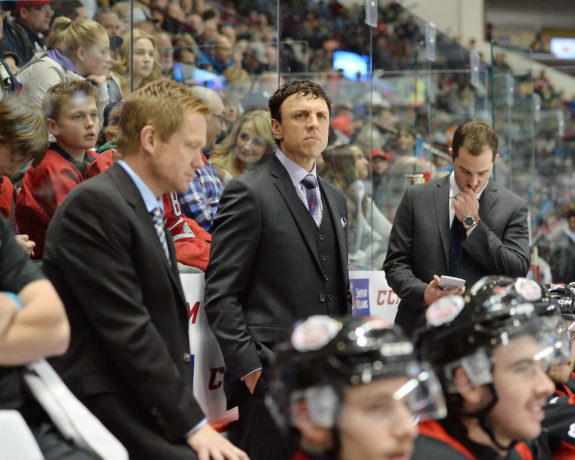 While Letowski clearly knows the systems and players, changes are still going to be made. After Windsor's last Cup in 2010, the felt they had the pieces for a run in 2010-11. It failed, though. History cannot repeat itself here. This has to be a new era in Spitfires' hockey.
Rychel emptied out the cupboards to bring in their key acquisitions and now the Spitfires are left without a second-round pick until 2027 and a third-round pick until 2023.  Now, the picks have to come back to Windsor.
The team has plenty of NHL prospects that can be dealt before or at the January deadline and they could certainly fetch several high-end picks and young players in return. Even players like Winnipeg prospect Logan Stanley and Ottawa prospect Logan Brown, both of whom should be back in the OHL for one more season, may not wear a Windsor uniform for long. While they would be valuable early in the season, they would bring experience to a contender come January and beyond.
Building for the Future
When Rychel and Boughner took over the franchise in 2006, they built a roster that grew together. It was a young team with some veterans thrown in for leadership. This was the winning formula and it has been proven multiple times, such as the 2016/17 OHL champion Erie Otters. The majority of their roster has been together for two or three seasons, which created cohesion and a solid foundation.
The core of the new Spitfires is going to be made up of players born between 1999 and 2001. Players like Tyler Angle (17 years old), Nathan Staios (2017 1st round pick), Luke Boka (18 years old), Chris Playfair (17 years old) and Connor Corcoran (17 years old) will be at the forefront.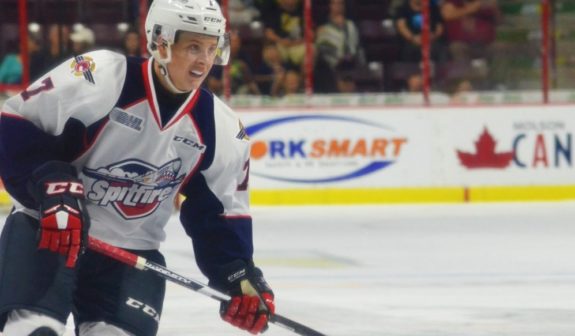 Then, you have a young talent brought in from the 2017 CHL Import Draft later this month, as well as any free agents or prospects that make the squad from the 2015-17 drafts. Training Camp might be the most competitive, wide-open field Windsor has seen in years.
While you will have the young talents, they need to learn from veterans. This is where veterans like Aaron Luchuk come into play. The 20-year-old isn't drafted by the NHL but is coming off a 28-goal season. The team is going to need his leadership and drive to teach the youngsters how to win.
The same can be said for forward Adam Laishram, who Windsor brought over from Hamilton at the trade deadline. His speed and energy was contagious and could prove to be a vital teaching tool for the younger group.
The Charm of Junior Hockey
Ideally, the Spitfires will have three 20-year-olds on their roster with a few 19-year-olds to help leadership and depth. The rest of the team will be youngsters who are hungry to learn while realizing how the process works. It's not going to be an easy season if this process is done correctly. There are going to be speed bumps along the way. That's part of being in junior hockey, though.
Training camps for the 2017-18 OHL season open in late August but trades will happen throughout June and August. This is a big offseason for the Spitfires. While patience is certainly required, the long-term benefits could be incredible.
Fans got to see the joys of a Spitfires' Memorial Cup title at home two weeks ago. Now it's time to enjoy the other side of junior hockey – watching a new crop of kids develop into a championship roster. Windsor has the pieces to get it done. Get ready, Spitfires' fans. This offseason could be a whole lot of fun!