The Arizona Coyotes have had the services of goaltender Mike Smith since the 2011-12 season. It's no coincidence that was the same season the Coyotes made it to the Western Conference Final. It is no secret that the Coyotes did not end where they wanted to this past season, finishing 27th in the league. Coyotes general manager John Chayka has said that no one on the team is untradeable as long as there is enough value coming back.
Goaltender Mike Smith is the center around the most recent trade buzz in Arizona. Smith played in 55 games last season where he finished with a record of 19-26-9 with a 2.92 goals-against average and a save percentage of .914. The 6-foot-4 goaltender turned 35 years old back in March with two years left on his contract.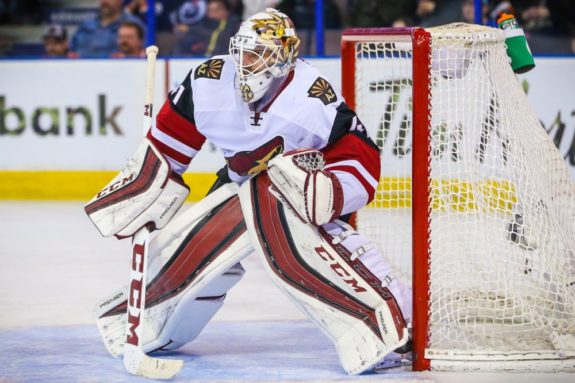 Smith signed a six-year, $34 million contract before the start of the 2013-14 season. His no-movement clause (NMC) ended after 2015-16 and his no-trade clause (NTC) runs through the rest of his contract. Smith recently sent in a list of eight teams that he would not be traded to, therefore making his NTC a non-issue if the Coyotes decide to move him.
For the Coyotes, this seems like the perfect time to move Mike Smith. Smith represented Arizona in the 2017 NHL All-Star game. This past season was not the best season for him, but he still has trade value that will certainly fade away as he gets older.
Who Can Replace the All-Star Goaltender?
The Coyotes' current backup goaltender, Louis Domingue, would take the place of Smith if he gets traded. The question now becomes, is Domingue ready for a starting role?
Backup goalies are always hard to judge because they do not get as much playing time, making it harder for them to find consistency. Domingue has had times in his career with the Coyotes where he had to play the starting role because Smith was out with an illness or injury. During this time, Domingue showed the kind of goaltender he could become some day.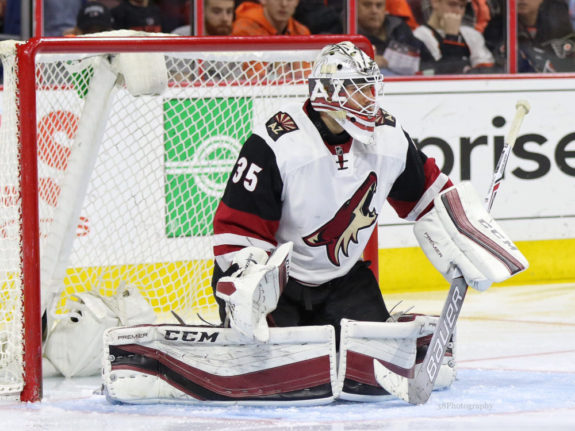 During the 2015-16 season, Smith went down with an injury requiring surgery, giving Domingue the chance to be a full-time starter for a few months. Domingue set a rookie franchise record for the Coyotes, picking up 15 victories in 39 games he played that season. Domingue ended the season with a 2.75 goals-against average and a .912 save percentage. Domingue also received rookie-of-the-month honors in January, posting a 6-3-2 record with a save percentage of .925.
Domingue should be given the opportunity to be the starter in Arizona. The goaltender works hard when he is in the net and his numbers show he plays better when he has the chance to play several times a week. Domingue is making $1.05 million for the 2017-18 season before becoming an unrestricted free agent. The Smith trade could free up some cap space for the Coyotes, allowing them to have more options in free agency.
Where Would Smith Go?
There is plenty of speculation on where Smith could end up by the time next season starts, as well as the teams he would not want to go to. Smith is definitely a competitive player and will want the role of starting goaltender for whatever hockey team he is playing for.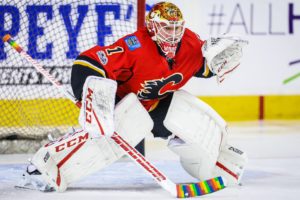 The Calgary Flames struggled to find solid starts from the rotation of Brian Elliott and Chad Johnson last season. Smith could be traded there where he would be protected during the expansion draft. The Coyotes hold Smith at a very high trade value and would have to get enough back to be willing to trade him. Calgary has players that the Coyotes have had an interest in. The Flames are looking to win right now, and with a goalie like Mike Smith, they could be on their way there.
The New York Islanders could also be a trade candidate for Mike Smith. The Islanders' current starting goaltender is Thomas Greiss. Greiss was the backup to Smith in Arizona during the 2013-14 season before going to Pittsburgh. Although Greiss had a decent season for New York, Smith could take the starting role in Brooklyn. The Islanders have some solid young players that the Coyotes would most likely be interested in acquiring.
Mike Smith is obviously a fan favorite in Arizona and most fans would hate to see him go. If the Coyotes plan on moving Smith, now is the time to trade him while he still has value.