With the NHL's Expansion Draft less than two weeks away, the Arizona Coyotes and general manager John Chayka are undoubtedly working around the clock to improve their roster as well as to ensure that all of their assets are protected. Last week, we took a stab at predicting what Chayka might do when it comes to his group of forwards, and we'll do the same for the Coyotes' defensemen and goaltenders this week.
Easy Blue Line Decisions?
Expansion-eligible UFAs: Zbynek Michalek
Expansion-eligible players under contract for 2017-18: Oliver Ekman-Larsson, Alex Goligoski, Connor Murphy, Luke Schenn, Kevin Connauton
Exempt: Jakob Chychrun, Tony DeAngelo, Kyle Wood
As we established last week, the Coyotes have an extremely young roster and have very few valuable forwards on the roster that need to be protected as a result. Due to this fact, we at THW predict that the team will choose to protect a combination of four forwards and four defensemen instead of the standard seven forwards and three defensemen.
2017 #NHL Expansion Draft rules: Two options- protect 7F, 3D, 1G or 8 skaters & 1G. No-moves still need protection but 1st&2nd yrs r exempt

— Pat Leonard (@PLeonardNYDN) June 22, 2016
Exempt from selection in the Expansion Draft are three of the Coyotes' brightest defense prospects – Tony DeAngelo, Jakob Chychrun, and Kyle Wood. Both DeAngelo and Chychrun had success as rookies in the NHL this season, while Wood was an AHL All-Star and finished third in scoring on the Tucson Roadrunners. All three players figure to be major pieces of Arizona's blue line for years to come.
The first defenseman that will be protected by the Coyotes is 31-year-old veteran Alex Goligoski. Goligoski, who recorded six goals and 30 assists in 82 games during his first season as a Coyote, has a full no-movement clause (NMC) in his contract and, per Expansion Draft rules, must be protected. However, even if Goligoski did not have the NMC in his contract, he'd likely be protected anyway, as he was arguably Arizona's best defensemen over the final few months of the season.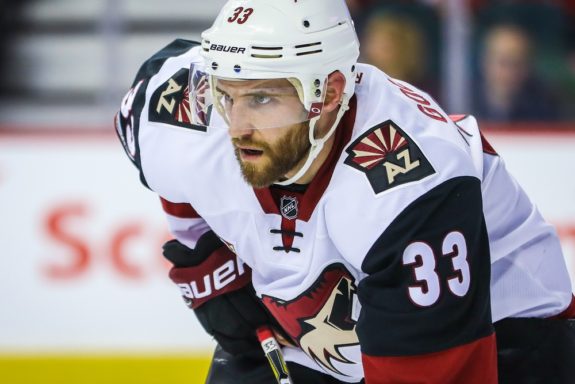 Oliver Ekman-Larsson also will be protected by the club. The 25-year-old Swede really needs no introduction – he's Arizona's franchise defenseman and will be a cornerstone player in the desert for a very long time. Also likely to be protected is 24-year-old Connor Murphy. Murphy, who was the team's first-round pick in 2011, recorded a career-high 15 assists last season and is quietly developing into a solid defender in Arizona.
The final protected spot on the Coyotes' blue line likely will come down to either Luke Schenn or Kevin Connauton. Connauton was in and out of the lineup all season due to numerous injuries and ailments, while Schenn led the team in hits and was a physical force all season long. As a result, we predict that Schenn will be the final defenseman protected by the Coyotes.
THW's Protected List: Alex Goligoski, Oliver Ekman-Larsson, Connor Murphy, Luke Schenn
Exposed player: Kevin Connauton
Smith or Domingue?
After some relatively easy decisions concerning his forwards and defensemen, Chayka has his work cut out for him with the goaltending position.
Expansion-eligible players under contract for 2017-18: Mike Smith, Louis Domingue
Exempt: Adin Hill, Marek Langhamer
Put simply, there are two paths Chayka could choose to follow when it comes to his goaltenders – protect Mike Smith and expose Louis Domingue, or protect the 25-year-old Domingue and expose the 35-year-old Smith. Both players have their strengths and weaknesses; Smith is arguably the better player at this point, but he's 35 and carries a $5.67 million cap hit.
On the other hand, Domingue carries a significantly lower cap hit and, being 10 years younger than Smith, has much more potential to improve. However, Domingue likely won't be ready to be a full-time starter in the NHL for another season or two, meaning that the Coyotes would likely have to bring in another veteran goaltender should they lose Smith in the Expansion Draft.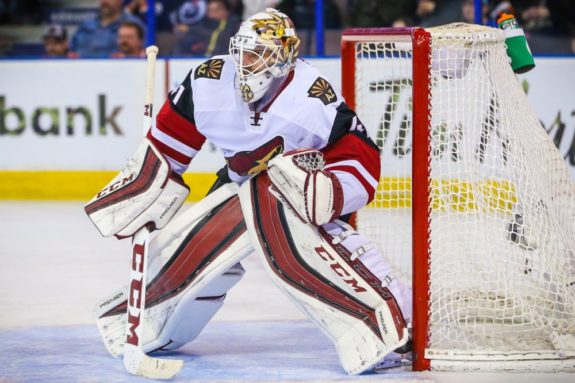 Smith on the Trading Block?
Recent trade rumors regarding Smith may also sway Chayka's decision. According to multiple sources, many teams around the league have expressed interest in trading for Smith in recent days, and the Coyotes are reportedly listening to offers.
Mike Smith has a modified NTC, eight "No" teams on it: list was submitted to the Coyotes recently. Arizona in listening mode.

— Pierre LeBrun (@PierreVLeBrun) June 7, 2017
Overall, it appears as if Chayka will be faced with a tough decision no matter what happens. If he is unable to trade Smith before the roster freeze on June 17, he'll likely have to use his protected slot on his veteran starter, which would leave Domingue exposed.
If Domingue is then selected by the Las Vegas Golden Knights in the Expansion Draft, Chayka would then be unable to trade Smith, as he'd be the only NHL-caliber goaltender left in the organization. Conversely, if Domingue is protected and Smith is exposed, it's likely that Vegas would select Smith and flip him for assets shortly after the draft, which would leave the Coyotes with nothing.
THW's Protected List: Mike Smith
Exposed player: Louis Domingue
Hold on to your hats, folks. With so many moving pieces, the next few weeks could be among the wildest the League has ever seen.