In a week or less, the Stanley Cup Finals will come to an end. Once this happens, the NHL offseason will be in full swing. Almost all the teams have already begun their work, prepping for a busy month full of trades and blockbuster free agent signings.
The Minnesota Wild are one of many teams looking to be active in the trade market this summer. According to a statement by Michael Russo of the Star Tribune via podcast, he believes that the Wild are looking at trading either Jonas Brodin or Matt Dumba.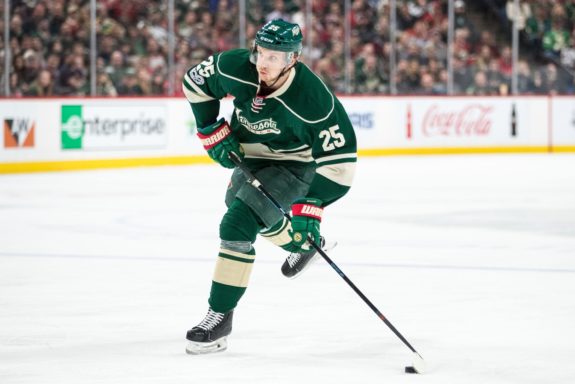 Now, this is something that has been talked about off and on, but it's beginning to sound more like reality than a rumor. Both players are quality defensemen who have a lot to offer. Two good defensemen who play two different styles of a game.
Like many other teams, the Wild are looking to move one of these guys in hopes of getting something valuable in return. Otherwise, they could risk exposing one, or both to the Las Vegas Golden Knights and potentially lose one for nothing. So if the Wild are going to deal one of these guys, who would get the biggest return?
Assessing Brodin & Dumba
No matter how you slice it, the Wild are going to lose a quality defenseman. Brodin is an incredible skater. Like Ryan Suter, he's very calm with the puck and plays a 200-foot game. Brodin is an excellent penalty killer and makes very few mistakes with the puck. He doesn't wow you offensively, but is still good for 25+ points a season. He's under contract through the 2020-21 season with a $4.1 million cap hit.
Dumba is a little firework. What he lacks in size (six-foot, 183 pounds), he makes up for with his cannon of a shot. He tends to make more mistakes than you'd like to see defensively, but his ability to create offense and score goals is his strength. Dumba is under contract through next season with a very friendly $2.55 million cap hit. Here's a side by side comparison of Brodin and Dumba's career stats.

If you take a deeper look at the numbers, Dumba is in some ways, a more effective defenseman. In Brodin's five NHL seasons, he has an average Corsi For percentage of 46.4%, never having a Corsi percentage over 50% in a single season. If you look at Dumba, his stats are opposite to Brodin's. In four seasons, Dumba has an average Corsi For percentage of 53.6%, with at least a 52% Corsi rating or better each year. This means that the Wild had control of the puck far more often when Dumba was on the ice compared to Brodin.
Who Holds More Trade Value?
Out of these two players, who holds a higher trade value? Who would give the Wild the best shot at getting quality assets in return? It's a hard question to answer. Trading either player has its benefits and its downfalls.
If the Wild trade Dumba, they'd be getting rid of their best offensive defenseman hands down. In terms of creating cap space, the Wild would only be gaining an extra $2.5 million. Trading him would create a void on the blue line, a spot that wouldn't be easy to fill.
However, because of his offensive talent, he'd likely give the Wild a huge return in a trade. The Wild are in need of a finisher, a pure goal scorer, and trading Dumba could give them that. The Colorado Avalanche and Tampa Bay Lightning are both in the market for a defenseman and could be potential trade partners for Dumba.
The Wild wouldn't get quite the return for Brodin. There may be a team that would be willing to pay a lot for him, but I can't imagine it would be as much as Dumba. The upside of trading Brodin would come in the form of cap space relief, with an additional $4.1 million. This would be beneficial, especially if the Wild are unable to trade Jason Pominville.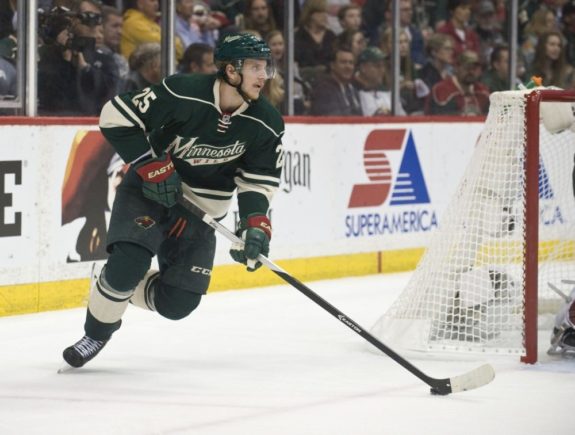 It'll be a tough decision for Wild management to decide who to trade. I am torn between the two. I love what Dumba brings to the team offensively. He almost reminds me of a young P.K. Subban. However, I am very intrigued by what the Wild could get in exchange for him. I'd be fine with them trading Brodin because he would free up more cap space, but I don't believe he would demand as big of a return.
I am 25 years old and have been happily married for over three years. I have been writing sports blogs for the past five years and I love it!
I also enjoy hunting, fishing, playing hockey and riding dirt bike in the summer.