When the Arizona Coyotes acquired defenseman Alex Goligoski from the Dallas Stars on June 16 for a fifth-round pick, then signed him the following week to a five-year, $27.375 million contract, many around the league praised the move in the days and weeks that followed. The Coyotes badly needed to upgrade their blue line after utilizing 11 defensemen during the 2015-16 season, and they were able to do so by adding a nine-year NHL veteran in Goligoski.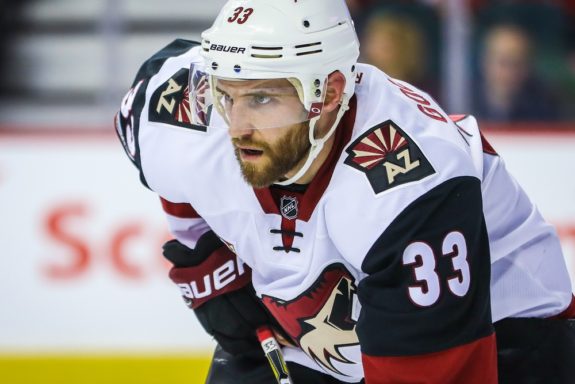 However, fast forward to the end of January, and it looked as if John Chayka's decision to sign the then-30-year-old Goligoski to a long-term contract with a no-movement clause was in the process of spectacularly blowing up in the young GM's face. Through Jan. 31, Goligoski had recorded just one goal and 14 assists in his first 49 games as a Coyote, and he did not resemble the dynamic player that he was in Dallas in 2015-16 when he finished seventh in scoring on a very potent Stars offense.
Not only was he struggling to create offense despite being on the ice for more than 23 minutes per game, Goligoski had also been a liability on the defensive end of the ice as well. After finishing the 2015-16 season as a plus-21 in Dallas, Goligoski was a minus-10 through his first 49 games in Arizona. In addition, Goligoski's possession numbers (Corsi For percentage) over that span weren't much better, as his CF% through Jan. 31 was a dreadful 44.92% (down from 53.63% in Dallas in 2015-16).
Defense pair shot rates

There's lots to see here but something about that old Michael Stone-Alex Goligoski pairing still catches my eye. pic.twitter.com/dgfTLGRnHX

— Sean Tierney (@ChartingHockey) March 23, 2017
What was wrong with Goligoski? Was he beginning to see a decline in production after years of being a dynamic and talented puck-moving defenseman for the Penguins and Stars? Was he struggling due to the fact that he was no longer playing alongside dynamic offensive talents such as Tyler Seguin, Jamie Benn, Jason Spezza and John Klingberg? Or was he struggling because he had to adjust to playing in a city other than Dallas for the first time since the 2010-11 season?
A Second-Half Surge
As it turned out, the latter was to blame, as Goligoski significantly picked up the pace over the final few months of the season as he presumably became more comfortable with Dave Tippett's system — he recorded 21 points over the final 33 games of the season and was able to finish the year fourth in scoring on the Coyotes despite his slow start with his new team. In addition to his increased offensive output, Goligoski was also able to improve his play on the defensive end of the ice — he was a plus-1 over his final 33 games and led all Coyotes defensemen in CF% over that span as well.
To me Alex Goligoski has played a lot better over the last 20-25 games than he did earlier in the yr. Hope he carries it over to next yr.

— I love Conor Garland (@CoyotesAvs12) March 30, 2017
Overall, the Coyotes should be in extremely good shape as far as their blue line is concerned if Goligoski is able to carry his late-season success over to the 2017-18 campaign. Complementing Goligoski on the Coyotes' blue line will be returning veterans in Oliver Ekman-Larsson and Luke Schenn along with promising youngsters in Connor Murphy, Jakob Chychrun and Tony DeAngelo, who all will bring another year of experience to the table next season. Add in tons of cap space for a potential free agent signing or two, and the Coyotes have the potential to make a significant improvement on the defensive end of the ice in 2017-18.