With the NHL Expansion Draft less than a month away, it's likely that general managers around the league are spending most of their time trying to figure out how to 'beat the system' and ensure that they can keep as many of their core players as possible away from the Vegas Golden Knights and general manager George McPhee. With that, let's take a quick look at the how the Arizona Coyotes stack up at the forward position for the upcoming expansion draft:
Expansion-eligible UFAs: Shane Doan, Radim Vrbata
Expansion-eligible RFAs: Alexander Burmistrov, Peter Holland, Teemu Pulkkinen, Anthony Duclair, Jordan Martinook, Josh Jooris
Expansion-eligible players under contract for 2017-18: Jamie McGinn, Tobias Rieder, Brad Richardson
Exempt from selection: Clayton Keller, Dylan Strome, Lawson Crouse, Brendan Perlini, Max Domi, Christian Fischer, Christian Dvorak, Laurent Dauphin
Leading up to the Expansion Draft, it appears as if general manager John Chayka will have some relatively easy decisions to make in regards to the forward position. With so much youth on the roster, the vast majority of the team's valuable forwards (Domi, Dvorak, Keller, Strome, etc.) are exempt from being selected by the Golden Knights, meaning that the Coyotes might be able to get away with protecting just four forwards in order to protect an extra defenseman.
Some intermission reading: a guide to the upcoming expansion draft and how the #Coyotes are approaching it: https://t.co/NGuDj93X4j

— Sarah McLellan (@sarah__mclellan) March 25, 2017
Unless they're re-signed to contract extensions prior to the Expansion Draft, the Coyotes will not have to protect either Shane Doan or Radim Vrbata as they're both pending unrestricted free agents. If either is selected by Vegas, they'll be free to return to Arizona once unrestricted free agency begins on July 1.
Six Restricted Free Agents, Three Spots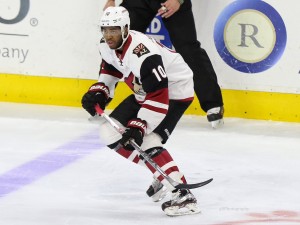 However, the Coyotes will have to protect their valuable restricted free agents, as the Golden Knights have the ability to select an RFA during the Expansion Draft and retain their rights once free agency begins. As was previously mentioned, the Coyotes have six RFAs – Anthony Duclair, Alexander Burmistrov, Jordan Martinook, Peter Holland, Josh Jooris, and Teemu Pulkkinen.
Although Anthony Duclair had a rough 2016-17 season, we predict that he will be one of the forwards that the Coyotes protect. After all, he's still only 21 years old and is just one year removed from a 20-goal rookie season. We'd be shocked if the Coyotes gave up on him after just two seasons.
We also predict that Jordan Martinook will be protected by the Coyotes. Like Duclair, Martinook has played just two full NHL seasons, but he's already established himself as one of the team's better defensive forwards. He's also won the team's Hardest Working Player Award in each of his two seasons, and the Coyotes will likely want to keep him around for the foreseeable future.
Hardest-working player is center/wing Jordan Martinook.

— Sarah McLellan (@sarah__mclellan) April 9, 2017
The final restricted free agent that we see the Coyotes protecting is center Alexander Burmistrov. After the Jets gave up on him and put him on waivers on Jan. 1, Burmistrov was claimed by the Coyotes and appeared to get his career back on track in the desert. He recorded just two points in 23 games in Winnipeg but flourished in Arizona as he put up 14 points in 26 games despite missing a large chunk of time due to a concussion he suffered in Boston on Feb. 28. It's likely that the Coyotes will want to re-sign Burmistrov and see what he can do over the course a full season.
McGinn & Richardson up for Grabs?
Now that we've determined which RFAs the Coyotes are likely to protect and/or sign to extensions before the expansion draft, we'll take a look at the players who are under contract and are eligible to be selected by the Golden Knights. The NHL's Expansion Draft rules state that each NHL team must expose two forwards who are both under contract for the 2017-18 season AND have played at least 70 games in the last two seasons combined (or 40 games during the 2016-17 season). As of this writing, the Coyotes have three such players on the roster that meet these requirements – Tobias Rieder, Brad Richardson, and Jamie McGinn.
Rieder is probably as close as it comes to being a lock to be protected in the Expansion Draft. Like Martinook, he's emerged as one of the Coyotes' better two-way players and has become a mainstay on both the power play and the penalty kill. Unless the front office feels that they won't be able to sign him to another contract next summer after last offseason's lengthy contract negotiation process, there's no chance that he'll be left unprotected.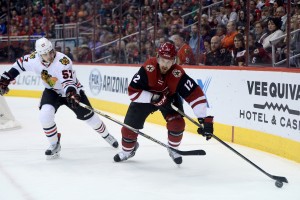 As far as McGinn goes, he was undoubtedly a disappointment in Arizona this season after being signed to a three-year, $10 million contract last summer. He contributed just nine goals and seven assists in 72 games in 2016-17 and could be left unprotected as a result of his disappointing season. It's likely that McGinn could turn it around next season, but Arizona's depth at the forward position makes him expendable. It wouldn't hurt the Coyotes much if they were to lose McGinn to the Golden Knights.
Richardson's case is an interesting one. Through 16 games this season, the 32-year-old had five goals and four assists and was on pace to set new career-highs in nearly every significant offensive category. However, his year ended prematurely as he suffered a fractured leg in Vancouver on Nov. 17 and didn't play again for the rest of the season. The Golden Knights could be tempted to select him based on his solid play in the beginning of the season, but the fact that he's coming off of a major injury likely will lead the Golden Knights to look in a different direction. There's little risk in leaving Richardson unprotected in the Expansion Draft.
A Low-Risk Expansion Draft
Overall, in comparison to some other teams in the league, the Coyotes should have an easy time in deciding which forwards to protect. With so many youngsters on the roster, they do not appear to be in danger of losing any core players. Let's recap our predictions for the Coyotes' forward position:
THW's Protected List: Alexander Burmistrov, Tobias Rieder, Anthony Duclair, Jordan Martinook
Exposed players: Jamie McGinn, Brad Richardson
Check back in a few days for THW's predictions on how the Coyotes will approach the defense and goaltending positions in the Expansion Draft.