The NHL playoffs, where the calls are made up and points don't matter. At least that's how it has seemed at times since the puck dropped in Game 1 of this Stanley Cup Final. Pittsburgh has gone hours without shooting the puck. Nashville has won nearly every stat line and still finds itself losing. The ice crew at PPG Paints Arena has had to clean up dead catfish off the ice. Two games in and all fans and media have to say is this has been a weird series.
Battle of Two Very Different Teams
The inconsistencies we're seeing in terms of statistics are simply the result of a battle between two teams that have very different personnel and play in very different conferences. The Penguins score more goals than anyone in the NHL and have done so in the playoffs but rely on average defensemen to help out their elite goaltender. The Predators have the best top-4 defensemen in the playoffs, and they have only allowed four power-play goals since the first round, but they have very average forwards who are quite inexperienced. These are two very different teams.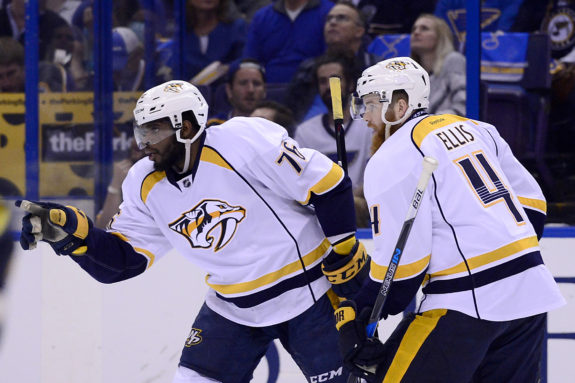 Nashville's stout defense has made it tough for Pittsburgh to get shots on goal, and there's no better example of that than the second period of Game 1 when the Penguins recorded ZERO shots on Pekke Rinne. However, the inexperience of the Predators allowed an inexcusable lack of energy and effort after an overturned goal in the first period of Game 1. That mistake allowed the Penguins to score three goals that would put Nashville in a tough position to win.
In both games in this series thus far, Pittsburgh has scored three goals in four-minute stints of time. Not to take anything away from the Penguins, but the goals given up in these situations have been anything but highlight-reel worthy. Rinne may be the reason that the Predators got to the Final, but he's also largely to blame for their 2-0 series deficit.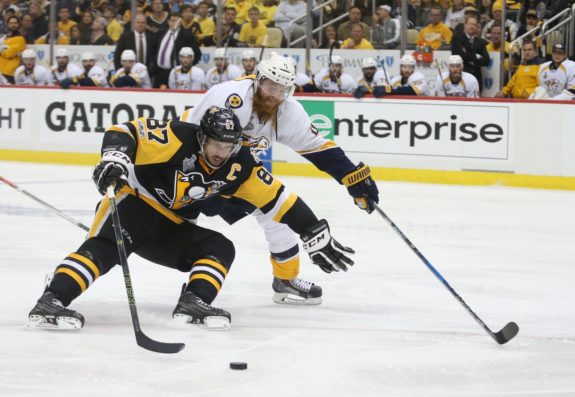 A team like Nashville isn't your typical Stanley Cup contender, which is why this series has been so choppy and awkward. They snuck into the playoffs with a 41-29-12 record, a record that would not have gotten them into the Eastern Conference playoffs. That's not to say that they haven't played incredible hockey, and that's all that matters. They deserve to be where they are. They just aren't going to play a smooth, back-and-forth type of game with the Penguins like some would say the San Jose Sharks did a year ago.
No Excuses for Officials
Regardless of how the players are playing, there's one thing that has stolen the headlines for much of the series, and that is how consistently inconsistent Wes McCauley and his officiating crew have been. To say they've been awful would be taking it a step too far, but just one step. Highlighted by the coach's challenge in Game 1 that erased a Nashville goal, the referees have come under fire from fans of all 31 teams in the NHL. The coach's challenge is a problem by itself, and the referees have made the correct calls on the two challenges thus far, but everything else is up for debate.
GIF: Cullen hit from behind into the boards. No call. pic.twitter.com/LX0udUrnK1

— Benstonium (@Benstonium) June 1, 2017
This is a Penalty.
I should say, this is a penalty that went uncalled in Game 2. There are several other GIFs floating around social media showing calls that were missed and others that were called that should not have been. It isn't a problem that has blossomed in the Final; it's been brewing for the entire playoffs. The officials have missed calls, they've changed the way they call the game from period to period, and they've made it very hard for players to know what is legal and illegal.
This is a nightmare for coaches and players. They set an unthinkable standard here. –Mike Milbury
---
Take the Milbury rant with a grain of salt; this is a man who once beat a fan with his shoe. But he makes a few great points here, and this is only one period of examples. The inconsistency we're seeing is hurting the product of hockey to which the fans have become accustomed. For comparison, a year ago through two games of the Stanley Cup Final, only eight penalties combined were called. There were more than that in Game 2 of this year's Final.
Rules Haven't Changed, so What's Going On?
It doesn't help that the media is making it such a focal point of these games, but they aren't making this stuff up. It hasn't been good, no matter who you're rooting for. Nashville isn't behind in the series because the officials have been bad; they've done enough on their own to lose. However, the health of these athletes has to be better protected. They deserve that. If the referees haven't already lost control of this series, they are on the verge of just that.