The Canadian women's national team is currently hosting its boot camp in Fredericton, New Brunswick. Management and coaching staff are in the process of determining which players will represent their country when the PyeongChang Winter Olympics get underway this coming February. For forward Jill Saulnier, making this team is what it is all about – a goal of hers that has been in the making since childhood.
"We are in our first phase leading into the Olympics," she says. "Trying to make the team and experience the dream of wearing the maple leaf for my country at the Olympics is my number one goal right now.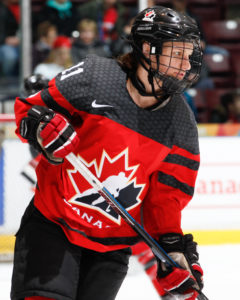 Saulnier grew up in Halifax, Nova Scotia – the provincial capital known for its maritime history. Just over a four-hour drive between there and Fredericton, Team Canada's boot camp is keeping her close to her own stomping grounds.
"I started playing hockey around five. My younger brother played, so Dad always made the rink in the backyard. He had a stick in his hands first, and of course I wanted to copy him. So I ended up with one in mine, and I've never let it go."
"Halifax, Nova Scotia is not a big place, and I never really dreamed of even leaving the province, let alone seeing the world with some of the best hockey players in the entire world," she continued. "I am very, very humbled to be a part of this group of players."
Team Atlantic
Nova Scotia is one of Canada's provinces that lay along the Atlantic Ocean. For over two decades now, this region of the country has hosted the Atlantic Challenge Cup – a tournament that features the best young players from the provinces of Nova Scotia, Newfoundland and Labrador, Prince Edward Island, and New Brunswick. Saulnier's skill at the youth level was apparent as she won gold medals in 2003, 2005 and 2007, as well as silvers in 2006 and 2008. These successes would lead Saulnier to make Team Atlantic – a team composed of players solely from this region – where she competed in the National U18 Championship. She even captained the squad herself in 2008.
The Big Red
In 2011 Saulnier would come stateside to play college hockey at Cornell University in New York State.
"I had wanted to challenge myself academically. School was of huge importance to me through high school. So that was a main focus for me, and of course athletically too. They had a great program, they had a great history, and they had great girls that were playing and coaches as well. That looked like the best balance for me. I chose that route and had a great time there."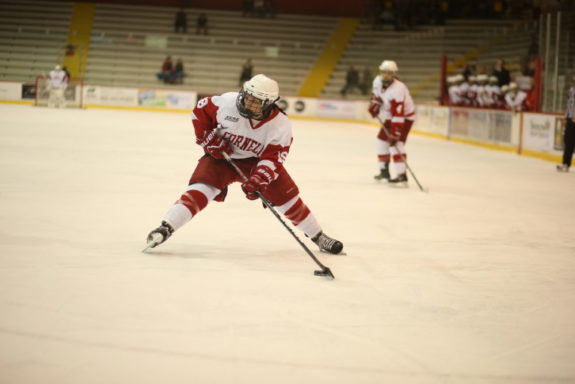 Just looking at statistics alone, Saulnier's career at Cornell University is enough to blow most fans away. A staggering 195 points (80 goals, 115 assists) in 125 games for the Big Red. Not surprisingly, her collegiate career plus/minus is a plus-107. Her junior season in which she scored 28 goals and 28 assists for 56 points in a mere 34 games is particularly remarkable. But when Saulnier thinks back on her college career, statistics fall to the wayside.
"I would say the same thing to most everybody – the people that I met (at Cornell) are what mean most to me. A number is just a number; that only means so much to someone in a group. At the end of the day, the people that I met are still my best friends today. I live with Rebecca Johnston out in Calgary. Brianne Jenner is my roommate here (national team boot camp) and is a best friend of mine. It is a best circle of friends that you gain from sport that is definitely irreplaceable for sure."
Calgary Inferno
Upon completing her college career, Saulnier headed out to western Canada where she would play with arguably the best collection of female hockey players in the world in the CWHL. Signing with the Calgary Inferno, she found success almost right from the get-go.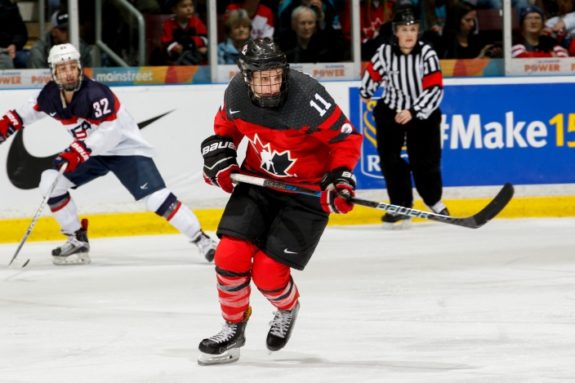 "I knew that I wanted to go play in the CWHL. That is where such amazing hockey players were, and I wanted to continue my career with the national team as well. To achieve that goal and an Olympic dream, I had to keep playing in a challenging environment. Calgary seemed to have a great coaching staff, organization and players. Friends of mine had been there as well. So I was really attracted to Calgary initially and have ended up there for the past two years. It's been great!"
Clarkson Cup Champion
Great could even be considered an understatement when it comes to Saulnier's time with the Inferno. In her first season alone, she averaged a point per game by tallying 12 goals and 10 assists for 22 points in 22 games during the regular season. More importantly, Saulnier appeared in all three of the Inferno's playoff games that 2015-16 season, scoring a goal and three assists, as Calgary captured the Clarkson Cup.  Not many CWHL players get their name inscribed on the Cup their first year in the league and to have it be housed in the Hockey Hall of Fame for all of time.
"To be on a team that has experienced that kind of emotion and that excitement in female hockey was definitely exciting for me. But also to be able to have [my name] in the Hockey Hall of Fame on that Cup is really special and definitely not something that you can say you get to do everyday. Definitely a moment that I'll cherish forever."
For some people, finding success so early on and at such a high level could perhaps get to one's head. Saulnier is just the opposite. She keeps the experience in perspective and stays true to her own character. Recognizing the need to roll with any punches thrown her way and not lose any focus.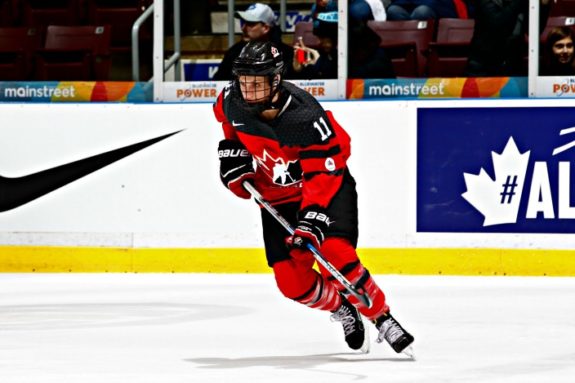 Saulnier's Character
"Just enjoying the game. Working hard. Not taking advantage. I have been on both ends of the stick. Whether it be on a team, off a team. Experiencing those highlight moments, whether it be Calgary or on the national team. Just working hard to try to accomplish that goal and be a part of something special is something that I strive to do everyday, and hopefully will lead me to my dream for sure."
You cannot help but be enamored with Saulnier's sense of humility and how down-to-earth she is. Skill level alone should be enough for her to make the Canadian Olympic team. But add Saulnier's character and her level of integrity into the mix and you are left with the type of player that any coach would want on their bench and any teammate would want by their side.
https://twitter.com/bea_lanceleve/status/792520257298726912
The Women's Game
"Looking at where I came from, the amount of girls playing in Nova Scotia has multiplied by ten since the time I've been there. It is evident that female hockey is growing. You can see it in the competition that Canada always has against the U.S., and also the other countries that have been developing rapidly and putting forth very talented teams. Female hockey is growing and as much as we are 'enemies' with all these other countries, at the end of the day we want to prove to the world how strong and how developed female hockey is. To see the sport continuing to grow is a huge, huge priority for us, especially in Canada as females on the national team."
Saulnier is a vital cog in the wheel that grows the game of women's hockey, and most assuredly as a member of Team Canada. We are truly looking forward to seeing her take to the ice in PyeongChang wearing a maple leaf crest.
General Manager of the Buffalo Beauts (NWHL). Hockey history writer "The Hockey Writers". Credentialed media for the NHL Combine and 2018 IIHF World Junior Championships in Buffalo, NY, USA. Born and raised in Buffalo, NY. Lifelong hockey fan for over 40 years. Proponent of the women's game.