The MasterCard Memorial Cup is the pinnacle of Canadian junior hockey. It's not just the players that get into it, though. For the fans, it's just as big of a spectacle.
In 2009 and 2010, when the Windsor Spitfires last went to the tournament, Spits fans drove for hours to get to Rimouski and Brandon. They gathered at local restaurants, had bonfires along the St. Lawrence River and enjoyed the off-ice experience as much as the games.
When the City of Windsor bid on the 2017 event, one of the hopes was that fans would do the same thing here. Windsor had a lot to offer to visitors in order to give them the best Memorial Cup experience possible.
The tournament saw four teams – host Windsor Spitfires, Seattle Thunderbirds, Erie Otters and Saint John Sea Dogs – battle it out.
In for the Long Haul
Thousands of fans came to Windsor to enjoy the show. Some even stayed the entire week, like Aleah Quinlan and her mom, who came in from a town near Seattle. They have been Thunderbirds fans for 15 years and were a part of the team's Booster Club before she left for college. The trip was several months in the making.
"We decided (to come) in November," Quinlan said.
"Last year, we went to Red Deer (2016 tournament) and really loved it. We said we're going to do this every year. I booked off the vacation in November. We were put on the list. Got our tickets in February and already started looking at stuff for Regina next year."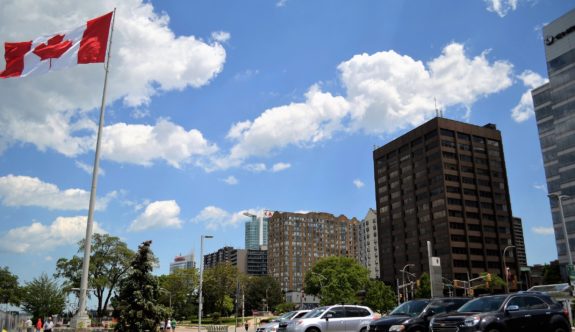 If the Thunderbirds didn't make the Memorial Cup, she said they still would have come. They would have just cheered on Erie.
Normally, in Windsor, cheering for someone besides the Spitfires is met with side looks. Here, though, you let loose and the fans love that. There's no real hatred involved. Quinlan said it's all been friendly.
"None of the fans have been like 'You guy suck!'," she said.
"They're so light-hearted … It's kind of nice because it's a friendly rivalry. It's not angry and it's been a really nice experience."
Before the Memorial Cup, the City of Windsor created plans for a fan experience. Coinciding with Canada's 150th anniversary, Windsor raised a 150-foot flag in Dieppe Gardens downtown on May 20. Quinlan called the riverfront "super pretty" and said being able to walk around there was a treat.
"We walked down and we got to see Joe Louis Arena (in Detroit) from across the river," she said.
"It's really cool being able to go around and see a new city."
Quick Trip, Memories Made
While some fans were able to come for the entire tournament, others came up for a day to enjoy the sights and sounds.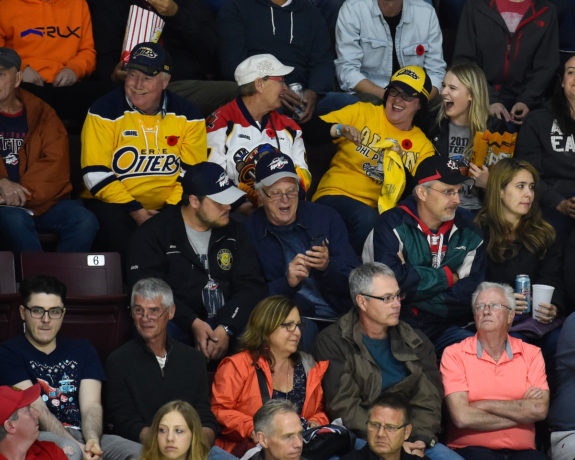 Kristen Melnick and her mom came from Erie to check out the action on day two. They have been fans of the Otters since the team moved from Niagara Falls and try to get to as many games as they can.
"We have always wanted to go to a Memorial Cup game," Melnick said.
"With it being so close, and the Otters playing, it seemed like the perfect opportunity to go. We actually didn't decide to come until Wednesday for the Saturday game. (There were) lots of various factors but it worked out."
They managed to make the round-robin game between the two American-based clubs – the Otters and Thunderbirds. Melnick said that was an experience itself because it doesn't happen very often. Like Quinlan, she enjoyed seeing fans from around the CHL.
"Overall a probably once-in-a-lifetime experience for me," she said.
"I enjoyed it and wish I could have attended more of the tournament."
Proud Moment for Locals
While fans came from far-and-wide to see this prestigious tournament, local Spitfires' fans were just as thrilled to watch it all unfold. Kyle Reid and John Botosan are two long-time Spitfires fans. Botosan has been a fan since the late 80s while Reid has been going for over 30-years.
Both have seen the highs and lows of the franchise. Botosan was in Rimouski in 2009 when the Spitfires won their first Memorial Cup. One of the highlights of that trip was seeing how another city ran the event. With the Cup in Windsor, the tables have turned.
"You got to see what other fans thought of the city," Botosan said.
"We got a lot of positive feedback from fans from Seattle and Saint John. They had good things to say. It was nice to see fans be a part of our city."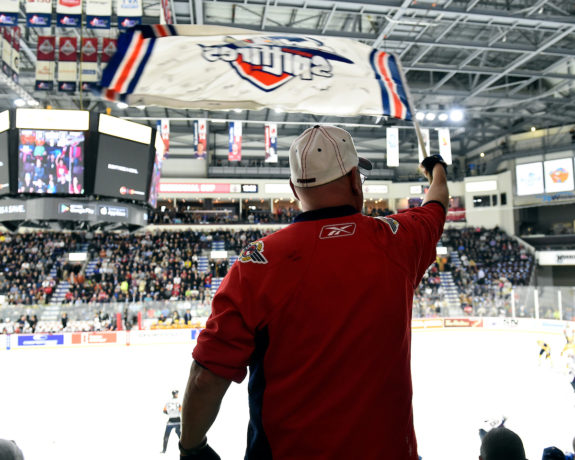 Reid is a guy you might recognize. His face, painted in Spitfire colours, has been on billboards around Windsor during the last couple of seasons.
For him, this was a huge deal.
"To host The Memorial Cup is an honour," he said.
"Having the Memorial Cup in my hometown of Windsor is something that I have waited for ever since I became a fan. The energy that has taken over this city is phenomenal."
Reid said that following this team over the years and seeing the championships in 2009 and 2010 has become special. This just adds to it.
"I am proud Spitfire fan who thoroughly enjoyed watching them hone their craft. To all the staff and players – congratulations and thank you. Go Spits Go!"
Worth Every Penny
While the Memorial Cup games are the intended focus of the event, the experience outside of the hockey makes a significant impact. It's that interaction between the fans and the city where the memories are made.
For 10 days, the City of Windsor became home for not only 225,000 "Windsorites", but fans from across Canada and the US. Visitors shared their stories with locals and vice versa.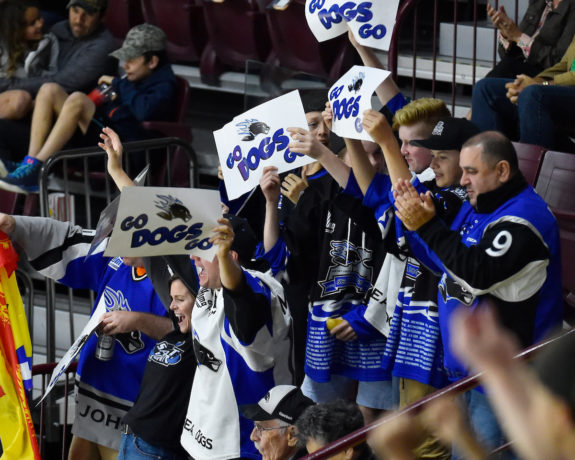 It's not a matter of winning or losing, but taking it all in. For fans, both in Windsor and across the continent, that's what they did. This was a first for the current generation; a Memorial Cup in Windsor. The last time the city hosted the tournament was in 1981 at the old Windsor Arena.
This gave fans a chance to discover Windsor and discover the CHL. A chance to show that you can be fans of opposing teams and still have a great experience. Everyone had the same purpose. They were here to have fun and enjoy a potentially once-in-a-generation event.
Windsor may not host the Memorial Cup again for decades. Was it worth it for the fans? According to Quinlan, absolutely.
"I wouldn't trade my experience at the Memorial Cup for anything," he said.
That's what it's all about.