Through six games of the 2018-19 CWHL season, Les Canadiennes de Montréal captain Marie-Philip Poulin has six assists. An assist per game is nothing new for her, but it is a reminder of how exceptional of a player – particularly a playmaker – she truly is. Not only is the 27-year-old forward the squad's captain but she is arguably the preeminent forward in women's hockey today. If Poulin is not at the very top of the list, then she is unquestionably within the top-three in the world.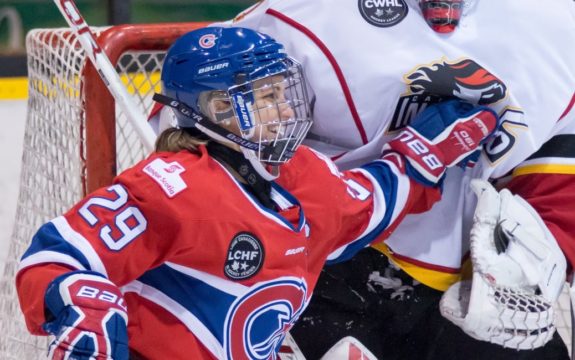 Rarely in sport do we see the foremost players in a particular discipline end up as teammates. This season Les Canadiennes have been able to achieve exactly that. Montreal has both Canada's Poulin and USA's Hilary Knight as their premier stars on their roster (and quite a few other strong names as well). Without question, Poulin and Knight are the biggest names in women's hockey today.
What other pairings stand out in the greatness of their respective sports? You are hard pressed to find a combo that is finer. The Los Angeles Lakers with Magic and Kareem? The legendary pairing of Sue Bird and Swin Cash who won at the WNBA, NCAA, and Olympic levels together? The New York Yankees combo sluggers of Mickey Mantle and Roger Maris? Maybe.
Those pairings have the advantage of longevity with one another.
As far as Poulin and Knight go however, they may be the most talented duo at their craft and we are just seeing them for a first full season together. By the time the 2018-19 season has come to a close, they may very well be crowned the new Rogers and Hammerstein for their sport. Much of that falls on the shoulders of Poulin, particularly when it comes to eliciting creative plays from herself and her linemates.
Few Are More Decorated Than Poulin
Argue it if you will, but for either women's or men's hockey there is no craftier playmaker presently in the game today than Poulin. In 111 career games at Boston University from 2010 through 2015 she totaled 100 assists. Poulin also scored 81 goals in that stretch too for 181 total points. Within her CWHL career she has compiled 76 helpers in just 73 games, which are just a portion of her 140 points thus far. Poulin's first Olympics were the 2010 Winter Games in Vancouver. She has played in a total of three different Olympics, including most recently in  the 2018 PyeongChang Games. In 15 Olympic games she has scored 11 goals and assisted on seven others.
Roche, papier, ciseaux! / 🗻, 🗒, ✂️, shoot! 😊#SundayFunDay pic.twitter.com/QYruIbs8yc

— Les Canadiennes (@LesCanadiennes) November 4, 2018
Statistics aside, Poulin has won the Clarkson Cup title in 2009 and 2017. She is both the reigning CWHL MVP and the league's Angela James Bowl winner as the top scorer since 2016. Poulin has won two Olympic gold medals and one silver. At the IIHF Women's World Championships she has helped Canada capture a staggering six silver medals and a single gold.
There is just no finer forward around. Scoring sheets and trophies do not do enough justice for Poulin's abilities either. Rather, it is a thing of beauty to see her creativity out on the ice. Poulin is an artist with the puck, and the way that she is able to repeatedly orchestrate plays to create offense goes unmatched. Her vision is of the finest caliber, and is a key contributing factor as to why she has continuously scored points and won titles. The rest of her achievements are brought to fruition by her professionalism and work ethic.
Fun Facts With MPP
We know about the points and we know all the accolades, but like most sports stars there is little we know about Poulin's personality off the ice. There are certainly obvious positive indicators. Poulin seems to always be smiling, and she never hesitates to engage youngsters or pose for a photo. Possessing tremendous ambassador skills, she is naturally growing the game just by being herself. She and the legendary Caroline Ouellette have hosted the Ouellette & Poulin Hockey Camps which have taught young athletes elite hockey skills and enabled them to meet their Olympic heroes. Poulin genuinely cares about all of the young athletes whom she encounters.
At the professional level, a player like Poulin has enabled Montreal to become the destination for women to play hockey. What more can you say about it beyond seeing the foremost USA-born women's hockey player in Knight decide to play there after so many tremendous years in Boston. Les Canadiennes provide an opportunity for the very best to play alongside the very best. Women's hockey fans need to soak in what they have right now – we may never see Poulin or Knight on the same team again, and it needs to be enjoyed while it lasts.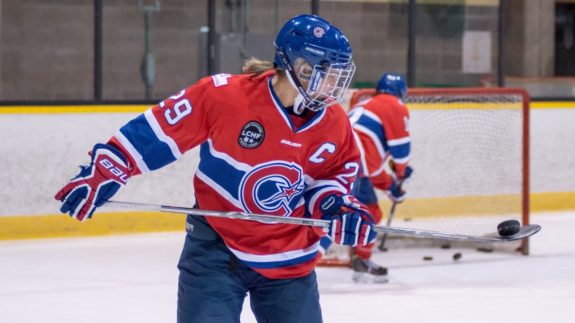 Furthermore, so many other topnotch players have flocked to Les Canadiennes and are being guided by Poulin's leadership. Halifax, Nova Scotia-native Jill Saulnier has joined the club after two full seasons with the Calgary Inferno. Through six games Saulnier leads the team – and the entire league – in scoring with three goals and five assists. Mélodie Daoust, Erin Ambrose, Emerance Maschmeyer, and  Katia Clement-Heydra are all there too. When you have an option to play alongside Poulin, few would ever even consider turning it down.
So while newer members of Les Canadiennes like Saulnier and Knight are getting to know Poulin better, THW recognizes that fans are even more eager to get to know her too. We caught up with her during some rare downtime in her busy schedule to ask her some fun questions.
Are you ready, Marie-Philip? Here we go!
If you were a General Manager for a women's hockey team, who would be the first player – past or present – that you would sign and why?
"I would have to say either Cassie Campbell or Jayna Hefford. Both are tremendous hockey players and leaders. I look up to them and to me they would be key pieces to building a championship team."
What is your preferred type of shot to take – slap-shot, backhand, wrister, etc. – and why?
"Wrister because it is more accurate and precise! A quicker release".
What is the funniest or strangest goal you have ever scored?
"I do not really recall any but there was one that I tapped out of the air like a baseball swing. I usually always strike out so I was surprised that I even hit the puck."
What would be the nicest thing a young fan has ever said to you?
'You inspire me – one day I want to be on the national team just like you.'
If you had any hockey advice for your 12-year-old self, what would it be?
"Keep working hard, set a dream and go after it. There will be hardships but it's part of the journey and in the end it will make you stronger. Make sure you never give up. Be positive and smile through it all."
What is your favorite board game?
"Sequence."
What book would you recommend to someone?
"I am lucky enough to have my trainer Cory Kennedy that recommends to me a lot of books. One that I recently read is Legacy (by James Kerr). Very good book about leadership and the culture of a team."
What opposing player have you always wished had been a teammate of yours and why?
"At the national level, I would have to say Julie Chu. Such an amazing person, player and teammate! She simply brings out the best in everyone."
What's your favorite song?
"At the moment, Eastside by benny blanco, Halsey & Khalid."
What's your favorite hockey movie?
"The Mighty Ducks – the first one."
General Manager of the Buffalo Beauts (NWHL). Hockey history writer "The Hockey Writers". Credentialed media for the NHL Combine and 2018 IIHF World Junior Championships in Buffalo, NY, USA. Born and raised in Buffalo, NY. Lifelong hockey fan for over 40 years. Proponent of the women's game.