Timing is everything. People tend to want instant gratification, or to know that important matters will be resolved in short order. Whether we like it or not, that is not always the case – and that's okay. For a number of months we have heard the cry of "one league" – the concept of merging North America's two professional women's hockey leagues, the National Women's Hockey League (NWHL) and the Canadian Women's Hockey League (CWHL). We have heard the statements of the merger's inevitably and why any prolonging of two separate leagues is detrimental to the women's game. Everyone gets it. We know how it ought to be, but there is a lot to consider.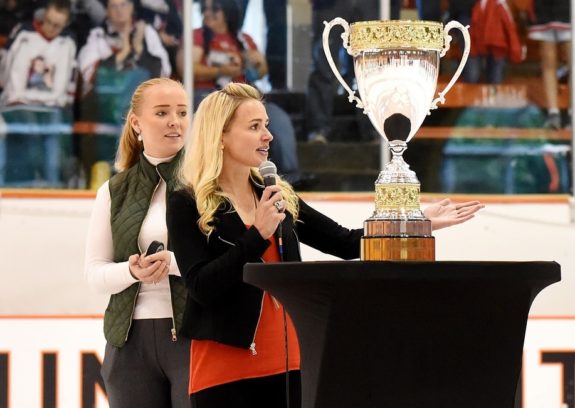 The Associated Press shared on Oct. 17, 2018 that NWHL Commissioner Dani Rylan wrote them an email with the following sentiments on a merger:
"One league is inevitable," Rylan stated. "We will get this done. It's on us, and we embrace the challenge."
THW offers our thoughts on the potential creation of a single women's league, and what considerations need to be made. The inevitability of "one league" is obvious, but the long list of items for important discussion may not be. Here are some notions worthy of consideration. They vary in terms of their importance and their overall implication for the league.
The Placement of the Leagues' Teams
The NWHL currently has five teams: the Boston Pride, Buffalo Beauts, Connecticut Whale, Metropolitan Riveters, and Minnesota Whitecaps. The CWHL has six teams of its own: the Calgary Inferno, Les Canadiennes de Montreal, Markham Thunder, Shenzhen KRS Vanke Rays, Toronto Furies, and Worcester Blades. Geographically speaking, the eastern seaboard is perfectly sculpted for a merger to take shape. For longtime hockey fans, it is reminiscent of the NHL's old Adams Division with representation in Boston, Buffalo, Connecticut, and Montreal. Suffice it to say that this region is sufficiently covered, and may even need some tweaking.
Should a merger take place, does it make sense to have the New England area as strongly covered as it is? The Worcester Blades just relocated for the 2018-19 CWHL season after being in Boston since 2010. Worcester is about an hour's drive away from Boston. It is close to a two-and-a-half-hour drive to Stamford, Connecticut where the NWHL's Whale play. The notion to ponder is whether this present situation should be considered a flooding of the market and should be adjusted, with possible relocation of one of these three squads.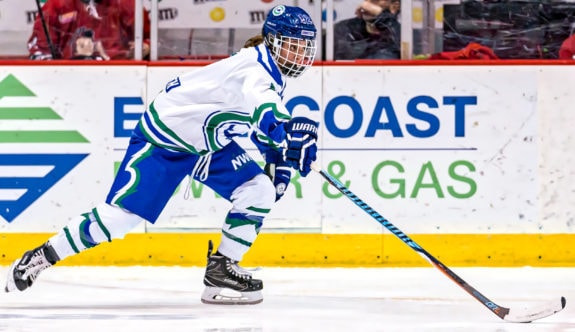 The good news is that this area of North America is heavily saturated with elite hockey talent stemming from the NCAA's Hockey East Association. Essentially local talent can be pooled from the University of Connecticut (UCONN), Merrimack College, Boston College, Boston University, Holy Cross, Northeastern University, Providence College, University of Maine, University of New Hampshire, and the University of Vermont.
That does not even include all the nearby Eastern College Athletic Conference (ECAC) schools in the New England area, of which five of their 12 schools are in New England states. The talent is undoubtedly there to pool from, and each the Pride, Blades, and Whale have maintained their own independent fan bases. At this point, it would not make sense to relocate one of the teams before a pending merger, and likely not even afterward.
Calgary, Markham, Toronto, Metropolitan, and Minnesota are all in hockey hotbeds and will continue to flourish with or without a merger. Keep in mind that the Markham Thunder are the reigning CWHL Clarkson Cup champions and the Metropolitan Riveters are the reigning Isobel Cup champions, and have had ongoing support from each of their respective communities. The Minnesota Whitecaps (2004), Calgary Inferno (2011) and Toronto Furies (2011) not only have longevity but are in areas where hockey thrives no matter what. Each of these squads are properly situated and need no further adjustments.
Is a Team in China Even Sustainable?
The one team that will be difficult to decide on what to do with in a merger is the Shenzhen KRS Vanke Rays. This team is a conglomerate of the Kunlun Red Star WIH and the Vanke Rays – the two China-based teams that the CWHL brought on board for the 2017-18 season. After one year of existence, the Vanke Rays were shut down and merged with Kunlun.
Although having a team in China is an amazing concept for growing the women's game – particularly with the upcoming 2022 Beijing Winter Games and the men's Kontinental Hockey League's (KHL) continued support in China – can it be justified in keeping this team afloat should "one league" come to fruition?
Don't forget to vote for the goalie of the week! pic.twitter.com/5UHNAGg3zz

— CWHL (@TheCWHL) October 17, 2018
This is a tough one. No one wants to turn away an opportunity for growth, especially in a market like China that has not been fully tapped for what it has to offer. Furthermore, as of the 2018-19 CWHL campaign, elite players in women's hockey such as (superstar) goaltender Noora Räty, and skaters Alex Carpenter, Rachel Llanes, Emma Woods, and Cayley Mercer are all playing for  Shenzhen KRS.
There is potential that if the team were disbanded from a merged league that it would negatively impact the players – Räty has even stated on Twitter previously "Thanks, but no thanks" about an opportunity to play in the NWHL – and negatively impact the image of a "one league" and the growth of women's hockey in general. Keeping a team in China is worth doing for at least a full season after a merger. Hey, at least give it a shot. See what will come of it.
What Do You Do for a Trophy?
There would be no sense in having two championship trophies for one league. This is where either Rylan's NWHL or interim commissioner Jayna Hefford's CWHL will need to give. The CWHL's Clarkson Cup trophy has been awarded to the top women's team since 2009. The NWHL's Isobel Cup has only been awarded since the league's inaugural season of 2015-16, and is essentially a toddler compared to its sister trophy.
While current women's superstar Hilary Knight has her name on both trophies from her time in the CWHL with the Blades and the NWHL with the Pride, if the CWHL's shining goblet were to be mothballed, there would be a sincere loss of history in a sense. The Clarkson Cup has the most history attached to it of either trophy, and captures some of the greatest names in women's hockey lore. Legendary players like Caroline Ouellette, Julie Chu, Jenny Potter, Caitlin Cahow, Tessa Bonhomme, Kim St-Pierre and more would be done a great disservice were the Clarkson Cup to be issued no more.
If the Isobel Cup is kept in effect in some capacity, then it would need to be given a makeover. We are not talking about the loss of its handles – the lack of appendages has given the trophy further character and gives a story to be told. However, with recent inspection of the trophy it is obvious that the names of winning players and teams are unrecognizable and have been smudged away. Even the beautiful imagery of Lady Isobel Gathorne-Hardy on the body has deteriorated, and that has only been within three seasons. At some point – "one league" or not – the Isobel Cup needs attention and proper engraving.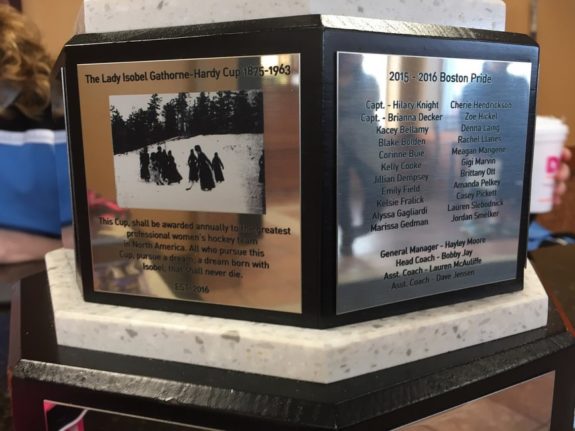 We see two viable options for handling the trophy situation of a single league. First, create a brand new trophy for the league but keep both the Clarkson Cup and the Isobel Cup in use to be awarded as conference championships. This could be done in similar fashion to the NHL's use of the Prince of Wales Trophy and Clarence S. Campbell Bowl that are awarded annually to the two respective teams making it to the Stanley Cup Final out of the Eastern and Western Conferences. This way both trophies would be kept in continuous use, and would offer a connection to both originally separate leagues.
A second option could be to keep the Clarkson Cup as the definitive trophy awarded to the championship team of the playoffs. This would keep the substantial history of the trophy intact and honor the great players who won it in its earliest years of existence. The Isobel Cup could instead be awarded to either the team finishing at the top of the regular season standings each season, or be used similarly as one of the aforementioned conference trophies notion with a third trophy newly created.
Regardless, you do not want to eliminate either trophy out of respect for both leagues.
The Women's Hockey Job Market
The last item worth considering is how the merger will impact the jobs available to the players who could potentially play in "one league". Let us follow the current NWHL roster standard of 25 players maximum – three goalies and 22 skaters. If a merger were to take place tomorrow, the league would be formed with 11 total teams for 275 jobs potentially available for players. Take a moment and look at the 2017-18 Buffalo Beauts roster. Not including Kayla Parsons and Jessica Sibley who left partway through the season to pursue other careers, there are eight players from last season that are not playing on either an NWHL or CWHL team – and that is just looking at one team's shakeout from last season.
This disparity in retaining a sizable portion of players is due to one of two reasons. One, a lack of roster spots is in effect because of the return of national team players to league play and newly graduated NCAA players beginning professional careers. Two, despite there being 11 teams between the two leagues there are still considerable gaps in geographical coverage of North America for it to be feasible for a player to earn a living off the ice and play professional hockey.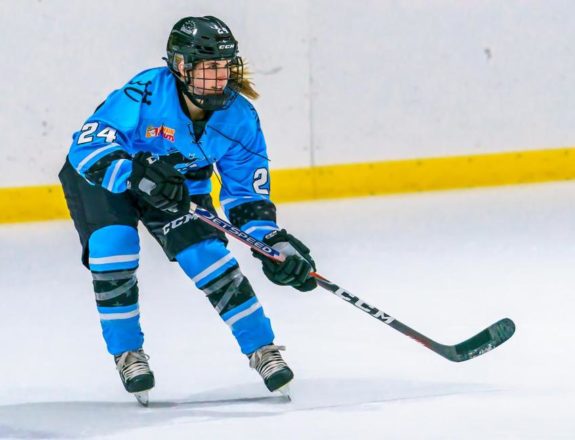 Traveling is a major hardship for potential players below Pennsylvania, and it gets worse the further south one goes. Additionally, although the Minnesota Whitecaps are quickly proving to be a very strong franchise, there is lack of representation in a circumference that encapsulates hockey-rich markets in Michigan, Ohio, Illinois, Wisconsin and Pennsylvania.
No matter if the Shenzhen KRS Vanke Rays are kept on board, no merger between the NWHL and CWHL should take place unless a 12th team is added, at least. There is a nice, even appearance to a 12-team league with six teams in one conference and six in another. In an effort to not bite off more than one can chew, we would suggest initially not having more than 12 teams immediately following a merger.
A 12th City to Get a Pro Women's Team
The merger itself would need to be given the utmost attention to ensure that it goes off without a hitch, while expansion needs to temporarily take a back seat. An even dozen teams would help spread out the talent pool in one league, but not make it too thin. It would also add up to 25 more jobs for professional women's players in North America.
Where would you put a 12th team? Well, there are plenty of options. Everyone has heard the talk over Pittsburgh, Washington D.C. and Detroit. Those three cities make the most sense, particularly with Pittsburgh being in close enough proximity to strong women's hockey programs at Robert Morris University, Mercyhurst University, and Penn State.
The @KunlunCWHL recap their opening weekend https://t.co/n8wu3dKKat

— CWHL (@TheCWHL) October 18, 2018
Consider if you will some other areas too. It is probably no coincidence that during the 2017-18 NWHL season, a regular season game was held in Rochester, New York between the Buffalo Beauts and the Metropolitan Riveters. Already this 2018-19 NWHL season the Beauts have played exhibition games at Colgate University and Cornell University. Could such maneuvers be for testing out a market for Syracuse or the Finger Lakes Region? Possibly.
Chicago, Cleveland, or perhaps even a maritime team situated somewhere in Maine, Nova Scotia, New Brunswick, or Prince Edward Island could be a "one league" option not to overlook either. Regardless of where the next women's professional team ends up, the justification is there for 12 teams.
It's All a Planning Process
Try to be patient. We know it's tough, but eventually this will all work out. Dani Rylan and Jayna Hefford are too talented, too sincere, and too strong of proponents for women's hockey for this not to take shape. We have a wonderful thing right now – women's hockey is genuinely catching on and being supported. Not as fast as some would like, but it is happening.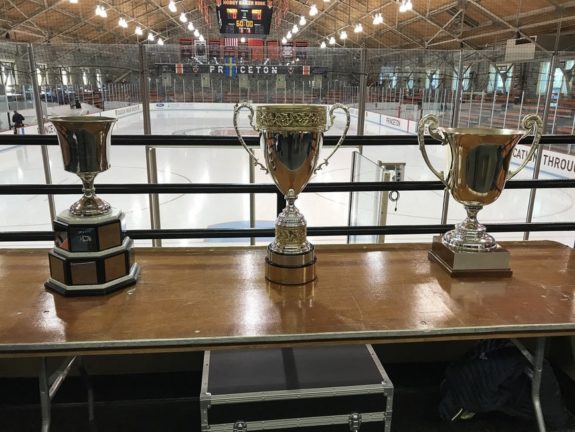 From the 2018 PyeongChang Games, to the Champions Cup between the Metropolitan Riveters and Luleå HF/MSSK, to Hilary Knight and Marie Philip-Poulin playing on the exact same team in Montreal, to the greatest goaltenders of our time in Shannon Szabados playing for the Beauts and Noora Räty playing in China. These are all wonderful things and they are all victories in various shapes and sizes. Some solace can be found in the progress that has been made already.
Know that "one league" will come to fruition someday soon. All things happen within their natural ebb and flow, which rarely coincides with our own time tables. For now – be thankful for what we have, and know that behind the scenes there are folks working with the mindset of making it even better. We are all in this together, and we all want the same thing.