There are not enough women in the Hockey Hall of Fame. Period. Cammi Granato (USA), Angela James (Canada), Geraldine Heaney (Canada), Angela Ruggiero (USA), Danielle Goyette (Canada), and that is it. It will be a slow process – too slow – but eventually Jennifer Botterill (Canda) and Hayley Wickenheiser (Canada) will be inducted too. This is paltry representation, and those who follow the women's game know it.
But who will be the first European woman to receive enshrinement? It would and should be Finland's  Noora Räty. Her backstopping Finland to the bronze medal at the 2018 PyeongChang Winter Games just solidified that notion. Räty does not get spoken about in the same light as an American or Canadian women's hockey player, at least not in the eyes of the general public of North America. That is a major oversight by the average hockey fan. If you watched the women's games in South Korea at all, hopefully it opened your eyes a bit.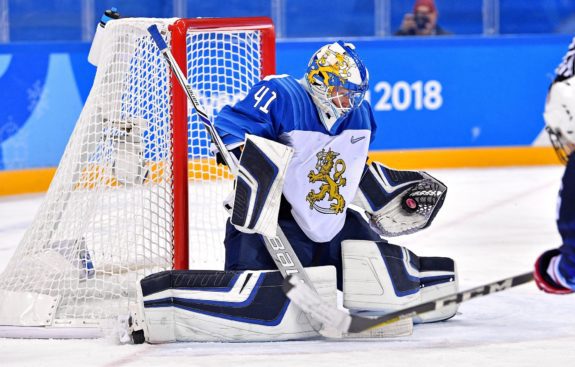 The Hockey Hall of Fame needs to act like a hockey hall of fame first and foremost. Once that happens, Räty's induction takes care of itself because of what she has accomplished in her long career. PyeongChang completes the chain in many ways.
Accolades Leading up to PyeongChang
Räty is only 28 years old – she will turn 29 in May. However, she has played for the Finnish national team since she was 15 years old. That is a fairly long stretch. Within that time she has generated remarkable accomplishments that seem too numerous to count. We will focus on as many of them as we can, but it will not take long for you to recognize just how dynamically Räty has achieved.
Only three men's goaltenders have gone undefeated in a single season in NCAA Division I history. Very familiar names too, save for one – Jim Craig, Brian Cropper and Ken Dryden (put an asterisk next to Dryden's name, as he did have one tie during his undefeated season). Not one of those three goalies played more than 29 games in the season where he went undefeated.
https://twitter.com/Nooraty41/status/962533977549504513
Räty is the only women's goalie to go undefeated in an NCAA D-I season. Guess how many games she went unbeaten? 38 of them. Stew on that for a bit. Räty's single-season winning percentage of 1.00 and 114 career wins are still NCAA records for women's hockey to this day.
Playing for the University of Minnesota Golden Gophers, Räty stonewalled shooters to the point where she and her teammates won two NCAA titles. That took place in back to back seasons of 2011-12 and 2012-13. In the year that she went undefeated (her senior year of '12-'13) she put up the astounding numbers of a 0.96 goals-against average and a .956 save percentage.
Prior Olympic Accolades of Räty's
PyeongChang ended up being Räty's fourth straight Winter Olympics. As a 16-year-old, she stunned the hockey world with how solid she could play at such a tender age at Torino '16. In Räty's first ever Olympic game she whitewashed Switzerland 4-0. She turned aside all 18 shots she faced. Once the playoff portion of Torino began, she faced both juggernauts – Canada in the semifinals and USA in the bronze medal game. While both would be losses, Räty stopped 14 of 16 shots from Canada and 7 of 11 off of USA sticks. While her 3.44 GAA and .867 SV% in three games stand as the most meager of her Olympic career, ask yourself what you were doing when you were 16 years old. Extremely doubtful that you were backstopping your country against two hockey superpowers.
At the 2010 Vancouver Games Räty won the first of her two Olympic bronze medals. She was the lone goaltender for all five of Finland's games at that particular tournament. Räty would have much better numbers this time – a 2.97 GAA and a .884 SV%. Keep in mind that she was still only 20 years old, and this was the first time she bore the entire workload for Finland. In the prelims it was a shooting gallery on Räty by the United States, but she still turned aside 36 pucks off of the 42 she faced. It would be more of the same in the semis against Canada – in a 5-0 Finland loss she stopped a whopping 45 shots while facing 50. In the bronze medal game Räty made her 16 saves count when it was most needed, as the Finns defeated Sweden 3-2 in overtime. The third place medal was all Räty's.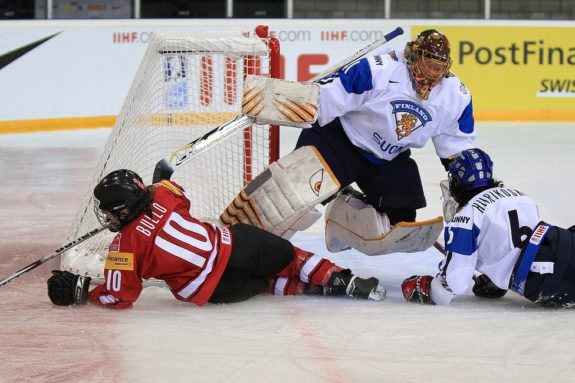 Her numbers in Sochi '14 have thus far been the finest of her extensive Olympic career. Once more Räty led the charge. Through six games she put forth a 2.17 GAA and a .929 SV%. Her shot totals and saves were just incredible. In the first game of the tourney, Räty stopped 42 of the 43 shots that USA threw at her, followed by 39 of 42 from Canada. She was second among all goaltenders in shots faced, saves made, minutes played and she posted the third best save percentage.
Scratching the Surface of World Championships
We will only just scratch the surface of Räty's successes at IIHF Women's World Championships. Heaven knows that that history could easily be an article of its own. First and foremost one needs to recognize that in a women's hockey tournament that has been dominated solely by USA and Canada, Räty has been Finland's foundation for four bronze medals. That is a phenomenal track record, especially when considering that she has played in eight of these tournaments. Imagine knowing that for half of all World Championships that you had a goaltender in net who could guarantee you would come home with a medal.
Räty's finest performance came during the 2011 Women's Worlds in the cities of Zürich and Winterthur in Switzerland. Not only would Finland win the bronze medal but she would be named Best Goaltender of the tournament by the IIHF. Räty blew away all other goaltenders by posting a staggering .957 SV% to go with a 1.97 GAA. Against Canada alone she stopped 48 of 50 shots. That was just in the prelims. Are you ready for this? In the semifinals against Canada once more, Finland would lose 4-1. Räty faced an astounding 78 shots and still made 74 saves. Does not matter who you are or what brand of hockey you are talking about, those numbers are simply incredible. Enough to make any Hockey Hall of Famer look at that particular performance of Räty's, and shake their head in a mix of both disbelief and sincere admiration.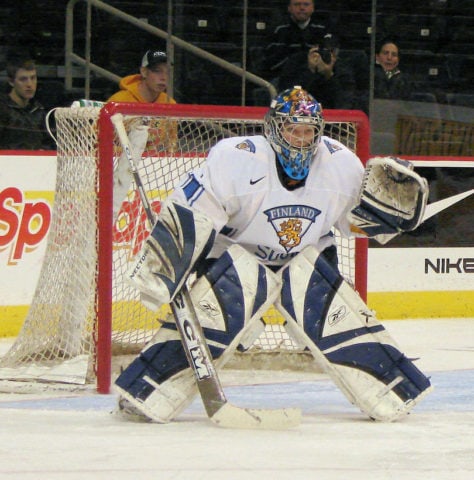 In total Women's World Championship competitions, Räty has been named Best Goaltender by the IIHF at four different tournaments (2007, 2008, 2011, 2017). The media have voted her a tournament All-Star on three occasions (2008, 2013, and 2017). And the most heralded honor of them all, Räty was chosen as the Most Valuable Player (MVP) in 2008 tournament – beating out every skater or goaltender for each of the nine teams that year.
Räty Was the Belle of the PyeongChang Ball
No player meant more for her team at the PyeongChang Games than Räty. Were it not for her bell-weathered goaltending in net, the Finns would not have won the bronze. It is just that simple. Before the '18 Games even got underway, this THW writer told you quite matter-of-factly: Noora Räty has one thing that other goaltenders don't — a winning aura and mystique about her. It is really just that simple.
Aside from winning a second bronze medal, she was the consummate, unshakable netminder. In the first game of the prelims, Finland squared-off against the USA. Räty turned aside 39 of the 41 shots she faced in an incredibly close 3-1 loss. Garnering wins over the Olympic Athletes from Russia in the prelims and the bronze medal game, as well as Sweden in the quarterfinals, she finished her 2018 Olympics with a 2.70 GAA and a .911 SV%. Both of which are the second best statistics of her Olympic career.
https://twitter.com/Nooraty41/status/966264913453727746
If you watched the games, it was not just that Räty made the saves but how she made them. Ever so poised. Ever so composed. Her positioning and movement as she followed pucks was unmistakably Räty-esque. Comfort and confidence all behind a lion-headed mask and crest. She played the games the way that great players do. Räty could control the flow of the game and became one with the natural ebb and flow of hockey.
Finland's Noora Räty: A HHoF Worthy Goalie
There are other things that could be said about Räty. She played briefly for SKIF Nizhny Novgorod a women's team in Russia. Prior to the Olympics she has played this 2017-18 season with the CWHL's expansion Kunlun Red Star. In 16 games while playing in China she compiled a 1.52 GAA and a .947 SV%. Räty also became the first woman to play in two different men's leagues in Finland – with Kiekko-Vantaa in the Mestis league and she also played repeatedly in Suomi-sarja league. Both of these are the second and third highest men's leagues respectively in the Finnish hockey system. But you have certainly gotten the picture by now, loud and clear.
Whenever Noora Räty decides to hang them up, she will have done so while proving that she is truly the finest artisan of her craft. There is no goaltender better in women's hockey, and it will be a long time coming before you see another one like her. We hope that you took an opportunity to see her play in PyeongChang because it is a privilege to see her do so, and for casual hockey fans it is not one that comes around very often.
When the time comes. When her playing career has ended. There is one hall that Räty deserves to be in. For it is a hockey hall of fame – not an NHL hall of fame or a men's hall of fame. Number 41 is the finest woman to have ever played her position, and there is none more worthy than she.
General Manager of the Buffalo Beauts (NWHL). Hockey history writer "The Hockey Writers". Credentialed media for the NHL Combine and 2018 IIHF World Junior Championships in Buffalo, NY, USA. Born and raised in Buffalo, NY. Lifelong hockey fan for over 40 years. Proponent of the women's game.