Finland's women's Olympic team is truly an extraordinary blend. Incredible goaltending that is among the best (if not the best) at the Games, a few fresh faces representing the upcoming generation, a player in her 40s, and the usual sprinkling of top-end talent. Plain and simple, this will be an enjoyable hockey team to watch, at the very least. They are also a team capable of doing some damage too and have a legitimate shot at a medal.
The Finnish women have won bronze medals in 1998 in Nagano and then again in 2010 for the Vancouver Games. One player, 44-year-old Riikka Välilä, was a member of the Nagano Finnish team—the first Olympics to have women's hockey as one of their events. Fourteen players total on the 2018 squad have played in at least one prior Olympics. Obviously, experience is an intangible that the Finns will have on their side.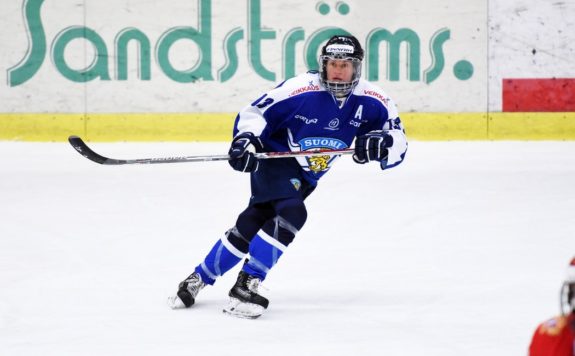 The trouble is that besides the two usual favorites—Canada and the USA—there are at least three other teams other than Finland that have a good, honest shot at coming home with a medal. While experience may work in Finland's favor, it is not enough alone to get the job done. They will need to put forth their maximum effort and outduel at least Russia, Sweden and Switzerland.
THW takes a look at how Finland's 23-player roster looks for the 2018 Winter Games in PyeongChang, South Korea:
Goaltenders
Meeri Räisänen (HPK Hameenlinna), Noora Räty (Kunlun Red Star/CWHL), Eveliina Suonpää (Lukko Rauma)
There are many people who feel that Noora Räty is the best female goaltender in the world today. There is a lot backing that notion up to give it real credence. Räty is a two-time NCAA champion for the University of Minnesota Golden Gophers, having won the most prestigious award in college hockey in both the 2011-12 and 2012-13 seasons. In her senior year at the U of M, she assembled an astonishing 0.96 goals-against average and a .956 save percentage in 38 games in net.
Would it surprise you to know that she had a record of 38-0 that year? Räty's single-season winning percentage of 1.00 and 114 career wins are still NCAA records for women's hockey to this day.  Playing this year for the CWHL's Kunlun Red Star, Räty has numbers of 1.62 GAA and .944 SV% in 15 games. These will be her fourth Winter Games, and when you look at Räty's career as a whole it is really difficult to say that she is not the best goaltender in the world.
Unfortunately for opposing shooters, Räty is not the only Finnish goaltender you need to worry about. While the net will definitely belong to her first and foremost, injuries and catastrophe have been known to happen. This is where the Finns can feel most comfortable in knowing that Meeri Räisänen is one of their two backups. Having turned 28 back in December, Räisänen is just a handful of months younger than Räty. The PyeongChang Games will be her second Olympics. Räisänen has a very solid .936 SV% for HPK Hameenlinna in this current 2017-18 season for the Naisten Liiga, which is the top league for women's hockey in Finland. She had a brief single season at Robert Morris University during the 2010-11 season as well.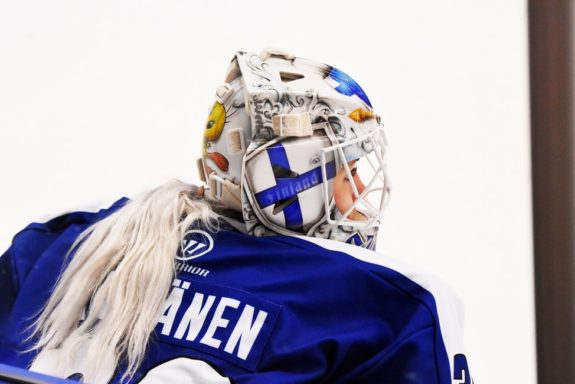 The third option for Finland's goal crease is Eveliina Suonpää. Of the three, she is the youngest at 22 years of age. Suonpää also has really good size at 5-foot-8 (making her the tallest of the three, albeit not by much) and just shy of 140 pounds. Playing for Finland's Lukko Rauma this season and last, Suonpää has had decent save percentages of .920 in 2016-17 and .901 in 2017-18 respectively.
Räty is unquestionably the woman in net for the Finns, hands down. It is comforting though that both the secondary and tertiary netminders are more than capable, and are among the better backup goalies at the Games.
Defenders
Jenni Hiirikoski (Lulea HF), Mira Jalosuo (Karpat Oulu), Rosa Lindstedt (HV71 Jonkoping), Isa Rahunen (Karpat Oulu), Ronja Savolainen (Lulea HF), Minnamari Tuominen (Espoo Blues), Ella Viitasuo (Espoo Blues)
Rosa Lindstedt is a big, physical defender. At 6-foot-1 and 174 pounds, she is a force to be reckoned with along Finland's blueline. Lindstedt's first Olympics for the Finns was the 2010 Vancouver Games when they took bronze. At 30 years old, she has been a mainstay for the Finnish defense for many years now. Lindstedt gets her job done admirably too, and seems to have always been able to handle any aspect of the game.
She has 314 Finnish women's games to her name. Within those matchups, Lindstedt has 81 goals and 160 assists for 241 points. Speaking to her physicality, she also has 483 penalty minutes. So we are being clear: no one is going to have an easy time scoring on Finland. Not only do you have to find a way to beat a goalie like Räty, but somehow you have to get through Lindstedt. Go ahead and try.
It is always a rarity in hockey when you find a player who is capable of playing both forward and defense. Hockey Hall-of-Famers Sergei Fedorov and Red Kelly come to mind, all the way up to the Buffalo Beauts Jacquie Greco in the NWHL. This is the case too for Finland's Minnamari (Minttu) Tuominen. A former Ohio State Buckeye, Tuominen has been known to play both center and defense, although for PyeongChang, Finland has her listed as a blueliner. She is a third-time Olympian as well as one of the 2010 bronze medal winners. In this season with Finland's Espoo Blues, Tuominen has 12 goals and 11 assists for 23 points in 18 games.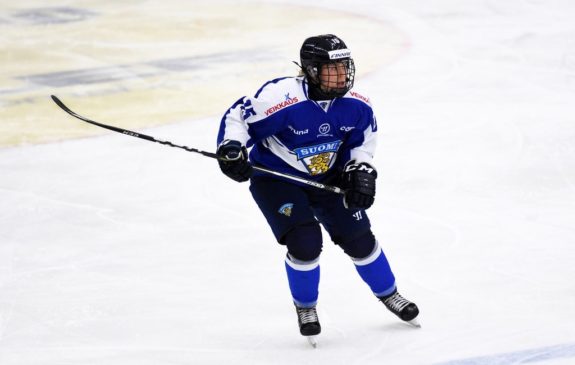 One of Tuominen's Blues teammates is Ella Viitasuo. She is another sizable defender for Finland at 5-foot-8 and around 150 pounds. On top of that Viitasuo also possesses physicality and has put up penalty minutes from time to time. She has 33 penalty minutes in 23 games this season, as well as a pair of goals and five assists. Viitasuo is also just 21 years of age and will be making her Olympic debut.
Forwards
Sanni Hakala (HV71 Jonkoping), Venla Hovi (University of Manitoba), Michelle Karvinen (Lulea HF), Petra Nieminen (Team Kuortane), Tanja Niskanen (KalPa Kuopio), Emma Nuutinen (Mercyhurst University), Annina Rajahuhta (Kunlun Red Star Shenzhen/CWHL), Saila Saari (Karpat Oulu), Sara Säkkinen (Team Kuortane), Susanna Tapani (Lukko Rauma), Noora Tulus (Lulea HF), Riikka Välilä (HV71 Jonkoping), Linda Välimäki (Ilves Tampere)
Michelle Karvinen is one of the most talented and most popular players on Finland. She had a standout NCAA career at the University of North Dakota. Most recently and most importantly, she is one of the premier players in the Svenska damhockeyligan (SDHL), the top women's league in Sweden. In Karvinen's 87 NCAA games, she managed to score 56 goals and 75 assists for 131 points.
She also served as North Dakota's captain during her senior season. Since the 2015-16 season with the SDHL's Lulea HF, Karvinen has twice hit the 70-point plateau in no more than 36 games played in a season. Her SDHL career totals thus far are 90 goals and 113 assists for 203 points in only 95 games. Besides being an amazing scorer, Karvinen is interchangeable and can play either the port or starboard side on a forward line. At 27 years old, this will be her third Olympics.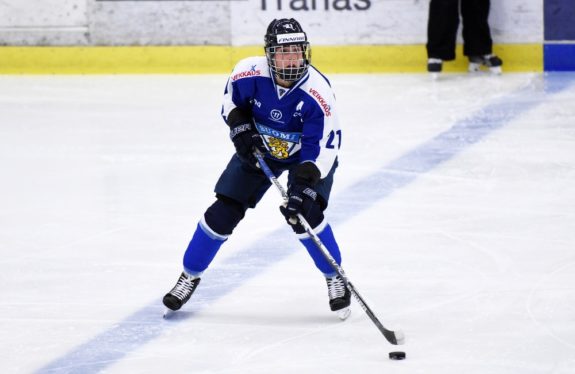 Thirty-year-old Venla Hovi is currently in her third year of university in Canada at the University of Manitoba where she plays hockey as well. She has played one season of NCAA Division I hockey for Niagara University back in the 2007-08 season. During that time Hovi scored five goals and nine assists in 16 games for the Purple Eagles. She returned to Finland after that one year and continued playing in the Naisten Liiga. Before venturing to Manitoba, she spent time with Ilves Tampere, HPK Hameenlinna, and KalPa. In 208 Finnish league games, Hovi scored 142 goals and 138 assists for 280 points. These past three seasons for the University of Manitoba, she has 21 goals and 28 assists for 49 points in 51 games. Obviously, her scoring touch has not really diminished.
Petra Nieminen is only 18 years old and is one of the younger Olympians to be in PyeongChang. The 5-foot-7, 140-pound forward plays in Naisten Liiga with Team Kuortane. Founded in 2010 by the Finnish Ice Hockey Association, Team Kuortane was generated as a means to develop the play of young female hockey players in the country. Players on Team Kuortane live and practice at Kuortane Sports Academy, where the majority of the players comprise Finland's U18 national team. The point of having the team compete against grown women in the Naisten Liiga, some of whom are twice the age of the Kuortane players, is to help them grow and better prepare them for international tournaments like the Olympics.
Tourny stall mates,friends,and lots of interesting experiences together.Still going strong😀 @Karvinen_33 #4nations #naisleijonat pic.twitter.com/VgkBrkOmsQ

— Venla Hovi (@VenlaHovi) November 9, 2017
Nieminen has certainly measured up to the challenge. She has been Team Kuortane's leading scorer for three seasons in a row now. In 48 games in the top Finnish women's league, Nieminen has scored 30 goals and 21 assists. PyeongChang may be her first Olympics, but it will hardly be her last. It would not be surprising either if she pots one or two key tallies for Finland during the Olympics.
The Bottom Line
The array of players assembled is where Finland finds its strength.
They obviously do not need to be concerned with goaltending. Räty is capable of single-handedly winning games at times. That right there could be the difference maker in and of itself. The Finns have Noora Räty. Russia, Sweden, Switzerland, and even USA and Canada, guess what? You don't. Now to be fair, all of those other five nations have excellent goaltenders, some of whom are neck and neck with Räty as being the best goalies in the world. Räty has one thing, though, that other goaltenders have yet to prove—a winning aura and mystique about her. Goaltenders are often referred to being "in the zone" when they are at their best. Räty is always in the zone and opposing shooters know it.
With the Sixth overall pick, the @KunlanCWHL selects Noora Raty #CWHLDraft #WeAreTheGame pic.twitter.com/wZtea3ch9E

— CWHL (@TheCWHL) August 20, 2017
The Finns also seem to have taken a page out a recipe for success that hearkens back to the days of Conn Smythe's Toronto Maple Leafs. That recipe is the concept of assembling veterans and rookies alike to create the perfect blend. It does not always work, but it works more often than not if you can find the right concoction. Teams have done this for years. Savvy veterans like Karvinen and Välilä on the same roster as youngsters such as Nieminen and fellow teenager Sara Säkkinen. When done with the proper personalities, this concept pays major dividends. Levels of respect and personal concern for one another are achieved, and that translates into wins.
While all of this is nice, again, the bottom line is whether the Finns want victory more than their opponents do. They have the one goaltender who can stave off Russia's firepower and give USA and Canada are run for their money. The defense and the forwards for Finland will then need to step up. Look for the Finnish women to hover around fourth place. They could go up one and grab the bronze, or slide down two spots at most from there.
Other 2018 National Team's Roster Previews
Men's: Canada | United States | Russia | Czech Republic | Sweden | Finland | Switzerland | Slovakia | Germany | Slovenia | South Korea | Norway |
Women's: Canada | United States | Russia | Finland | Sweden | Switzerland | Korea | Japan
General Manager of the Buffalo Beauts (NWHL). Hockey history writer "The Hockey Writers". Credentialed media for the NHL Combine and 2018 IIHF World Junior Championships in Buffalo, NY, USA. Born and raised in Buffalo, NY. Lifelong hockey fan for over 40 years. Proponent of the women's game.