The United States' women have not won an Olympic gold medal since the first Games to incorporate women's hockey back in 1998. For three Winter Games since they have settled for second best, and once even finished with the bronze (2006). Going so long without being at the top of the Olympic podium is borderline unsettling for the Americans.
If they are to win the gold in PyeongChang, then a feeling of discontent is exactly what they need. They need to feel ornery over finishing in second place. They need to feel bothered. Something to get a fire burning in their bellies. One that can pull them out of the doldrums of silver and bronze. Look at the names on the backs of their jerseys. Knight. Kessel. Duggan. Marvin. Bellamy. You could go on and name them all, but the point is that this particular team already has the flame burning inside, and it is ready to ignite South Korea like there is no tomorrow.
Giant pic. #Olympics pic.twitter.com/UlButZRxgf

— Hilary Knight (@HilaryKnight) February 7, 2018
USA will definitely be one of the forerunners to take home the gold. A powerhouse as usual, do they have enough to beat out Canada, and keep Sweden, Russia, and Finland at bay? THW takes a look at the USA's 23-player roster for the 2018 Winter Games in PyeongChang:
Goaltenders
Alex Rigsby (Univ. of Wisconsin), Nicole Hensley (Lindenwood Univ.), Maddie Rooney (Univ. of Minnesota-Duluth)
Nicole Hensley may become the "darling" of the Olympics, to coin a term that sportscasters like to throw around at Winter Games. Young, incredibly talented in net, inspiring in more ways than one, and of the finest values. There seems to be that young female athlete that the world falls in love with at each Winter Olympics, and from any and every sport. Oksana Baiul, Lindsey Vonn, Sasha Cohen, just to name a few. More important than any moniker she may be given, Hensley is darn good at stopping vulcanized rubber.
The 23-year old Hensley hails from Lindenwood University where she put together seasons of .922, .921, .916, and .922 save percentages through her four years. At the 2017 IIHF Women's World Championships she was absolutely brilliant.  In three games Hensley allowed only two goals while making 56 saves. In two of the three games she pitched shutouts – one each against Canada and Germany. Her .964 SV% and 0.63 goals against average were staggeringly excellent. Off of Hensley's efforts, USA would take home World Championship gold for the fourth consecutive tournament.
26-year-old goalie Alex Rigsby is an NCAA champion, a Women's World gold medalist, and a Women's U18 gold and silver medalist. Few hockey players are so decorated at such a young age. While a tandem between she and Hensley seems apparent, Rigsby could actually see the bulk of the work in net. These will be her first Winter Olympics, and they come after an incredible career at the University of Wisconsin. During the 2010-11 season, she would backstop the Badgers to the NCAA title in just her freshman year. Once again she joins many of her Badgers teammates, but this time for an Olympic medal. In her four years at Wisconsin, Rigsby's save percentage only once went below a .943.
The third netminder for the Americans is Maddie Rooney. She is the youngest of the three at just 20 years old. Currently in her junior year at the  University of Minnesota-Duluth, taking part in the PyeongChang experience will be vital for Rooney's development. She is part of the talent-laden future for the Americans in women's hockey. Last year Rooney posted a 1.65 GAA and .942 SV% in 37 games for the Bulldogs.
Defenders
Kacey Bellamy (Univ. of New Hampshire), Kali Flanagan (Boston College), Megan Keller (Boston College), Sidney Morin (Univ. of Minnesota-Duluth), Gigi Marvin (Univ. of Minnesota), Emily Pfalzer (Boston College), Lee Stecklein (Univ. of Minnesota), Cayla Barnes (Boston College). 
The 6-foot, 170-pound Lee Stecklein is a 1st-round NWHL draft choice of the Buffalo Beauts in 2016. On a defense corps loaded with the best of the best in women's hockey, Stecklein has to be in the top-three. Strong and powerful on the back end, she is a three-time NCAA champion for Minnesota's Golden Gophers. In all but her freshman season, Stecklein hit at least 20 assists in a season in no more than 40 games. PyeongChang will be her second Winter Olympics for USA.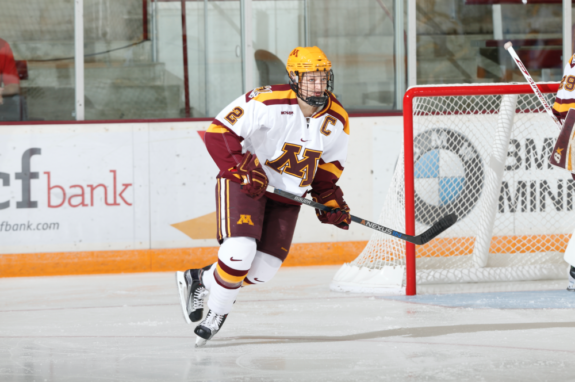 30-year-old Kacey Bellamy has seemingly done it all as a veteran defender. She has won two Olympic silvers, seven World Championship gold and one silver, two CWHL Clarkson Cups and an NWHL Isobel Cup. Bellamy is easily one of the most decorated players in women's hockey, and she is an all-around effective defender. In 143 games for the University of New Hampshire she compiled 27 goals and 80 assists for 107 points. Combining her performances at both the Vancouver and Sochi Games, Bellamy has a goal and two assists in 10 Olympic contests, and is a plus-eight.
Yet another highly accomplished defender is Emily Pfalzer. It is hard to fathom that these will be her first Olympics. Even at just 24 years old, Pfalzer is already regarded as one of the best rearguards in hockey. Last year she helped lead the Buffalo Beauts to the 2017 Isobel Cup championship. Pfalzer scored a goal and six assist in 15 regular season games for the Beauts. During her collegiate career at Boston College, she put forth 23 goals, 79 assists and 102 points in 147 games. What is even more impressive is Pflazer's career plus-122 through her four years of college hockey.
Forwards
Kendall Coyne (Northeastern Univ.), Amanda Pelkey (Univ. of Vermont), Haley Skarupa (Boston College), Kelly Pannek (Univ. of Minnesota), Dani Cameranesi (Univ. of Minnesota), Hannah Brandt (Univ. of Minnesota), Brianna Decker (Univ. of Wisconsin), Meghan Duggan (Univ. of Wisconsin), Amanda Kessel (Univ. of Minnesota), Hilary Knight (Univ. of Wisconsin), Jocelyne Lamoureux-Davidson (Univ. of North Dakota), Monique Lamoureux-Morando (Univ. of North Dakota). 
Widely considered by many to be the best player in women's hockey, Hilary Knight may be looking at the last of her best chances to win a gold medal. At 28 years of age she is still in the prime of her career and is the face of women's hockey. Truly, no one is better and no one is more recognizable. Still when the 2022 Games come around, Knight would be 32 years old and on the downswing of her career. These PyeongChang Games will be the most opportune time for her to finally garner a gold. Knight is already a two-time NCAA champion, a Clarkson Cup winner, an Isobel Cup winner, a winner of nine World Championship medals (seven gold, two silver), and a winner of two Olympic silvers. In 161 career NCAA games for the University of Wisconsin she scored 143 goals and 119 assists for 262 points.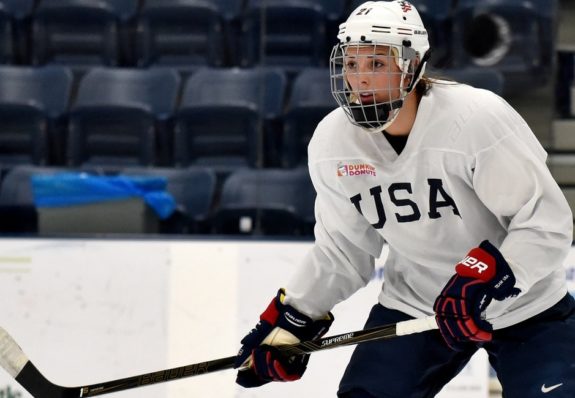 Kelly Pannek is in her senior year at the University of Minnesota. At 22 years of age, she was part of the Golden Gophers NCAA championship wins of 2015 and 2016. Pannek's finest college season was arguably last year when in 39 games she set career highs in assists (43) and points (62). Her sophomore season of '15-'16 was equally impressive though, when she scored 23 goals and was a plus-45 – both of which are career bests thus far. Partaking in her first Winter Games will undoubtedly be an exhilarating experience for Pannek, and she will be one of the younger players who will learn from the likes of Knight and Bellamy.
Amanda Pelkey is another one of these highly decorated Americans who is still only playing in her first Olympics. At 24 years old, she had an outstanding U18 career for the USA internationally. Pelkey helped lead the Americans to gold medals at the 2009 and 2011 IIHF Women's U18 World Championships, and also won a silver in 2010. Separate from that, she was a member of the past two gold medal winning teams for the Women's Worlds. Pelkey has two NWHL seasons under her belt playing for the Boston Pride. An original NWHLer, she was one of the first Isobel Cup winners during the inaugural 2015-16 season. In 33 NWHL regular season games, Pelkey has scored nine goals and eight assists.
The Bottom Line
Firepower, firepower, firepower. You cannot stress it enough. The Americans have the largest arsenal of any women's team in PyeongChang. 16 skaters of the 20 scored over 100 points in their NCAA careers. 10 of them scored over 200. There is no one player, no one line to focus on because every player on the roster can put the puck in the back of the net. During last year's 2016-17 NWHL season, most of these players were the top scorers in the league and lit other teams on fire. Every team at the PyeongChang Games needs to find a way to survive the USA's onslaught, and still be able to score themselves.
Which brings us to our second point – goaltending. Next to nothing gets by either of the three American goalies. Their save percentages are proof enough of that. These will be Rigsby's and Hensley's Games for sure. They are likely to split the duties, with Rigsby getting a game or two more.
Ayyyyyyyy. Team 🇺🇸 #OpeningCeremony pic.twitter.com/8Lijr3Vk6E

— Hilary Knight (@HilaryKnight) February 9, 2018
You have to love this defense too. Gigi Marvin is a legend in her own right. Of all the USA defenders, she is the only one who even came close to scoring 200 points from the back end during her college career – 195 points in 152 games. At 30 years old, Marvin is the anchor on defense along with Bellamy. Throw Pfalzer and Stecklein in there and you have maybe the four best defenders of the entire tournament.
You do not want to call this "do or die" for the Americans – that is far too dramatic. For many of the players though, at least the ones in their late 20s and early 30s, this is their best shot at a gold medal – there will not be the same opportunity four years from now. This is it. If anything can be said for Hilary Knight, it is that she has won the highest awards at the highest levels. There is no way that Knight gives up the gold medal here without putting life and limb on the line.
Other 2018 National Team's Roster Previews
Men's: Canada | United States | Russia | Czech Republic | Sweden | Finland | Switzerland | Slovakia | Germany | Slovenia | South Korea | Norway |
Women's: Canada | United States | Russia | Finland | Sweden | Switzerland | Korea | Japan
General Manager of the Buffalo Beauts (NWHL). Hockey history writer "The Hockey Writers". Credentialed media for the NHL Combine and 2018 IIHF World Junior Championships in Buffalo, NY, USA. Born and raised in Buffalo, NY. Lifelong hockey fan for over 40 years. Proponent of the women's game.