The Olympic gold medal has belonged to the Canadian women for the past four Winter Games. It is easy to see why. They possess immense talent that has been bridled with a team chemistry that is like no other. Hockey is Canada's game, and this concept is no better imbued than by their women's national team. There is also no team at the Winter Games that runs more efficiently than the Canadian women – they are a well-oiled machine if there ever was one. No component is more important than the next, and each is essential to the whole.
PyeongChang will be just like the previous five Olympics to include women's hockey, in that the two powerhouses will be Canada and the United States. While USA's roster is comprised by a large number of talent collected from the NWHL, Canada features primarily the best of the best from the CWHL. Natalie Spooner, Blayre Turnbull, Marie-Philip Poulin, Lauriane Rougeau just to name a few.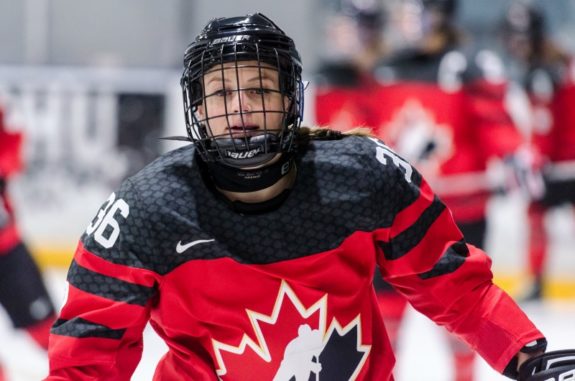 Canada's most capable opponent will once again be the Americans. In a modern day clash of titans, Canada has maintained the upper hand. But will that be the case in South Korea? The Canadians also need to be concerned with formidable teams from Russia, Sweden, and Finland. THW takes a look at Canada's 23-player roster for the 2018 Winter Games in PyeongChang:
Goaltenders
Shannon Szabados (Northern AB Inst. of Tech.), Geneviève Lacasse (Providence College), Ann-Renée Desbiens (Univ. of Wisconsin). 
It is never too difficult to spot Shannon Szabados underneath her goalie gear because of her long, curly locks. But what is far more gravitating is her uncanny ability to stop most every puck that comes her way. At 31 years old, Szabados will be playing in her third Winter Games. She is not just a cornerstone – she is the foundation behind Canada's previous two gold medal wins. At the 2010 Vancouver Games, Szabados was the leading goaltender with an astounding 0.33 goals against average and a .980 save percentage in three games – the most action of any Canadian goalie that year. She pitched shutouts against both Finland and USA. During the 2014 Sochi Games, Szabados again had very impressive numbers with a 0.96 GAA and a .954%. It seemingly takes an act of God to score on her.
Team Canada goalie Shannon Szabados of Edmonton knows 'what to expect' in her third Olympics https://t.co/ynHbB3BLWL pic.twitter.com/zxmncg17O3

— Edmonton Sun (@Edmontonsun) February 7, 2018
Ann-Renée Desbiens is the youngest of the three Canadian goalies. The 23-year-old netminder was selected fourth overall in the 2016 NWHL draft by the Boston Pride. Desbiens has really good size in net at 5-foot-9 and over 160 pounds. Playing one playoff game with the former CWHL Montréal Stars in 2011-12 she would get her name on the Clarkson Cup. During her four years at the University of Wisconsin, Desbiens' save percentage never went below .941. Her junior and senior years would see her with 0.76 and 0.71 GAA to go with .960 and .963 SV% while playing no less than 35 games.
Right in the middle is Geneviève Lacasse. She is 28 years old, has one Olympic gold to her credit already and adds some very solid CWHL experience into the fold. During the 2012-13 CWHL season, Lacasse was named Goaltender of the Year after she posted a 1.26 GAA and .925 SV% in 14 games. That same season she backstopped the Boston Blades to the Clarkson Cup title, and would do so again in the 2014-15 season. More recently Lacasse has played for the Calgary Inferno. She was the tertiary goalie at the 2014 Sochi Games and did not see any action, but should play in at least one game in PyeongChang.
Defenders
Jocelyne Larocque (Univ. of Minnesota-Duluth), Brigette Lacquette (Univ. of Minnesota-Duluth), Lauriane Rougeau (Cornell University), Laura Fortino (Cornell University), Meaghan Mikkelson (Univ. of Wisconsin), Renata Fast (Clarkson University). 
Renata Fast is 23 years old and will be playing in her first Olympics. After a superb career at Clarkson University where she became an NCAA champion in her sophomore season, she quickly established herself as one of the best defenders in Canada. Fast has played in the CWHL for the Toronto Furies. She was an All-Star selection in last year's 2016-17 season and was a finalist for Rookie of the Year after a season of four goals and five assists as a blueliner in 22 games. When THW spoke with Fast back in June, she told us:
"For all of us girls, it is a huge honor to be able to represent our country," she said. "I think for women's hockey, the Olympics are the highest level… We want to be able to represent Canada with a ton of pride, and we want to make Canada proud."
The stalwart rearguard for Canada is definitely Meaghan Mikkelson. At 33 years old, these will be her third Winter Olympics. The daughter of a former NHLer, Mikkelson has long been established as one of the best defenders in women's hockey. At 5-foot-9 and around 140 pounds, she has combined size and strength with impeccable positioning. A main reason why Mikkelson is on this roster is that she does so well at putting shooters at bad angles and forcing them off of pucks. For a goalie like Szabados, there is a sense of comfort when big number-12 is in front of her.
It's getting down to wire and it's time to focus on the task at hand. Thank you to everyone who has helped me along the way to @pyeongchang2018 ! See you on the flip side! #GoCanadaGo pic.twitter.com/n8FSeyDzNU

— Meaghan Mikkelson (@Mikkelson12) February 3, 2018
Lauriane Rougeau scored 116 points in 133 NCAA games for Cornell University during her college career. During her senior year she served as team captain. PyeongChang will be her second Olympics. In Sochi she would go pointless in five games, but was a plus-three and one of the more dependable defenders for Canada. Last year's 2016-17 season Rougeau won a Clarkson Cup with the Montréal Canadiennes. She potted three goals and four assists in 22 games for Montreal during that run. Better yet, Rougeau finished the season as a plus-23.
Forwards
Mélodie Daoust (McGill University), Bailey Bram (Mercyhurst University), Brianne Jenner (Cornell University), Sarah Nurse (Univ. of Wisconsin), Haley Irwin (Univ. of Minnesota-Duluth), Natalie Spooner (Ohio State University), Emily Clark (Univ. of Wisconsin), Marie-Philip Poulin (Boston University), Blayre Turnbull (Univ. of Wisconsin), Jillian Saulnier (Cornell University), Jennifer Wakefield (Boston University), Laura Stacey (Dartmouth College), Meghan Agosta (Mercyhurst University), Rebecca Johnston (Cornell University). 
Within the top-three for best player in women's hockey is Marie-Philip Poulin. The 26-year-old is right in the prime of her career, and it is hard to imagine that any player could be better. Poulin has won the Angela James Bowl as the top-scorer in the CWHL the past two seasons. Playing for the Canadiennes, she would have 23 goals and 23 assists for 46 points in only 22 games during the 2015-16 season. Last year she shared the award with current Buffalo Beaut Jess Jones with each player having 37 points. Poulin reached the total in one less game though, with 15 goals and 22 assists in 23 games. With two gold medals already to her credit, Poulin is a major factor to Canada acquiring her third.
During Natalie Spooner's collegiate career at Ohio State University, she scored a whopping 100 goals in only 128 games. Adding 63 assists, she would finish her NCAA career with 163 points. Spooner is one of the best scorers in the women's game and one of the truest leaders. Charismatic and admirable, Spooner packs a punch and leads by example. Since the 2012-13 season, she has scored double digits in goals three times. Her finest season with the Toronto Furies came in 2015-16 when Spooner scored 17 goals and 13 assists for 30 points in 22 games. A key contributor to Canada winning the gold in Sochi, Spooner scored two goals and two assists in five Olympic contests.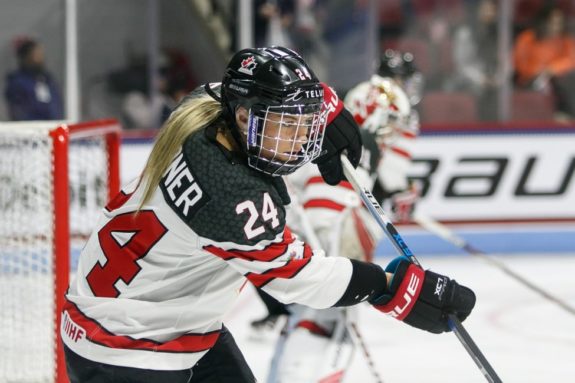 Quite surprisingly, PyeongChang will be Bailey Bram's first Olympics. At 27 years old, she has been established for quite some time as a topnotch forward. Bram has one gold and four silver medals to her credit for IIHF Women's World Championship tournaments. During her college career with Mercyhurst, she was known for her scoring prowess (201 points in 130 games). For Canada though Bram has been utilized in a more defensive role. In her five World Championship tournaments she has scored just a goal and two assists in 25 games. Bram became an SDHL champion (Svenska damhockeyligan) in Sweden during the 2013-14 season with Linköping HC. She scored four goals and three assists in just two regular season games for Linköping. Bram would add a goal and two assists in three games to help secure the top championship in Swedish women's hockey.
The Bottom Line
It is all about cohesiveness for Canada. They are full of interlocking pieces that conjoin to win hockey games. It is just what they do. The fact that there are 14 players on this roster with at least one Olympic gold medal already is reassuring that five straight gold medals is attainable with this particular roster. Aside from experience, the Canadians are just plain too good to be beaten. They will need to be at their best against USA, but the table is ever so slightly tipped in their favor already.
For the past few Olympics, Canada has relied on fairly even use of their goaltenders. Szabados will not see all of the action in PyeongChang, and that's okay. Lacasse and Desbiens can each do their part and do it well. It will be interesting to see if the young Desbiens sees any action. There would be no cause for concern if she did, as the young netminder is most solid.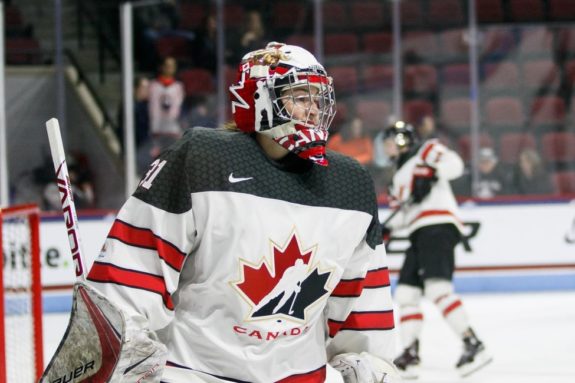 Canada has almost as much firepower as USA does. That is proven by the likes of Poulin, Spooner, Turnbull, Jill Saulnier, Jennifer Wakefield, and of course sniper Rebecca Johnston too. If they are behind the Americans in scoring, it is just by a sliver. What they lack in scoring touch, they make up for in being more defensively sound than any of the women's teams whole will be in South Korea. Canada is going with only six natural defenders for this tournament – that is how confident they are when it comes to responsibility in their own zone. Defensive-forwards like Bram and Haley Irwin make that possible.
Yes, the "drive for five" is real and highly plausible. It is up to the USA to keep Canada from doing it, and that is no easy task. Look for the Canadians to take gold for a fifth straight Olympics.
Other 2018 National Team's Roster Previews
Men's: Canada | United States | Russia | Czech Republic | Sweden | Finland | Switzerland | Slovakia | Germany | Slovenia | South Korea | Norway |
Women's: Canada | United States | Russia | Finland | Sweden | Switzerland | Korea | Japan
General Manager of the Buffalo Beauts (NWHL). Hockey history writer "The Hockey Writers". Credentialed media for the NHL Combine and 2018 IIHF World Junior Championships in Buffalo, NY, USA. Born and raised in Buffalo, NY. Lifelong hockey fan for over 40 years. Proponent of the women's game.