The city of Burlington is situated on the northwestern end of Lake Ontario. Just a little further past Hamilton – its neighboring city in the province of Ontario – Burlington looks particularly picturesque at night with its lights and colors aligned along the piers. Burlington is also the home of Renata Fast – the heady and quick defender for the Toronto Furies and the Canadian Women's National Team.
Growing Up In Burlington
"It was pretty amazing. I had every resource out there available in the city of Burlington," Fast says. "The opportunity to try out any sport I wanted to through school or through just recreational clubs in the city. I grew up with three older siblings, so I was always pushed to develop a little quicker because I had those three running around," she laughs.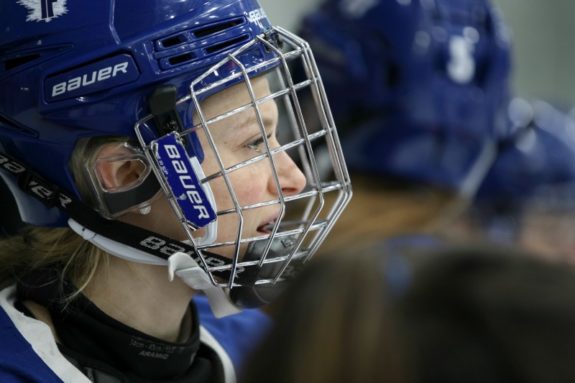 Fast was born October 6th, 1994. She is kindhearted and imbues many ideals that not only make her a dependable hockey player on the ice, but also make her a quality person. She betters those whom she encounters. Teamwork is a big part of who Fast is. Her belief in that concept has been a building block of her many successes, and it began at a young age.
"I started playing when I was in grade two. What got me into it was that my best friend that lived five houses down the street from me, she had been playing hockey. Her dad and her convinced me to start playing. No one in my family knew anything about hockey. No one had played before me. So I went along with her dad and I got a whole set of equipment. That year I went out, started playing hockey, and fell in love with it."
Starstruck By Becky Kellar
Along with Fast, Burlington has been home to a number of hockey players that have reached an elite level. Names including current and former NHLers Cory Conacher, Chad Wiseman, Adam Creighton, and Josh Jooris. Fast, however, found childhood inspiration from one of Canada's most experienced and decorated players.
"I think one of the ones that stuck out with me was Becky Kellar," she said. "She lived in Burlington and she played on the Burlington Barracudas. I looked up to her because I knew that she was a part of the national women's program, and she was also a defenseman. I actually had the opportunity to practice with her team a couple times when I was growing up, and I was always kind of starstruck by watching her and knowing I was playing alongside someone who was playing for Team Canada."
Meet the Rookies: Renata Fast #WomensWorlds

READ: https://t.co/urhS6Yeg6c pic.twitter.com/QtmGNxE20v

— Team Canada Women (@HC_Women) March 21, 2017
Kellar retired from international hockey in 2010. Prior to that she was one of only four women to have represented Canada at the first four Olympics since women's hockey was included in 1998. Winning a silver medal at the '98 Nagano Games, Kellar would be a part of gold medal victories for Canada at the 2002, 2006 and 2010 Winter Games. Kellar was also named the CWHL's Top Defender in 2008 and 2009.
Fast Becomes a Golden Knight
In 2012 Fast would elect to playing collegiate hockey Stateside at Clarkson University. The Clarkson Golden Knights would make the NCAA tournament in all four years of Fast's tenure at the university, including two Frozen Four appearances. The small town atmosphere of Clarkson and the talents of coaching staff and players alike became deciding factors in Fast electing to attend school there.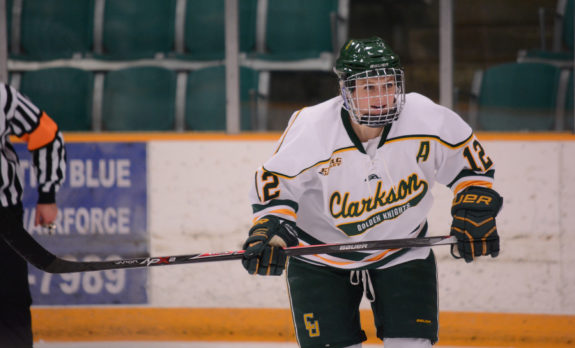 "I was really conflicted between whether I wanted to go for hockey or soccer down in the States on a Division-I scholarship," she said. "When I look back on it, the reason why I chose hockey was because of Clarkson. I think the main things were Clarkson was not too far from home. I fell in love with the small school. The small town – it was such a cute town. And also the coaching staff and the team. The coaching staff was amazing; they were super nice. They were really good at recruiting. When I went and visited the team I just knew that it was the right place for me, on top of them having very strong business academics."
Becoming An NCAA Champion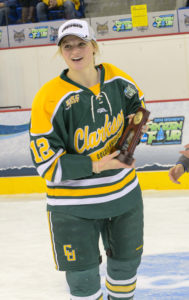 In Fast's four years with Clarkson she played in 144 regular season games. Within those games she compiled 13 goals and 44 assists for 57 points, while finishing her career as an impressive plus 91 for plus/minus. Although Fast is kindhearted, she takes defending her net very seriously and does not shy from physical play. Hence, her 140 penalty minutes are tied for third all time in the program's history.
The greatest accolade during Fast's time with Clarkson is undoubtedly winning the NCAA national championship for women's college hockey in 2014 – her sophomore season. Fast was arguably at her best throughout the tournament.
After the Golden Knights took a win over Boston College in the quarterfinals, Fast scored a goal and an assist in a decisive 5-1 victory over Mercyhurst to vault Clarkson into the finals. Once there, the Golden Knights would capture the championship over the University of Minnesota by a score of 5-4. Due to her heroics throughout the tournament, Fast would be named to the NCAA All Tournament Team.
"That championship means so much," she said. "It was probably one of the greatest moments of my hockey career with winning the national championship. Alongside that group of girls that I played with throughout the whole four years at Clarkson, that year stands out especially."
Personal Growth That Year
Fast certainly lives up to her surname. Oftentimes in hockey, tying a quick footed defender to defensive responsibilities seems to be contradictory. Faster defenders are often stereotyped as wanting to join the rush and shirking their duties in their own end.
Fast by no means is guilty of this. She is quick as can be, but she is also stalwart and stingy. The Golden Knights reaped the benefits of her play. The 2013-14 Clarkson squad allowed the least amount of goals in the entire ECAC Women's Conference standings. A mere 46 goals in 41 games. Much of that can be attributed to the play of Fast that year.
"I think it was a turning point in my career," she said. "I stepped up and I took bigger roles that year. Especially coming near the end of stretch when we had less defensemen available to play due to injuries. So I really had to step up my play. That year sticks out a lot. We had great team chemistry and we had all the pieces of the puzzle that we needed to win. We just worked hard together as a group. Being underdogs, it was just an unbelievable feeling."
Fast had numerous other honors during her time at Clarkson. She was an ECAC Hockey All-Academic for all four years she attended school. Junior and senior seasons saw her named an assistant captain for the team. Fast was also the 2015-16 recipient of the Unsung Hero Award as chosen by Clarkson's Booster Club.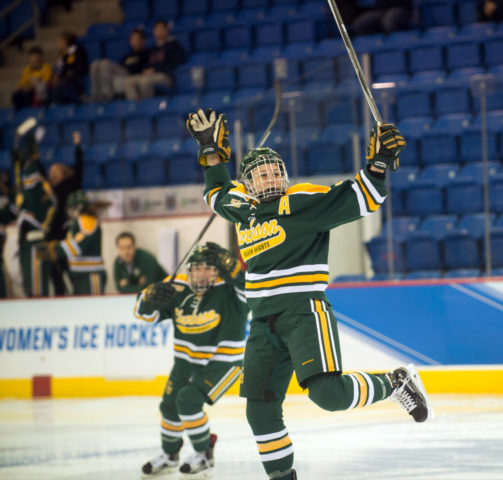 Fast Joins The CWHL
After graduating from Clarkson in 2016, Fast would be selected as the second overall pick in the CWHL draft that August. She would be selected by the Toronto Furies and would take part in her first season of CWHL play during the 2016-17 campaign. Asked for her thoughts on playing for the Furies thus far, Fast shared:
"It's been awesome. I could not ask for a better city to play in. Not only is it close to Burlington, but I love the city of Toronto and the surrounding areas. It was great to have my family and friends be able to come watch me; a little easier than down at Clarkson. I think my parents enjoyed that quite a bit."
"To be able to represent for the Toronto Furies is pretty amazing. Had an awesome year. There are so many great girls."
Fast's first season of play saw her appear in 22 of the Furies 24 games. She would put forth four goals and five assists in those games and finished the regular season as a plus five for plus/minus. Fast was a finalist for the CWHL's Rookie of the Year and was named a 2016-17 all star.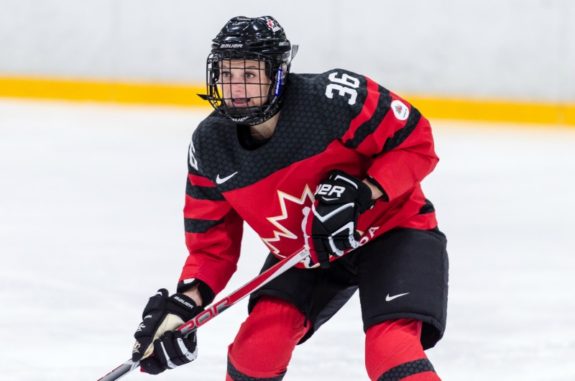 Belief In The League' Success
Some serious attention must be paid to the players of the CWHL. Presently, the league's players are not provided salaries. Yet, they are one of the finest collection of players in the world. Arguably, when compared with other women's elite leagues from around the globe, the CWHL is the league that houses the best overall collection of women's hockey players.
"Every girl is playing because they love the sport of hockey," said Fast. "They might not be getting paid to play, but they are working full-time jobs and they are coming to the rink everyday with a smile on their face. Trying to get better and wanting to be around the team. It is a great place for us to continue developing and continuing to become better hockey players post university. Hopefully the league just continues to develop and we get to the point where we have the benefit of a little bit of compensation."
Preparing For PyeongChang
The Canadian National Women's Team just wrapped up a boot camp in Fredericton, New Brunswick as they prepare their players for the 2018 PyeongChang Winter Olympics. Fast is one of 28 players who took part in the boot camp, and was named by the team to be centralized in Calgary throughout the 2017-18 season. Those players will be narrowed down to a 23-player roster that will vie for gold in PyeongChang. There is a lot that Fast can bring to the Team Canada blue line.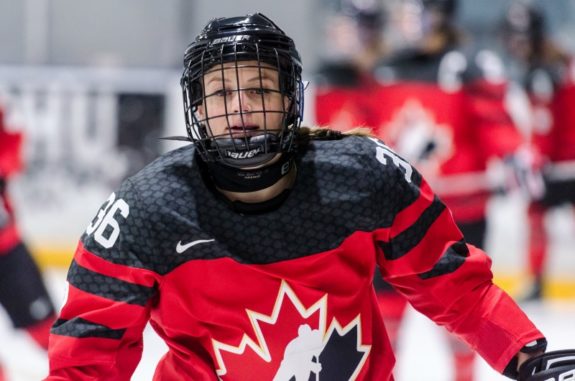 "I'd say the biggest one is speed. I take being fast out there with a lot of pride. I want to be one of the quicker players out there because that helps with my whole game. Also, I think being solid defensively. Being disciplined in the defensive zone, and just being physical to not allow the opponents to get closer to the net. I think those are some of the main ones that I would attribute to my game," Fast said when asked about her best attributes on the ice.
A Tough Boot Camp
Though the province of New Brunswick is incredibly picturesque, the boot camp in which Fast partook was by no means a lark. The players participated in a wide variety of drills and team building programs. A military obstacle course at an army base, a fire fit challenge with the Fredericton Fire Department, dodgeball, and even kickboxing.
Fast said of the camp: "It was a pretty amazing experience. It was tough; I'm not going to lie about that one. It was a tough, heavy-volume camp. But looking back on it we had so many amazing moments together as a team and I think it brought us a lot closer. It pushed our limits, and we had to push further than we thought we ever could. But I think that is when you see the true colors and you see teamwork really come out. I had an amazing three weeks and that makes me really excited for the centralization period coming up."
True Colors Of Teamwork
Every athlete takes vast pride in representing their country. In Canada though, donning the maple leaf crest on a hockey jersey has always been a most sacred ritual in sports and one that stands out like no other. Hockey is Canada's game. When players don the maple leaf on their red and white jerseys, it could be likened to a knighthood of sorts for their nation. The maple leaf has become a symbol that is highly respected and honored.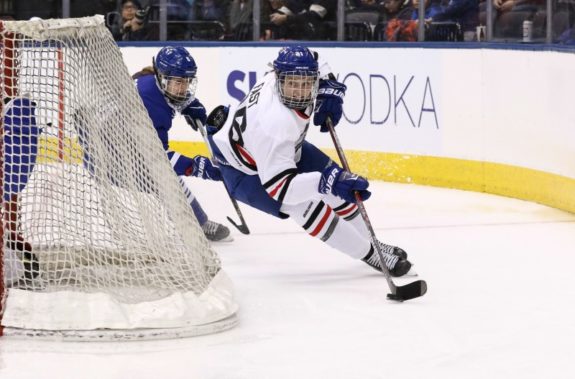 Fast has never previously had the opportunity to wear her country's jersey at an Olympic games. She has however done so at multiple international tournaments. Fast was part of silver medal victories for Canada at the 2015 and 2016 4 Nations Cup tournaments. Another silver was achieved at the 2017 IIHF Women's World Championship in Plymouth, Michigan. To represent Canada at the Olympics though would be an opportunity like no other for Fast and her teammates.
"For all of us girls, it is a huge honor to be able to represent our country," Fast said. "I think for women's hockey, the Olympics are the highest level. That is what we dreamed of as little kids. And for me, throughout the centralization period, working super hard alongside the girls and making all of us better. That is going to make the whole team better once we have that Canadian jersey on at the Olympics. That is the most important part I think. We want to be able to represent Canada with a ton of pride, and we want to make Canada proud. It will be a really unbelievable feeling."
Where To Start When Growing Women's Hockey?
The CWHL regularly has strong attendance for their games. Look no further than their recent 2017 All Star Game back in February. There were 8,122 people were in attendance for the game. That is certainly a positive sign when compared to other women's leagues.
Surprise! @RenataFast, @ckessler35 & @LauraStacey7 are joining in on a Kanata Girls Hockey Association practice! #CWHLCommunityDay pic.twitter.com/1wglnXxMac

— CWHL (@TheCWHL) March 4, 2017
Consider the fact too that the CWHL has just added an expansion team in China for the 2017-18 season, the Kunlun Red Star WIH – a major sign of progress for sure. Even more so when noting that the Red Star announced the legendary Digit Murphy as their head coach. They also signed one of the world's best goaltenders in Finn Noora Raty.
Fast is in the midst of this. Playing in a hockey mecca like Toronto and being an outstanding young defender, Fast is a player who can inspire youngsters and help grow the women's game. She also has ideas on how to make that happen.
Starting In Grassroots
"I think it starts in the grassroots. I think for the players right now who are playing in the CWHL and the national team program, it's about us going back to the younger levels and helping out. Giving our time to make them better. Giving them resources to want to continue to play longer than they currently are. On top of that, going to university and playing, whether it is CIS or NCAA, that's great and so many girls are doing it."
Fast notes that the drop-off in the women's game occurs once college or university hockey is completed. Players have other responsibilities in life that can prevent, if not at least hinder, their ability to continue playing hockey at a high level. Fast's concept of "grassroots" can most assuredly be brought up into the higher levels, including the CWHL.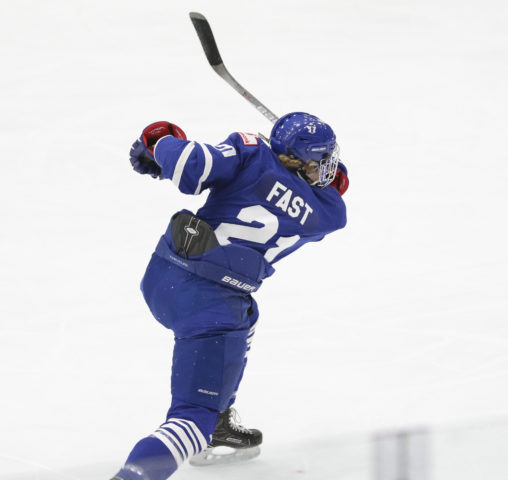 "The problem is after university when the players stop playing because they can't make it work with their jobs," she said. "I think one of the biggest things for the Canadian Women's Hockey League and the national team program is to continue to do what we are doing but advertising ourselves a bit more and promoting what we do. That way we can get more loyal fans and the game will continue to grow from there. But I think it really does start with developing those grassroots and leading the way for the younger ones behind us."
Well said, Renata.
It Comes Back To Teamwork
It is exciting to think that Fast is only 22 years old. There is so much more hockey for her to play and great things for her to accomplish. The kind of accomplishments that will be for the betterment of women's hockey, her country, and for the next generation of players.
Coming from Fast, it would not be any other way. For isn't that what the consummate teammate does in the first place? Every facet of her game and the decisions she makes are for the team. Sometimes the team is family. Sometimes it is a nation. It is also that group of 28 women each hoping to represent Canada at the upcoming Winter Games. Regardless of who her teammates are, Renata Fast will do everything in her power to be that teammate readied to battle for them.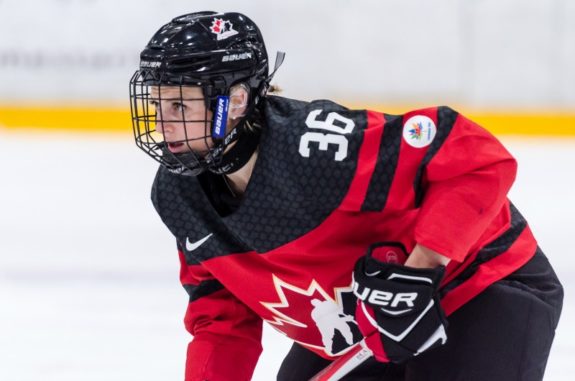 "I think one of the most important things I have learned is the power of teamwork. You can take that with you anywhere you go in life. It can be with family. It can be when you are working a full-time job. Teamwork is one of the most important aspects I'd say. Learning how to make a team work and make a team go forward. When everyone is on the same page, and when everyone knows their role that's when magic happens. That is definitely one of the most important things that I've learned from hockey."