The Toronto Maple Leafs' 2016-17 regular season success and resulting postseason run was not only unexpected but impressive. As a team with, at the time, minuscule expectations, the Leafs developed into one of the NHL's most explosive albeit inconsistent teams over the course of one short year.
Although Toronto's astounding success came as the result of a comprehensive team effort, the contributions of distinct Leafs skaters simply cannot be overlooked. In particular, those drafted by Toronto in recent years were essential to the team's success this past season, as the likes of Auston Matthews, Mitch Marner, and William Nylander were and will continue to be integral to the Leafs' long-term prosperity.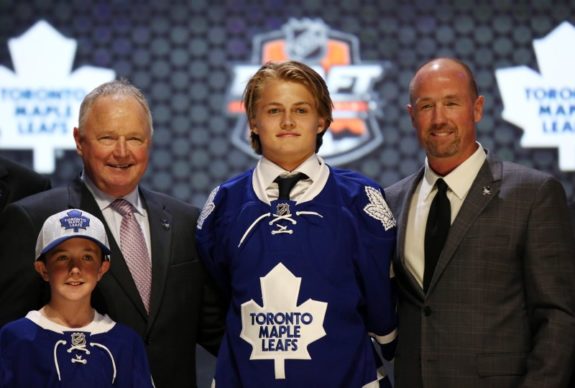 So, with the 2017 NHL Draft approaching, it goes without saying that the event will be critical to Toronto's future. With a wealth of raw skill available, the Leafs stand poised to add yet another young player of immense talent and potential to their rebuild. Holding the 17th overall selection, Toronto will have a variety of players to choose from in terms of both their skill and position, however, just who could and should the Leafs select?
Jusso Valimaki – D
Age: 18
Height/Weight: 6'2″/200
2016-17 statistics: 60GP: 19G, 42A, 61Pts (Tri-City Americans – WHL)
NHL Potential: Top-Four Defenceman
Draft Rankings: 
Sportsnet's Jeff Marek: 13th
TSN's Craig Button: 17th
NHL Central Scouting: 11th
One option for Toronto to strongly consider is Jusso Valimaki, a two-year veteran of the WHL's Tri-City Americans who is a steadily blossoming defender.
A product of Nokia, Finland, Valimaki is a strong two-way defender who plays a consistent and dependable game. Productive in both the offensive and defensive zones, Valimaki possesses innate scoring abilities as well as the willingness to block shots and break up plays as they are developed by his opposition.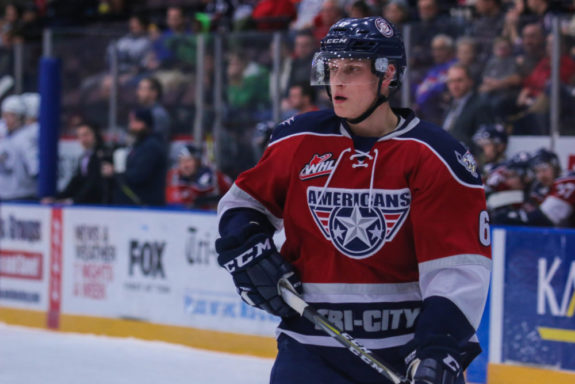 In the opposing zone, Valimaki loves to push his team's offence and has quickly become an offensive catalyst. Capable of moving the puck quickly and accurately, Valimaki makes strong and crisp passes which are based upon intelligent decisions and a high level of composure with the puck. Further, Valimaki has a great shot which he uses a ton. Although he opts to snap the puck on net rather than slap it, Valimaki is capable of firing the puck on net consistently and effectively – an asset which generates offense for him and his team.
On the opposite side of the puck, Valimaki is equally promising. As mentioned, Valimaki has a fantastic shot blocker who takes pride in his abilities. One reason why Valimaki is so successful in doing so is his size and mobility, as despite standing 6'2″ and greater than 200 pounds, Valimaki can traverse the ice well and clog up shooting lanes. Further, Valimaki's strength makes him an intimidating and punishing presence defensively, as he has the potential to pin and pester opposing forwards within his own zone.
In all, Valimaki is one of the most promising defenders available in the 2017 Draft. With great offensive traits, intelligence, and general awareness, Valimaki has the potential to develop into a sturdy top-four NHL defenceman with size and skill.
With regards to the Leafs, nabbing Valimaki could be a stretch given the fact that he has been projected to be selected somewhat earlier in the first round. Likely to fall in the 11-15th overall range, Toronto would have to move up in the draft to select Valimaki, as chances are he won't fall to 17th overall. However, as is the case with the NHL Draft, you never truly know how the event will unfold. If the Leafs can snatch Valimaki with their first choice, their Draft would immediately be viewed as a tremendous success.
Nic Hague – D
Age: 18
Height/Weight: 6'6″/215
2016-17 statistics: 65GP: 18G, 28A, 46Pts
NHL Potential: Top-Six Defenceman
Draft Rankings:
Sportsnet's Jeff Marek: 17th
TSN's Craig Button: NR
NHL Central Scouting: 20th
Another option which Toronto will undoubtedly consider is Nic Hague, a towering blue-liner who spent his draft campaign just outside of the city with the OHL's Mississauga Steelheads.
In his second season with the Steelheads, Hague took massive steps forward in his development, as the hulking defender improved his play on both sides of the puck. Offensively, Hague displayed his overpowering shot on a far more consistent basis, while defensively, the Kitchener, Ontario, native continued to batter and bruise his opponents.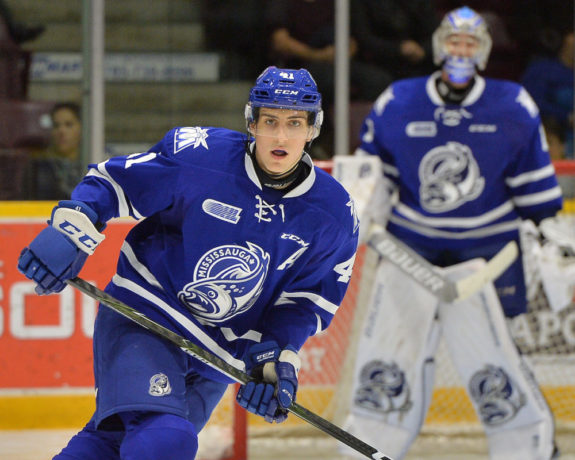 Arguably the most impressive facet of Hague's game is his abilities with the puck. Not only can he facilitate quick and efficient breakouts, but Hague can make hard and accurate passes with ease. However, it is Hague's heavy shot which stands out the most, as it has the ability to blow past opposing netminders and can even beat goaltenders who have a clear look at his release. So, it truly came as no surprise to see Hague improve on all of his offensive totals in 2016-17, as he set new career-highs in goals, assists, and points.
On the other hand, Hague is also a quality defender who can dismantle and shut down potential scoring chances developed by his opposition. Given his great size, Hague is a powerful, towering force who dominates opposing forwards with great regularly. Strong on the puck and accurate with his stick, Hague combines his strength and precision to decisively deteriorate the offensive opportunities generated by his rivals.
However, one area of Hague's game has caught the eyes of many scouts and for all the wrong reasons. As is the case with many tall defenders, Hague's skating remains in need of considerable improvement. While some have stressed that Hague's mobility is adequate, others have vehemently disagreed, as Hague is often caught flat-footed on the rush and can be overtaken wide by opposing forwards. While he has ample time to work on his skating technique, such is one of the reasons why Hague could be made a late first round selection.
If the Leafs do, in fact, select Hague, it will occur due to numerous teams ahead of Toronto selecting a defenceman. Since there are so few elite defenders available in the 2017 Draft, such could become the case if other organizations recognize this deficiency and are dead-set on nabbing a defenceman. Now, this isn't to say that drafting Hague would be a consolation, only that there are a number of defenders which the Leafs will surely prioritize.
Cal Foote – D
Age: 18
Height/Weight: 6'3″/210
2016-17 statistics: 71GP: 6G, 51A, 57Pts
NHL Potential: Top-Four Defenceman
Draft Rankings: 
Sportsnet's Jeff Marek: 16th
TSN's Craig Button: 14th
NHL Central Scouting: 12th
While both Valimaki and Hague are tremendous young players of incredible potential, Toronto must do their very best to draft Cal Foote 17th overall and I will tell you why.
As we have seen, there are a number of incredibly skilled defenders available in the 2017 Draft which range largely in terms of their size, skill, and potential at the NHL level. However, although Valimaki and Hague are two excellent options for the Leafs, the flourishing 'Finn will likely be out of Toronto's range while Hague will be chosen later than the Leafs' projected selection.
As such, Toronto should set their sights strictly upon Foote, as his overall skill-set is not only needed but desired on a thin and largely underwhelming Leafs blue line.
Like Father, Like Son
If the name Foote sounds familiar, it is because the young Englewood, Colorado, native is the son of former NHL star Adam Foote. Long a force with the Quebec Nordiques and then Colorado Avalanche, Foote the elder was an excellent defender whose game was not only highly physical but also incredibly intelligent and calculated. Fortunately, nearly all of these traits are also found in his son, as Cal's playing style is eerily similar to his father's yet is instead sprinkled with greater offensive upside.
Having recently completed his second season with the Kelowna Rockets of the WHL, Foote further established himself as an outstanding two-way defender whose game is consistent and reliable at both ends of the ice.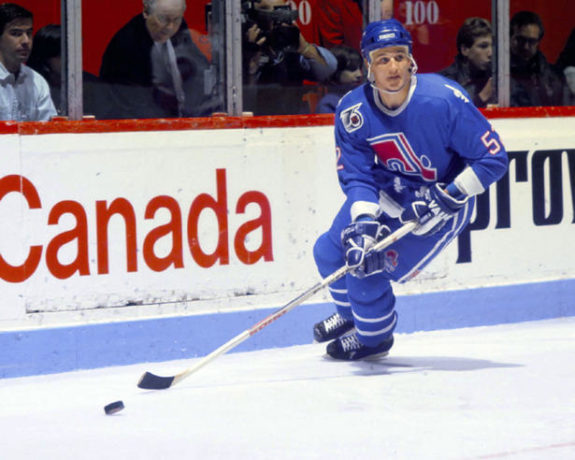 Offensively, Foote has a strong shot and one which he can place on the net with authority. Although he doesn't score a ton of goals, Foote's ability to put the puck on goal with consistency generates a wealth of rebounds which are, more often than not, gobbled up by his teammates. Additionally, it is Foote's playmaking abilities which have made him such a lethal offensive force, as his great vision and intelligence allow him to move the puck with ease as well as quarterback his team's power play.
On the opposite side of the puck, Foote is equally daunting, as his great size gives opposing forwards fits as they try to maneuver past him on their way to the goal. However, unlike most defenders of immense size, Foote is fleet-footed and has great mobility as well as speed. These skating skills allow Foote to walk the blue line with ease as well as react to defensive plays within his own zone. Further, similar to his father, Foote utilizes a quick and accurate stick to fend of attackers before punishing them with his strength.
The Rationale
Now, with regards to Toronto's 17th overall selection, it goes without saying that Foote would be the ideal choice for the organization.
Firstly, mobile size is something the Leafs desperately need on their blue line, as the current core is, for the most part, of average size which doesn't pose a legitimate physical threat to opposing forwards. Nabbing Foote would immediately change this fact, as it would allow Toronto to possess a thundering force with the ability to explode into attacking forwards as well as use his intelligence to dismantle developing plays.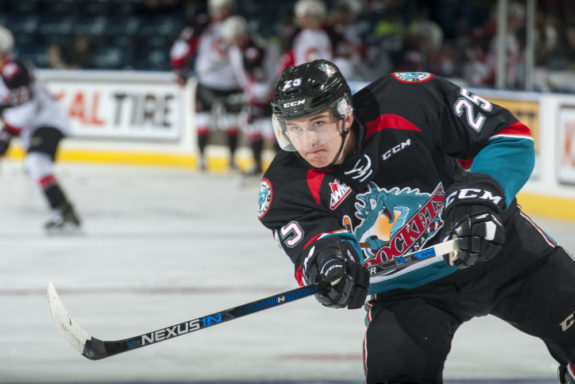 In addition to Foote's defensive prowess, nabbing the young defender would add another dimension to the Leafs' attack. While the team currently possesses a number of excellent puck-moving defenders, Foote could become a playmaking and driving force behind Toronto's youthful attack as well as one capable of anchoring the team's top power play unit. With the innate ability to transition and move the puck quickly and accurately, Foote would be instrumental to the Leafs' breakout and, in doing so, generate considerable offensive for the organization.
Lastly and, rather simply, Foote could be the best defenceman available to Toronto come the 17th overall selection. With Valimaki likely to be selected much earlier and Hague projected to fall in the 20-30th overall range, Foote could line up not only with Toronto's needs as an organization but with their first choice in the 2017 Draft.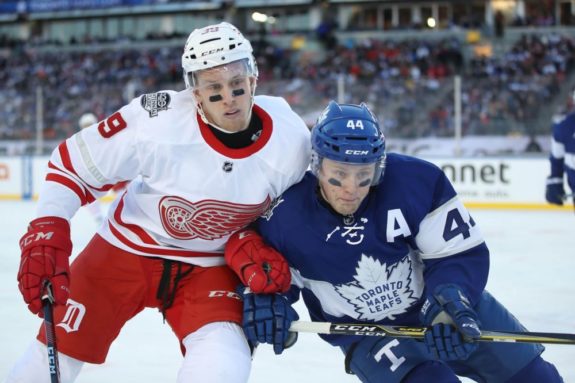 As an intelligent, sizeable and physical defender whose game has continued to grow remarkably, Foote would, as we have seen, be a terrific addition to the Leafs' rebuild. Blessed with strong offensive instincts as well as reliable defensive tendencies, Foote could quite easily develop into the number-one defenceman which has long eluded Toronto as a franchise.
While a number of other players and defenders will surely be available, selecting Foote would provide the Leafs with the best opportunity to contend in both the immediate and distant future.