The list of protected players for the upcoming expansion draft was released this past weekend and Toronto's competitors in the Atlantic division will be losing significant assets while the Leafs are able to stay relatively intact.
Maple Leafs Expansion Protected List
Toronto protected:
Forwards: Tyler Bozak, Connor Brown, Nazem Kadri, Leo Komarov, Josh Leivo, Matt Martin, James van Riemsdyk
Defencemen: Connor Carrick, Jake Gardiner, Morgan Rielly
Goaltender: Frederik Andersen
Auston Matthews, Mitch Marner, William Nylander, Nikita Soshnikov, Kasperi Kapanen and Nikita Zaitsev are all exempt from expansion.
The notable unprotected Maple Leafs are:
Brendan Leipsic, Kerby Rychel, Martin Marincin, Alexey Marchenko
Speculation is that one of Brendan Liepsic or Kerby Rychel will be taken by Vegas. Leipsic had 51 points in 49 games and Rychel had 52 points in 73 games for the Toronto Marlies in 2016-17. Neither made an appearance in the NHL. With all due respect to the two of them, the expansion draft does not represent a material loss to the Maple Leafs. On the other hand, some of Toronto's key competitors in the Atlantic division stand to lose much bigger names.
Ottawa and Florida Expose Important Players
Ottawa Senators notable exposed players: Bobby Ryan, Mark Methot, Fredrik Claesson
With Dion Phaneuf choosing not to waive his no movement clause, the Ottawa Senators were forced to expose defenceman Mark Methot. Methot is Erik Karlsson's partner on Ottawa's top pairing and is a solid stay-at-home defender that allows Karlsson to work his magic in the offensive zone. Ottawa may choose to send Vegas a first round pick to stay away from Methot, which is a big sacrifice to give up for nothing in return.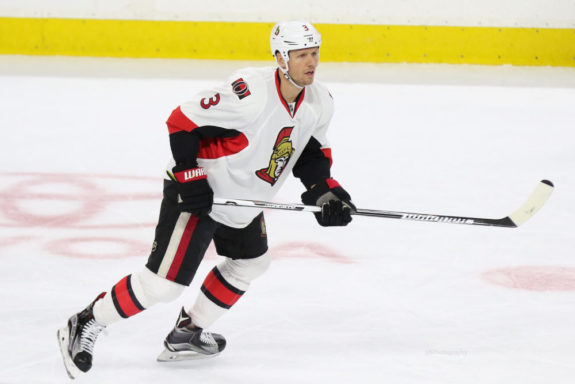 Florida Panthers notable exposed players: Jonathan Marchessault, Reilly Smith, Jussi Jokinen, Roberto Luongo
Florida has exposed a bevy of important forwards. Marchessault was Florida's leading goal scorer in 2016-17 with 30 goals and 51 points in 75 games, often playing on the Panthers' top line. Smith and Jokinen are mainstays on the Panthers' second line and while they both had down years in 2016-17, they are just one year removed from 50 and 60 point seasons respectively in 2015-16.
Taking their contract situations into account, Vegas has the option of either taking Marchessault's cheap short-term contract (one year at $750k) or Smith's long term contract (five years at $5 million). Either are good options. Jokinen is the least likely of the three since he is signed for one year at $4 million.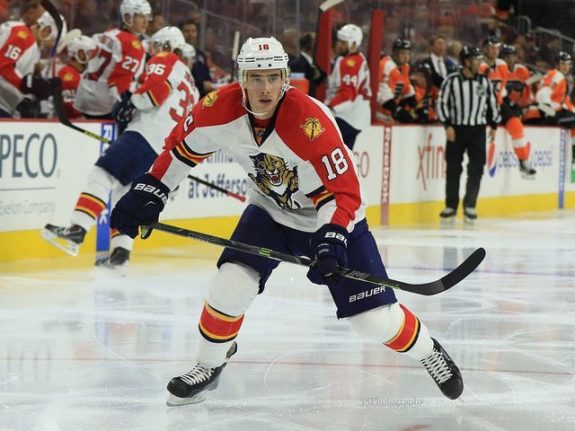 Boston and Montreal Expose Young Players
Boston Bruins notable exposed players: Matt Beleskey, Colin Miller, Adam McQuaid
Boston has chosen to expose a promising young defenceman in Colin Miller. Miller is 24 years old and a RFA at the end of the 2017-18 season.  He plays on the Bruins third pairing and while he plays protected minutes (65% offensive zone starts), his possession numbers are excellent, with a 60% even strength Corsi.
Having Charlie McAvoy and Brandon Carlo up and coming means the Bruins can handle losing a defenceman, but the departure of Miller would still be a significant loss.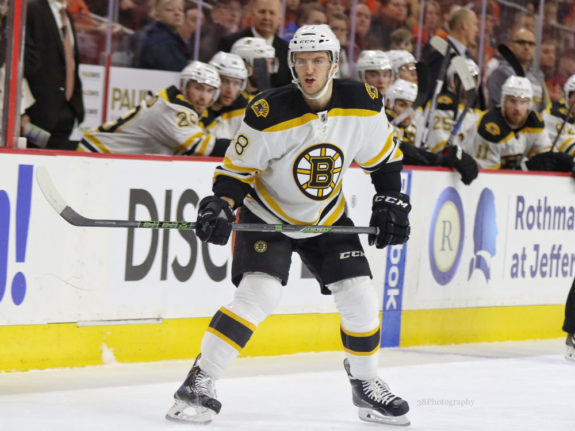 Montreal Canadiens notable exposed players: Tomas Plekanec, Charles Hudon, Alexei Emelin
The most appealing player unprotected by Montreal is 22-year-old Charles Hudon. Hudon scored 27 goals and added 22 assists in 56 games with the AHL's St. John's IceCaps in 2016-17. He's signed for the next two years at a reasonable $650k per year at which point he will be a restricted free agent. Hudon has had two brief stints in the NHL over the past two seasons, putting up two assists in three games both times. Montreal doesn't have as many young forwards as the Leafs to make up for the loss of Hudon.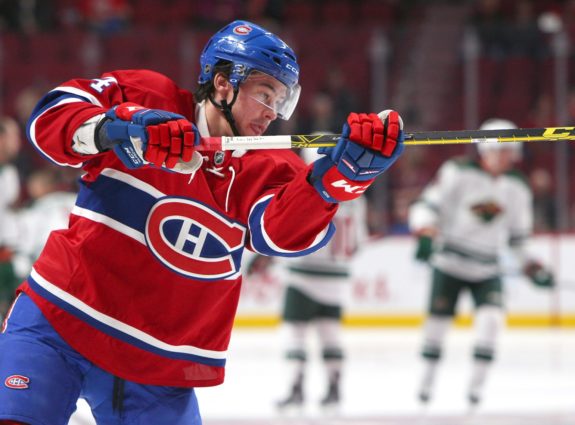 Detroit Chooses Jimmy Howard over Petr Mrazek
Detroit Red Wings notable exposed players: Petr Mrazek, Xavier Ouellet, Riley Sheahan
One of the most surprising choices from the expansion protection list was Detroit's choice to protect 33-year-old goaltender Jimmy Howard instead of 25-year-old Petr Mrazek. Mrazek did have a rough year in 2016-17 but prior to that he sported an impressive career .920 save percentage and 2.29 GAA.
Howard started just 24 and 33 games the past two seasons due to a combination of injuries and losing his starting job to Mrazek. He hasn't started more than 50 games since 2011-12, so if Detroit loses Mrazek they will need to find a reliable second option in net, possibly by trading draft picks to Vegas for one of the other goalies they select.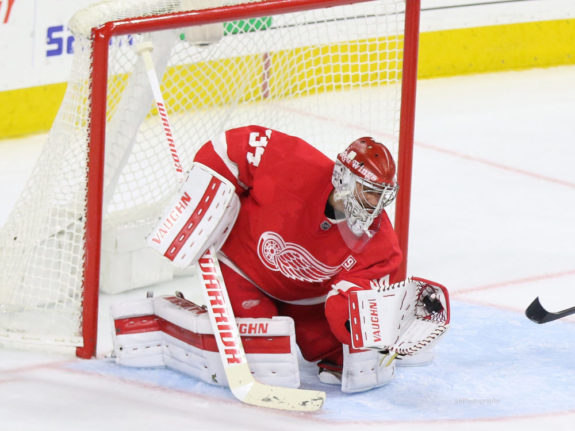 Buffalo and Tampa Bay give Vegas Limited Options
Buffalo Sabres notable exposed players: Zach Bogosian, Matt Moulson, Will Carrier, Linus Ullmark
Zach Bogosian and Matt Moulson are the big names here but both carry a cap hit of over $5 million per year so Vegas is unlikely to choose one of them. Will Carrier is an inexpensive option for Vegas to take on and is just 22 years old. He can be a spark plug on the Golden Knights' fourth line, as he was for Buffalo.
Tampa Bay Lightning notable exposed players: Cedric Paquette, Jake Dotchin, Slater Koekkoek
Dotchin and Koekkoek are both 23-year-old defencemen with RFA status. With Tampa Bay's significant injuries in 2016-17, they each saw time in the NHL. Dotchin had the bigger role of the two with 11 points in 35 games and was often paired with Victor Hedman, while Koekkoek contributed four points in 29 games.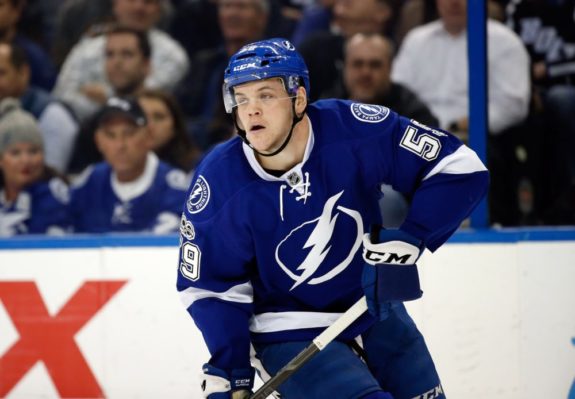 Weak Atlantic Division
The Leafs finished fourth in the Atlantic division in 2016-17 and will be challenged from behind by a much healthier Tampa Bay in 2017-18. Fortunately, Ottawa, Boston, Montreal and Florida have each been dealt significant blows by the expansion draft, leaving an already weak division more vulnerable for the taking for Toronto.