Even as you are reading this article, the athletes are making their way to South Korea. Plenty of them are there already and getting acquainted with their new confines. Seeing familiar faces and shaking the hands of new ones. The 2018 PyeongChang Winter Olympics officially begin on Feb. 9, and continue up through Feb. 25. The entire world will be watching to the fullest extent when it comes to televised sporting events. Fortunate souls in attendance will be able to watch the Games firsthand by being there in person.
One of the most accomplished and respected contingents of athletes at the Winter Games is always Canada. And deservedly so. Many of the disciplines are major strengths of this country, and always have been. Curling, speedskating, bobsledding, etc. More than anything else though, hockey is their forte. It's the sport that an entire nation an ocean away can truly get behind and rally for. Hockey is "Canada's game" regardless of differing opinions.
Across four years, the process leading up to the Olympics is a journey like no other. Oftentimes it is even quite painstaking. Everything becomes a sacrifice – time, money, family, friends, jobs, leisure,… the list could go on for the rest of this article. One Canadian hockey player who knows all too well the steps involved in reaching the pinnacle of sports is hockey forward Rebecca Johnston.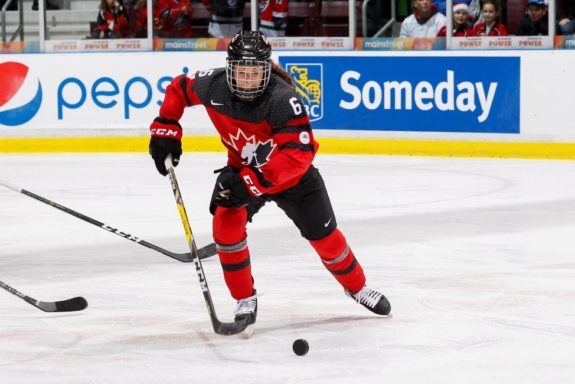 As she prepares to partake in what will be her third Winter Games, THW was afforded the opportunity to speak with Johnston. She offered us some insight into what she is feeling these final two or so weeks before the opening ceremony.
Looking Forward to Her Third Go-Round
Canada has won the gold medal in women's hockey in the previous four Olympics dating back to the 2002 Salt Lake City Games. For Johnston, she earned two of those gold medals – one in 2010 at the Vancouver Games and then most recently in 2014 in Sochi. Stating that the Canadian women have a penchant for gold – maybe even a monopoly – is a bit of an understatement.
Winning the gold medal could never "get old" to an athlete. Part of that comes from the fact that according to Johnston, each Olympics contains a lot of newness in one place. While the experience is always exciting, it is never quite the same. When asked what she is most looking forward to about the games in PyeongChang, Johnston shared:
"I think for just to experience a new place, a new culture," she said. "A new Olympics. Every Olympics has been different in its own way, and it's been a lot of fun. I'm really excited just to experience the new things I might come across at this Olympics. New athletes. Meet some new athletes and make some new friends. All that kind of stuff is really, really exciting. Obviously being able to compete for my country again. Hopefully win another gold medal again – that would be an amazing opportunity and experience for me."
It's All About Focus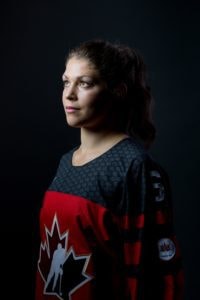 Johnston is one of Canada's best snipers. Her goal-scoring track record speaks for itself. In her four years of NCAA hockey at Cornell University, she hit double digits in goals each season. At the end of her collegiate career, Johnston had scored a whopping 97 goals in just 119 games.
That standard of production also carried over into her Canadian Women's Hockey League career after she finished at Cornell. In Johnston's 72 career CWHL games, she has potted 36 goals and 54 assists for 90 points. Her finest season was 2014-15 with the Calgary Inferno when she scored 17 goals and 20 assists for 37 points in 24 games. Those numbers earned Johnston the Angela James Bowl trophy for the most points of any CWHL player that season, as well as the league's Most Valuable Player honors. The following year, 2015-16, she and the Inferno became Clarkson Cup champions.
So Johnston certainly has both the winning nature and the talent to back it up. That's stating the obvious, though. There is more to it than that. She did not just go out and do these things like she was going grocery shopping or to the gym. That would just be going through the motions. Becoming who she is today and all those accomplishments leading up to it is far more intrinsic and cerebral. Especially when it comes to Olympic victories and the proper mindset, for Johnston it all comes down to one word – Focus.
"'Focus' would be the word," she told THW. "For me, for the whole team, it's been quite the journey the last five, six months. We've been together since Aug. 1. It's been mentally and physically exhausting. To each and every day be able to focus. Get over that fatigue, if it's mental or physical. It was a five month tryout, basically. It's really hard mentally to try to just put that aside and focus on hockey, and play your best each and every day. It's a tryout everyday. That I think was the main obstacle. To be able to put that aside, just play and have fun. Being able to focus everyday and be able to take it in, learn from each other, and try to get better each and every day is what I tried to do this centralization."
Donning the Maple Leaf Crest
Firstly, points and scoring levels certainly have an amount of importance and value to them. That is pretty basic. Secondly, there is little question that a bronze, silver, or gold mean at least a thousand times more than any goal that ever ended up in the back of the twine. This notion is nearly universally agreed upon. But let us go beyond that. For any athlete, there is another pinnacle that few ever attain. This particular apex seems to make all other achievements fall in comparison.
We are talking about the opportunity to represent one's country.
A closer look at the forward from Sudbury, Ontario: Rebecca Johnston https://t.co/hLfNvDrXMz | #RoadToPyeongChang pic.twitter.com/nhQLlQih4B

— Team Canada Women (@HC_Women) January 23, 2018
"It means so much to me," Johnston said. "It's such an honor to be able to represent my country and wear that maple leaf. Every time I put that jersey on, I take it very seriously. I want to be at my best for my country and to represent my country to the best of my ability. To be able to do that, go to the Olympics and have Canada cheering you on, it is an incredible feeling. It's something I've dreamt of ever since I was a little girl."
This will be her third opportunity to do so. In and of itself, this opportunity is very precious and athlete's do not know for certain when it will be their last. For example, there was definitely shock – and indeed some fervor – when neither Alex Carpenter nor Megan Bozek made the final roster for the USA team that will be competing in PyeongChang. This is why athletes of Johnston's pedigree recognize that the experience is never something to be taken for granted.
 Canadian Women Need to Enjoy the Moment
That being said, competing in the Olympics should not be taken so seriously that it ends up not being enjoyable. Or worse, come and gone before the athlete even realizes it. For some competitors at the Games, this may very well be their lone appearance. It is a moment to relish in as much as being vigilant over.
Team Canada's women's roster has a lot of new faces comprising the squad. True talents such as forward Jill Saulnier, defenders Renata Fast and Brigette Lacquette, goaltender Ann-Renée Desbiens, among others will all be participating in their first Olympic Games. A veteran like Johnston (who is only 28 years old) is able to offer guidance and direction to these younger stars. It is something she handles with self-assurance. PyeongChang itself may be new to her too, but you would not guess it based upon how she handles herself at the event. Johnston has plenty of advice to offer the younger athletes as well.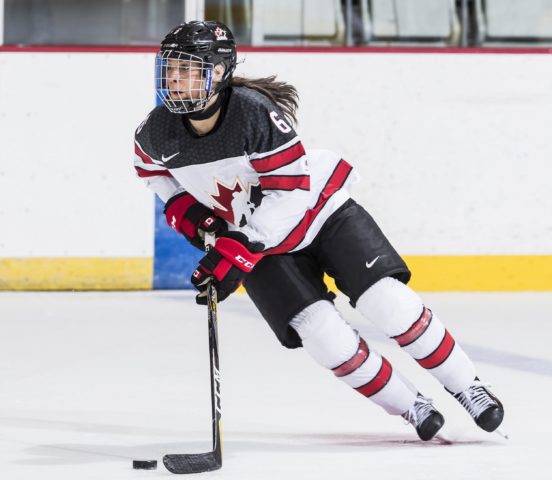 "Especially going to the Olympics, being in the village, and meeting all the athletes – there's just so much going on – I just tell them to take it all in," she said. "To really just let your body feel, let yourself feel, all these emotions that you're going to be feeling, and just really enjoy every aspect of it. There's so many fun things that happen, and you get to meet so many cool people. Great athletes at the same caliber but at different sports. To really be open and to meet new people. Obviously be focused when it's our time to play. Take the days-off to relax if you need to relax, and do what your body needs to do. But I also think to just have fun with it and to really take advantage of meeting new people. Making new friends from your country, just from different sports."
Johnston Thankfulness to Be in PyeongChang
Rebecca Johnston is the consummate Olympian. She is professional, focused (to borrow her word), skillful, humble and certainly thankfulness. As you may have gathered, the road to the Olympics can be tedious in every sense of the word. When an athlete makes it this far, the best of them – like Johnston – pause and reflect upon their own gratitude for how everything has played out.
"For me, I'm thankful for my health," Johnston shared. "My body seems to be doing really well right now. I had trouble a couple years ago where I had to miss two-quarters of the season because of injury. My back and hip were bad. To have that (health) be stable and feeling ready to go is something I'm very thankful for."
On the ODR, in the driveway or at the local arena, hockey was always a part of life for @RJohnst6 and her five siblings. #RoadToPyeongChang pic.twitter.com/rbsDjy5J0p

— Team Canada Women (@HC_Women) January 23, 2018
Canada and the world are ready to see her go as well. While the Canadian women have a plethora of blue-chip athletes who really are the best of the best, Johnston stands out in many ways. In 10 games of her previous Olympic performances, she is better than a point per game player. Johnston has scored three goals and eight assists, and is a plus-18.
That is why it is particularly exciting knowing that she is ready to go full throttle and has her health. It's not just that Johnston can be a difference maker on the ice and can score. It's also that she is just plain fun to watch. Whether you are Canadian or not, Johnston is an athlete that has rightfully earned praises worldwide. An Olympian if there ever was one.
Make sure that you are following Rebecca's journey with Samsung as one of the Samsung Galaxy Athletes who will be competing in PyeongChang. Check out this cool video:
General Manager of the Buffalo Beauts (NWHL). Hockey history writer "The Hockey Writers". Credentialed media for the NHL Combine and 2018 IIHF World Junior Championships in Buffalo, NY, USA. Born and raised in Buffalo, NY. Lifelong hockey fan for over 40 years. Proponent of the women's game.