When Megan Bozek rifled a shot from just inside the blue line to open the scoring of the 2017 Isobel Cup Final, to me it symbolized that there was something different about this game and this Beauts team. You could sense it. Call it a "David versus Goliath" affair if you would like, as the underdog Buffalo Beauts ("David") dethroned the nearly undefeated Boston Pride ("Goliath"). Bozek's patented "Boz Blast" ripped through the Pride's Brittany Ott and did so with at least three exclamation points attached to it. It was a shot with a heck of a lot of character!
Proponents of the NWHL, myself included, would agree that one of the most exciting things to have watched the past two seasons has been Megan Bozek's howitzer of a shot. And while Buffalo's stalwart rearguard will not be with the team for the league's third season (Bozek will be playing with the US national team that is gearing up for the 2018 PyeongChang Winter Games), she is able to share with me some thoughts on the development of her shot, its game-changing effect, and even some thoughts for youngsters looking to have a shot like hers.
.@meganebozek got the party started in Lowell!

Her #BozBlast heard around the world, put us up 1-0! #IsobelCupChamps pic.twitter.com/x0f4SOgeY3

— Buffalo Beauts (@BuffaloBeauts) March 26, 2017
Suburbs Of Chicago
Bozek began to develop her shot at a young age while growing up in Buffalo Grove, Illinois; a suburb just outside of the northern portion of Chicago.
"Since I grew up playing boys' hockey, that was the one shot (a slap shot) everyone wanted to develop at a young age. I would always practice my shot along the boards during practice, and then when I consistently played defense, it was one of the only shots I took during a game in most cases," she says.
A fellow youth player and friend of Bozek's was Sam Calabrese; a former blueliner himself with the University of Notre Dame and a previous member of the US youth national team for U17 and U18. Both Bozek and Calabrese were born in March of 1991 and hail from the Chicago area.
"For 3 years of AAA boys' hockey, Sam Calabrese had a fantastic shot and a very quick release. He was one of the best players for our age group, so I always watched him. When I switched to girls' hockey, I kept a close eye on Angela Ruggiero (a 4-time US Olympian). She had a fantastic shot from the blue line, so I would grab some pointers from watching her whenever I could."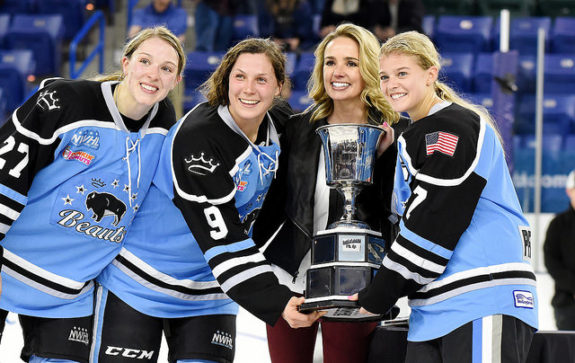 Consistency Throughout
Bozek's blasts have consistently found the back of the net from youth hockey on up through her time as a Golden Gopher at the University of Minnesota, as well as her time with the US women's national team, which has included an Olympics (2014) and four World Championship tournaments (2012, 2013, 2016, 2017).
Her numbers from Minnesota alone are astounding. After tallying six goals in both her freshman and sophomore seasons each, Bozek would nearly double that her junior year when she potted 15 tallies. The best was yet to come, as during Bozek's senior campaign, the Golden Gophers not only repeated as national champions but also went undefeated with a record of 41-0-0. Those accomplishments were strongly fueled by Bozek's 20 goals from the back end that year. Twenty goals!
HBD to #Gophers alum and two-time #GWH #nattychamp @meganebozek! 🎈🎉 pic.twitter.com/ZFiATXHK4y

— Minnesota Women's Hockey (@GopherWHockey) March 27, 2017
Bozek has great vision while manning the point, and she is specific about what types of opportunities she looks for when trying to capitalize:
"I like when there is traffic so that hopefully the puck will deflect. It is always great when the forwards are battling in front and you lay a shot low so they can help create a rebound and goal."
Changing Momentum
As touched upon earlier, there was a feeling behind that first goal of the Isobel Cup Final that Bozek scored. The shot left fans of either side awestruck. It was as if she had rifled a cannonball straight through castle walls. Arguably, the tally was a game-changer. I inquired as to her belief in her shot being capable of changing the momentum of a game.
"Sometimes the shots don't always get through. They get blocked. If it doesn't get through, may as well make it hurt, right? Just kidding," she laughs. "But I think any shot, of which there are numerous players who can have this impact, that can get through effectively can change momentum."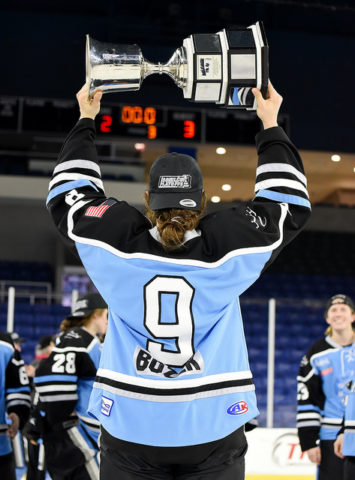 What's In a Shot
When she first came to Buffalo, Bozek was a fan favorite for the Beauts faithful right from the get-go. Many young girls from the Western New York area emulate her and try to model their own shots after hers. Does Bozek have any advice or guidance for young girls looking to develop their shots?
"There are so many different shooting screens and nets. Take advantage of those where space and weather allow, and always use extra time on the ice to practice. Shooting pucks should become a routine if you are serious about developing any type of shot."
She said she wanted to be just like me, I told her, "be better." Taking a stand today for their tomorrow. #BeBoldForChange pic.twitter.com/3v9XGZGnlD

— Megan Bozek (@meganebozek) March 25, 2017
Change is inevitable and many changes have already taken place as the Beauts prepare for the third season of NWHL play. It is difficult to not see a beloved player there before our eyes at her naturally commandeered spot at the point, a spot that has belonged to her for the last two years. It may sound silly to some, but those who have had the pleasure of seeing her play can relate: what I will miss most come the start of the 2017-18 NWHL is seeing Bozek's blasts each game. They are truly something to behold.
General Manager of the Buffalo Beauts (NWHL). Hockey history writer "The Hockey Writers". Credentialed media for the NHL Combine and 2018 IIHF World Junior Championships in Buffalo, NY, USA. Born and raised in Buffalo, NY. Lifelong hockey fan for over 40 years. Proponent of the women's game.